Welcome to Castlevania World Beyond Walls
May 27th 2014
After about a year and a half dry spell we finally have new rooms!. New to the scene glitcher Thiaguin from the Brazilian forum has been working hard with the saturn version and figured a way to Shift the towers in the Inverted castle. Bug7139 worked with these new findings and managed to get a working version for the US and Japan PSX versions. Great work to both of you. This brings us to 408.3% on the no repeat tech maps. Check into forums for further details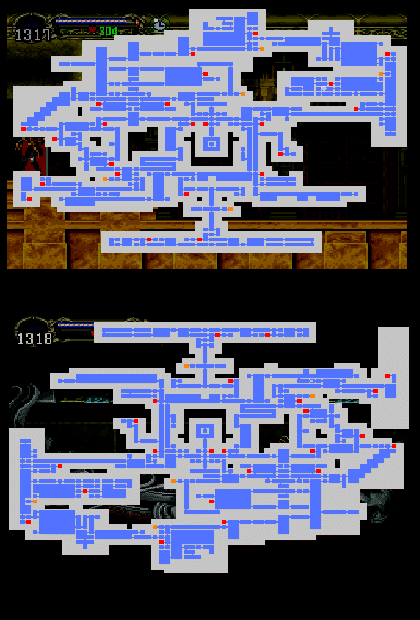 Sept 3 2012
Congratulations to Jackobones From the Brazilian Forums. He has figured out a way to get a cave troll stuck in the inverted castle left lake and has been able to use this troll to open 11 new Rooms using the "Mist Up" Technique. This brings the Maps to 406.1% Non S4R and 426.7% with S4R


New Mist up Rooms 2012


Sept 16 2009
Many months back Mauricio From the Brazilian Forum had noticed that activating infinity mode for alucard has extra effects on richters game. If you reload your game and use a richter file, the closed gate in the right lake where the ferryman is will be open! This allows richter to visit these areas and open them on his map. The gate opening seems to only work on the actual PSX system and not via emulator. Since that time I worked a lot with Kuraudo and some others on the brazilian forum and many of the worldbeyondwalls members and we finally hit on a method to activate infinity AND Richter special mode in one technique. This works on both consoles and emulators but only the console will activate the gate in the right lake. This brings richters Map to 203.0%


Infinity and Richter Special Mode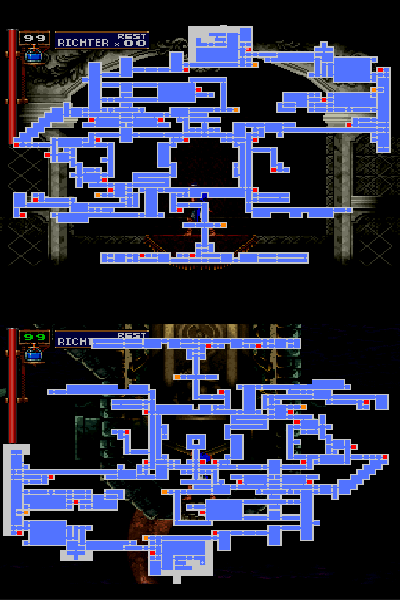 April 29 2009
Congratulations to Kuraudo from the Brazilian Forum for his 3 new rooms found for richters game. All 3 are outside the castlekeep and all can be completed in one quick technique. These are the same Half/Invisible rooms that alucard can get in his game and is nearly the same method. Check the video for the method to obtain the rooms. This works for the USA version and should work fine in japan Version 4 (PSone Books)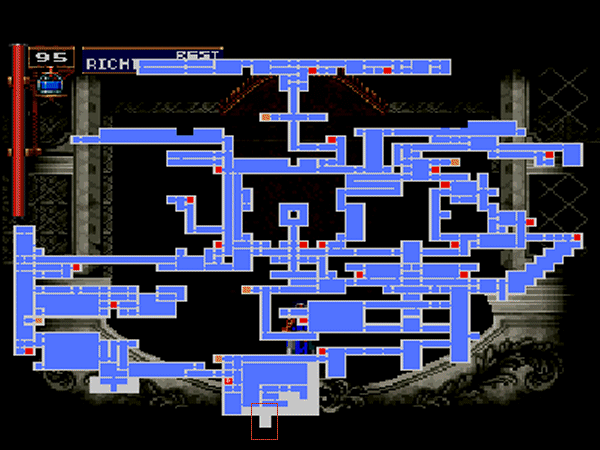 New Richter Castlekeep Rooms




March 5th 2009
Since we had a server move and lost most of the storage space i have started to move a good portion of the movies onto Youtube for the time being. My ISP is upgrading the servers shortly so hopefully this is the upgrade I have been waiting for. Go to my youtube page and watch the movies for the time being.


Paledim25's Youtube Movies




October 29th 2008
New Max Percentage found today. Arukado has found a new room to obtain using Mist-UP. This new room is located in the Inverted Caverns in the ceiling of the right lake. New Max Percentage is now 425.5%. Check the new map and the Youtube video.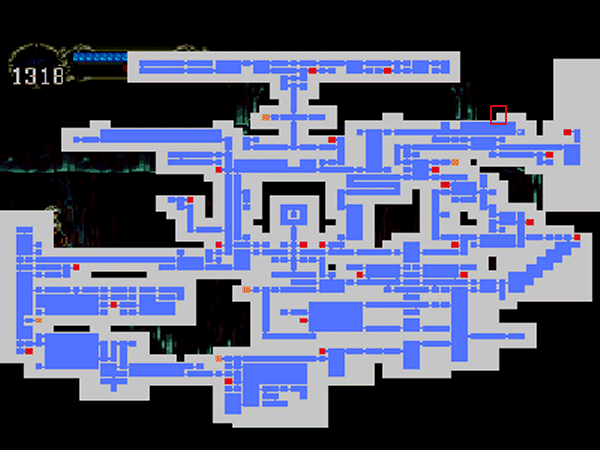 Arukado's New Mist-Up Room



October 23rd 2007
I was sent an email today from the Associate Editor of Destructoid.com. They did an interview with Koji Igarashi recently and they were able to speak to him about our community of glitchers. It seems to have sparked some interest with Koji Igarashi that we are such a dedicated group that he may even visit our site sometime. I will be taking some time out in the very near future to do some long overdue additions to the site and make it look a little nicer and cleaner so that if and when he does visit he has something nice to look at.

Please have a look at the interview that was posted on destructoid.com and be sure to check out their site. I browsed over it a bit last night and will look more into it today. Looks like a great place!


Destructoid Koji Igarashi Interview



August 26 2007
NEW TECH REVEALED: MIST UP

New Max Map 425.4%

On June 27th outofthegamer discovered a new tech that involves gaining a level while in mist form would open a room above you. This new technique has enabled us to open 43 new rooms. The catch though is that you will need to start your glitching game over again. You now need to combine a low kill game with a glitching game as you need to keep your levels low since you are limited in the number of level ups you can do.