INTRODUCTION
Peter Sutcliffe, the Yorkshire Ripper, first began his attacks with the Stone-In-Sock attack in September 1969. His next confessed attack was in July 1975. Both the Byford and the Sampson reports on the police handling of the investigation pointed to a failure of the police to link as being possible Ripper victims attacks and murders which had similar factors and aspects as the Ripper series. The attack on Marcella Claxton (which Sutcliffe confessed to after his arrest) and the attack on Tracy Browne (which Sutcliffe confessed to in 1992) were two cases that were cited in the reports.

The following list contains attacks and murders that were speculated at one time or another as being possible Yorkshire Ripper victims. Some were eliminated as victims within days of the attack, or shortly afterwards, due to forensic evidence and other factors. Other attacks and murders were speculated about after the arrest of Peter Sutcliffe, some eliminated through forensic evidence years later.

Further speculation about additional Yorkshire Ripper attacks came from Keith Hellawell, Chief Constable of West Yorkshire, when it was revealed in 1996 that he had examined 60 possible murders and attacks that were unsolved and could have been Ripper attacks. He culled these 60 attacks down to 20 which he believes may be the responsibility of Sutcliffe. Mr Hellawell said that the unsolved murders and attempted murders are linked by a number of factors, including similar descriptions, the use of a hammer as a weapon, and similar head injuries.

On December 7 1996, a programme called "Silent Victims: The Untold Story Of The Yorkshire Ripper" was broadcast. The programme detailed six attacks, the confessed Stone-in-sock attack in 1969, the attack on Gloria Wood in 1974, the attack on Tracy Browne in 1975 (Sutcliffe confessed to being responsible for this attack in 1992), the murder of Debra Schlesinger on April 21 1977, the attack in Ilkley (Yvonne Mysliwiec) in 1979, and the attack on a Leeds student (Maureen Lea) in October 1980. The attack on an Irish student, which Sutcliffe also confessed to in 1992, did not feature in the programme, other than a mention that he had confessed to the attack while showing a photograph of where the attack took place. Keith Hellawell was interviewed but did not give any details of the alleged murders or attempted murders that he is convinced are the Ripper's work.

Further information about attacks which might be the responsibility of Peter Sutcliffe became available in 2003 with the release of the book "Wicked Beyond Belief" by Michael Bilton. Included in the documents available to the author, were the unpublished sections of the Byford Report which examined attacks not included in the original investigation.

On February 3 2005, the Yorkshire Evening Post reported that after Peter Sutcliffe's arrest a list of 47 crimes that he could have been responsible for was drawn up by Ripper Squad detectives on an official TIC (taken into consideration) form. The cases reported in the newspaper as being on the list were the murder of Fred Craven, the attack on John Tomey, and the murder of an unidentified young woman, believed to be a prostitute, in Hemel Hempstead, Hertsfordshire (no date given for the murder, and which later proved to be an attempted murder, and the victim was not a prostitute).




On June 29 2015, Chris Clark and Tim Tate's book "Yorkshire Ripper: The Secret Murders" was published, and detailed many murders and attacks that they believed were Sutcliffe's responsibility. Many have already been detailed here, and no new information has been added to this website from their book on those attacks and murders (other than in two of the attempted murders where they had the day of the attack, rather than just the month and year that were listed here previously).

The murders and one attack that they detail in their book, that are not already on this website, are the following:

The murder of Lucy Tinslop, age 21, on August 4 1969, in Nottingham, Nottinghamshire.
The murder of Gloria Booth, 29, on June 13 1971, in South Ruislip, London.
The attack on Maria Burke, 22, on April 18 1972, in Hemel Hamstead, Hertfordshire.
The murder of Judith Roberts, 14, on June 7 1972, in Wiggington, Staffordshire.
The murder of Wendy Sewell, 32, on September 12 1973, in Bakewell, Derbyshire.
The murder of Rosina Hilliard, 24, on February 22 1974, in Leicester, Leicestershire.
The murder of Kay O'Connor, 37, on March 1 1974, in Colchester, Essex.
The murder of Caroline Allen, 17, on April 10 1974, from Nottingham, Nottinghamshire, body found near Little Belvoir, Leicestershire.
The murder of Eve Stratford, 21, on March 18 1975, in Leytonstone, London.
The murder of Lynne Weedon, 16, on September 3 1975, in Hounslow, London.
The murder of Elizabeth Parravicini, 27, on September 9 1977, in Osterley, London.
The murder of Lynda Farrow, 29, on January 19 1979, in Woodford Green, London
The murder of Alison Morris, 25, on September 1 1979, in Ramsey, Essex (over two hundred miles away and six and half hours before the murder of Barbara Leach).
The murder of Sally Shepherd, 24, on November 30 1979, in Peckham, London.
The murder of Patricia Morris, 14, on June 16 1980, in Hounslow Heath, London.

Of the above fifteen, six include strangulation as part of the method of attack. While Sutcliffe is known to have used a ligature only in 1980 in two of the final four attacks and murders he committed, it is not inconceivable that he may have used it in previous and so far unconnected attacks. However, it was definitely not his preferred method (attack with a hammer or blunt instrument) and seems unlikely to have been included in many, if any, other attacks, such as they detail (some without any blunt instrument included).

Without devling too deeply into the attacks themselves, by expanding and making more prominent strangulation in Sutcliffe's standard MO, bascially also means that other than shooting, it pretty much covers all methods of attack that sexual and/or serial killers use. Clark and Tate have also included at least two murders where the victim was tied up, something never seen in any of Sutcliffe's attacks and murders.

As well, all the above are definitely not in what could be called Sutcliffe's geographical location of known attacks. While Sutcliffe was very mobile both before and after becoming a lorry driver in 1975, and did spent some time visiting Sonia in London in 1971 and 1972, and did have relatives that he visited in the general area of some of the attacks, the book basically can only offer sheer speculation to place him in the area during the attacks. Besides the obvious problem of placing Sutcliffe anywhere near these murders, most, if not all, of the murders have various aspects that make them less likely to be Sutcliffe's responsibility, either witness statements, evidence, method of attack (or lack of Sutcliffe's known signature), remoteness of location, etc. While it is possible there may be some that are Sutcliffe's, generally, they all appear very unlikely.

Clark and Tate have also included Barbara Mayo (October 12 1970, see below) and the linked (unknown if DNA linked, as well) murder of Jacci Ansell-Lamb (March 8 1970, found near Mere, Cheshire, see Barbara Mayo entry below). There is a DNA fingerprint of the murderer of Barbara Mayo, and it is known that Sutcliffe has been included in the DNA National Database. There was an attempt to obtain DNA from at least one suspect in Canada after a sample from Sutcliffe was taken, and there have been further appeals to help solve these murders. It is obvious and logical that the DNA fingerprint of the murderer of Barbara Mayo (and possibly the murderer of Jacci Ansell-Lamb) is not Peter Sutcliffe.

As well, it is detailed in the book that in 2007 a DNA fingerprint of the murderer of Eve Stratford (March 18 1975, Leytonstone, London) was matched with the DNA fingerprint of the murderer of Lynne Weedon (September 3 1975, Hounslow, London). Yet again, it is obvious that the DNA fingerprint of the murderer does not match Peter Sutcliffe's DNA sample in the National Database. Again, there have been further appeals about the murders, the latest in April 2015 where a new reward was offered for information, so it cannot be said that they did match Sutcliffe and it is being covered up.

Even more interesting, as far as Clark and Tate including all of them in their book (and as Sutcliffe's responsibility), and not explained or discussed, is that there has been no DNA linkage between Barbara Mayo (and the murder of Jacci Ansell-Lamb) and the DNA fingerprint of the murderer of Eve Stratford and Lynne Weedon. Besides these murders not being Sutcliffe's, they are also not connected to each other, which means there were, besides Sutcliffe (and others that were known to be operating during that time period), at least two other sexual and/or serial murderers operating at the time, one of them being in the London area, where many of the murders took place that Clark and Tate detail in their book.


UPDATE June 12 2016 - Marion Spence (June 10 1979) murder update.



The following list is by no means a complete listing. Any speculation about the "Victim Status" is based only on what information (at times, very incomplete in details) I have been able to gather, and my own personal opinion about the viability of the victim being a possible Ripper victim.

The confessed Yorkshire Ripper victims have also been included as a point of reference.






FRED CRAVEN
Date of attack: April 22 1966
Place of attack: Bradford
Outcome: Murdered
On Friday, April 22 1966, in Bingley, shortly after 11:30 am, Fred Craven, 66, was murdered with a blunt instrument in his betting office above an antique shop in Wellington Street. It was established that, while there was no racing that day, he had gone into his office to pick up some papers. He had made a quick telephone call to a relative, and police believed that his killer may have come into the office just as he finished his phone call. His body was found lying behind the office door by another relative at 11:40 am.
Fred Craven had injuries to the back of his head, to his left arm while trying to ward off the blows, as well as fractured ribs where he had been kicked in the chest. His wallet, which was believed to have contained £200 in cash, had been stolen by his murderer. Police believed that the murderer was most likely a local man, who knew Craven, where his office was, and probably saw him enter the side-door entrance to his office next to the antique shop. Fred Craven, due to the fact he was only four feet seven inches in height and disabled, was instantly recognisable to the people of Bingley.
Police believed that the attacker would likely have been covered in blood after the attack, and with the narrow time frame of the mid-day murder, believed they would make a quick arrest. They issued the descriptions of two men who had been seen looking in the window at the antique shop prior to the murder. One man was said to be about age forty, five feet four inches in height, wearing a dark jacket and cloth cap, and appeared to be needing a shave. The other description was of a man about age twenty, five feet five inches in height, of slim build, wearing a dark jacket, light-coloured trousers, and a blue denim cap.
Peter Sutcliffe's brother, Michael, aged 16, was held for questioning because of the blue denim cap he wore, and at the time of the murder had been spotted in the area. However, he had been in Wellington Street at the time getting fish and chips from the chip shop close to the murder scene for the men at the factory where he had recently begun work as an apprentice joiner. He was eventually released and was ruled out as having any involvement in the crime.
Michael Bilton, in his book "Wicked Beyond Belief", details features that could point to Peter Sutcliffe, then aged 20, as a possible suspect in the murder. After Sutcliffe's arrest in 1981, Detective Sergeant Des O'Boyle, thought Sutcliffe may have been responsible for the murder of Fred Craven, as well as the attack on John Tomey (March 22 1967), given Sutcliffe's propensity for violence, the fact he lived and worked in the town of Bingley, and the similar method of attack on the victim.
The book also mentions that one of Sutcliffe's friends at the time, Keith Sudgen, remembered that Sutcliffe definitely had a blue denim cap, referred in the book as a "Donovan" cap, named after a singer popular at the time. As well, Sutcliffe knew Fred Craven, who lived at 23 Cornwall Road, while the Sutcliffe family home where Peter Sutcliffe lived was less than one hundred yards away at 57 Cornwall Road. Peter Sutcliffe had asked Fred Craven's daughter Jennifer to go out with him several times, and had been refused.
It is also stated in the book "Wicked Beyond Belief" that Detective Sergeant Des O'Boyle had attempted to obtain the outstanding fingerprint evidence in both the Fred Craven case and the John Tomey case. He was informed that the evidence had been lost during an internal reorganisation, so he was not able to do a direct comparison to confirm or eliminate Sutcliffe based on that evidence.
However, Peter Sutcliffe had been arrested in March 1965 and charged with attempting to steal from an unattended motor vehicle and was subsequently fined £5 at the Bingley West Riding Magistrates Court on May 17 1965. Sutcliffe would have been fingerprinted at the time of this arrest (and again in 1969 when charged with going equipped for theft). Any outstanding fingerprint evidence from the Craven and Tomey crime scenes (assuming that the fingerprint evidence was from the perpetrator), would have been compared against the files in the Fingerprint Bureau for the (at the time) West Riding Police. Therefore, Peter Sutcliffe would have been eliminated as the perpetrator of these crimes due to his fingerprints having been on file at the time.
The book "Wicked Beyond Belief" also stated that a recent review of "cold case" files included the murder of Fred Craven and the attack on John Tomey, but that the investigations could not be reopened due to a lack of evidence, whether forensic or otherwise, on which to proceed with new lines of inquiry.
Victim Status: UNLIKELY TO BE CONNECTED TO THE RIPPER SERIES
(Source material: Bilton, Burn.)



JOHN TOMEY
Date of attack: March 22 1967
Place of attack: Oxenhope
Outcome: Survived
On Wednesday, March 22 1967, taxi-driver John Tomey, 27, picked up a passenger in Leeds who wanted to be driven to Burnley, Lancashire. The man was wearing a zipped beige-coloured jacket, jeans, and a green and white college scarf, which made Tomey assume he was a student.
When they were at Saltaire, on the outskirts of Shipley, Tomey claimed the passenger decided that he wanted to go to Bingley instead, and that near Bingley he stopped and showed the man the fare card. As he had stopped under a street lamp, he claims he had a good look at the man, and that the man was getting very agitated, claimed he didn't have the money for the fare, but said he had an aunt in Nelson (in Lancashire, near the original destination of Burnley) would pay the fare.
On the way to Nelson they took the route over Cockhill Moor, but it appears that John Tomey got lost, and at about 11:20 pm on the Hedben Bridge Road, approximately three miles from Oxenhope, he finally was able to make a U-turn, and decided to stop and consult a map. While he was bending down to get the map, the passenger in the back attacked him with a hammer, hitting him in the head. Tomey raised his hands up to fight back and defend, had his thumb broken, fell forward, and lost consciousness for a few moments. Upon awakening, he saw his attacker was outside trying to smash the driver's window with the hammer. His attacker had also smashed the car lights and taxi sign.Tomey was able to drive off and get help at a nearby cottage.
John Tomey suffered a fractured skull with crescent-shaped lacerations, a fractured thumb, and other injuries. He described his attacker as between twenty-three and twenty-seven, five feet eight to ten inches in height, with darkish skin, dark hair, and a moustache and beard.
In 1981, several weeks after Peter Sutcliffe had confessed to being the Yorkshire Ripper, Detective Sergeant Des O'Boyle questioned John Tomey about the attack on him, and showed him photographs of men with beards and moustaches on a double-page spread, including one taken of Peter Sutcliffe after his arrest for going equipped for theft in 1969, which John Tomey, without hesitation, picked out as his attacker.
In a September 19 2000 Bradford Telegraph & Argus article, John Tomey said of his attacker: "He hit me with a hammer. When I saw the pictures of Sutcliffe I had no doubt it was him who attacked me. If the Yorkshire police had found the man that hit me over the head he would not have been able to murder the 13 women." (NOTE: The Bradford Telegraph & Argus article stated the original destination as Manchester, not Burnley.)
Tomey also stated in the article that he had enlisted the help of a doctor in order to pursue a compensation claim from the Criminal Injuries Compensation Board. He was quoted as saying: "I have lost 90 per cent of my life and memory."
There are many aspects to this case which make it unlikely that Peter Sutcliffe was responsible for this attack, including the fact that Mr Tomey's claim that he recognised Peter Sutcliffe immediately as his attacker, must be viewed with some caution, considering the extremely long passage of time (14 years after the attack), as well as other factors.
More importantly, as was noted in the above entry for the murder of Fred Craven (April 22 1966), there was outstanding fingerprint evidence in both that case and the attack on John Tomey that Detective Sergeant Des O'Boyle had attempted to obtain in 1981, but had been informed that the evidence had been lost during an internal reorganisation.
As was also noted in the Fred Craven entry, Peter Sutcliffe would have been fingerprinted at the time of his arrest in March 1965. Therefore, he would have been eliminated as the perpetrator of these crimes (assuming that the outstanding fingerprint evidence was from the perpetrator) due to his fingerprints having been on file at the time the files in the Fingerprint Bureau were checked.
The book "Wicked Beyond Belief" stated that a recent review of "cold case" files which included the murder of Fred Craven and the attack on John Tomey, concluded that the investigations on the two cases could not be reopened due to a lack of evidence, whether forensic or otherwise, on which to proceed with new lines of inquiry.
Victim Status: UNLIKELY TO BE CONNECTED TO THE RIPPER SERIES
(Source material: Bilton, Bradford Telegraph & Argus.)



MARY JUDGE
Date of attack: February 26 1968
Place of attack: Leeds
Outcome: Murdered
Mary Judge, a 43-year-old prostitute, was found naked and battered to death on waste ground near the Leeds Parish Church.
In the book by David Yallop, it says the murder took place in 1970. Two other books, one by Peter Kinsley and Frank Smyth, and the other by Roger Cross, both stated that after the Emily Jackson murder (in 1976) the police were looking at the murder of Mary Judge six years previously, therefore again suggesting the murder was in 1970.
However, a May 4 1997 article in the Electronic Telegraph (the website of the Daily Telegraph) stated that her murder took place on February 26 1968, not in 1970. If Mary Judge's murder took place in 1968, then this significantly reduces the possibility that Sutcliffe could be the murderer, since his first know incident, the "Stone-In-Sock" attack, took place in September 1969. Judging by the way he did this attack, it is fairly certain that this was his first attack.
If it is a typographical error, and the real date is February 26 1970, then it would fall in line with the premise that Sutcliffe may have been responsible for the murder as it was five months after his arrest for the "Equipped For Theft" Incident when he was found hiding behind a hedge with a hammer.
UPDATE
Mary Judge's murder was in 1968, and not in 1970. As noted above, it seems unlikely that this murder could be Sutcliffe's responsibility, taking place a year and a half before his first known attack in September 1969, which by its method, choice of weapon, etc., seems to have been the beginning of his attacks.
Victim Status: UNLIKELY TO BE CONNECTED TO THE RIPPER SERIES
(Source material: Cross, Kinsley & Smyth, Yallop, Daily Telegraph.)





BARBARA MAYO
Date of attack: October 12 1970
Place of attack: Ault Hucknall, Derbyshire
Outcome: Murdered
Barbara Mayo, a 23-year-old school teacher, was found battered, raped, and strangled in a wooded area at Ault Hucknall, Derbyshire. She was last seen hitch-hiking on the M1 between London and Leeds on Monday, October 12 1970. Her body was found six days later.
The link to Peter Sutcliffe came after his trial in 1981 when it was announced that he would be questioned about the murder. Sutcliffe owned a Morris 1000 (the same type of car believed to be the murderer's car) and was visiting his wife at college in London during the same period. A photofit issued two months later, in December 1970, bears a striking resemblance to Sutcliffe when compared to a photo from his grave-digging days.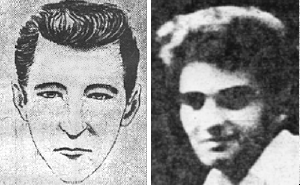 1970 Mayo Photofit and a photo of Peter Sutcliffe


Sutcliffe had used strangulation (after hitting his victims with a hammer first) later on in his attacks (Marguerite Walls and Upadhya Bandara) to throw the police off his trial, but later stated he did not like the method. Only one of the Yorkshire Ripper victims had been raped (Helen Rytka).
The murder of Barbara Mayo was officially linked in 1990 by police to the murder, seven months earlier, between March 8th and 14th 1970, of another lone hitch-hiker who had been hitch-hiking from London to Manchester. Jacci Ansell-Lamb, 18, a secretary from London who lived in Manchester, was found dead on frozen farmland in Mere, Cheshire, close to the M6.
Both women had been strangled with a rope and had been raped. Both had also been dumped in heavy undergrowth with their arms and legs spreadeagled. As well, buttons from the coats of both murder victims had been taken by the killer.
In September 1997, Derbyshire police announced that scientists had been able to build a DNA fingerprint of Barbara Mayo's murderer from a minute sample found on her clothing. The DNA fingerprint had been checked against 200,000 in a national database, but no match had been found. In December 1997, it was announced that forensic scientists had visited Peter Sutcliffe and extracted a sample of his DNA.
In January 1999, it was published that the Derbyshire Constabulary were possibly going to the courts in order to obtain a DNA sample from a man in Canada in regards to this murder. This seems to indicate that Peter Sutcliffe's DNA did not match the killer's DNA sample, as it is highly unlikely that they wouldn't have compared the two samples. Therefore, this murder, which had originally appeared as a fairly strong candidate for one of Sutcliffe's possible victims, has, through forensic evidence, been discounted as a possible Ripper victim.
Victim Status: NOT CONNECTED TO RIPPER SERIES OF ATTACKS
(Source material: Derby Evening Telegraph, The Guardian, The Independent, Northern Echo, The Times.)



WAKEFIELD CLERK-TYPIST
Date of attack: December 29 1972
Place of attack: Wakefield
Outcome: Survived
On a foggy Friday, December 29 1972, in Wakefield, a 19-year-old clerk-typist left a pub named Dolly Grey's at around 10:30 pm where she had been for a drink. As she made her way home, she became aware that she was being followed. Looking behind her, she saw a man with staring eyes, dark longish hair and a beard. She continued on walking, nearly deciding to go into a pub called the Swan with Two Necks to avoid her follower, but continued on her way, walking quickly past dark passageways running between some of the terraced houses.
As she reached the row of houses where she lived, she was suddenly grabbed from behind. Upon screaming loudly, her attacker covered her mouth telling her to shut up several times. After she screamed again, the man punched her on the back of the head with his fist. He then shoved her into a low wall, where she grazed her face. Fortunately, a prison officer heard the commotion, opened his bedroom window to find out the cause, and then came running out of his house to help. He ran after the attacker, but failed to catch up to him.
The clerk-typist was able to provide a photofit of the man. She had noticed the resemblance of her attacker to singer Cat Stevens, and had looked at a photograph of him prior to going to the police station the following day to make a statement.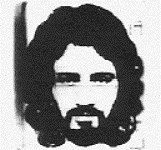 Photofit of Wakefield attacker


She described her assailant as in his mid-twenties, of medium build, five feet ten inches in height, with long dark hair, dark eyebrows, and a beard and moustache including a tuft between the chin and the mouth.
When Peter Sutcliffe was arrested, just over eight years later, and photographs of him appeared, she told her family that she believed that he had been the one who had attacked her.
It must be noted that this attack does lack the characteristics of later attacks by Sutcliffe (specifically, blows to the head with a blunt instrument). Of course, this attack was prior to the time period when he was actively trawling for victims with weapons readily available in his vehicle.
NOTE: During the period from late 1969 (his known Stone-In-Sock attack) until July 1975 (his first know Yorkshire Ripper attack), several factors would have had an impact on Peter Sutcliffe's opportunities for attacks. Sonia, his future wife, began her schooling in London in September 1970. Peter Sutcliffe intentions were to visit her there on weekends and holidays. He also stayed in London for a while. This would limit his opportunities for attacks in West Yorkshire as he would be travelling, or staying in London. Early in 1972, Sonia suffered a nervous breakdown and returned to Yorkshire. While helping her with what would be a slow recovery, this would have taken up his time and thoughts, but the opportunity for attacks was still there, and might have been intensified due to her breakdown. From April 1973 to February 1975, when he had a night job, Sutcliffe's opportunities for attacking women would have been severely restricted.
Victim Status: POSSIBLE YORSKHIRE RIPPER VICTIM
(Source material: Bilton, "Manhunt: The Search For The Yorkshire Ripper" 1999 television programme.)



GLORIA WOOD
Date of attack: November 11 1974
Place of attack: Bradford
Outcome: Survived
On Monday, November 11 1974, while walking across a school playing field in Bradford between 7:30 and 8:00 pm, student Gloria Wood, 28, met a man who offered to carry her bags. He then attacked her about the head with what was thought to be a claw hammer. She suffered severe injuries, including a depressed fracture of the skull with a crescent-shaped wound, which would require surgery to remove bone splinters from her brain. The attack was interrupted by some nearby youths, and she was found covered in blood by a young girl.
While she could not provide a photofit of her attacker, she did describe him as being in his early thirties, 5 feet 8 inches in height, of medium build, with a short curly beard and dark curly hair, and looked smartly dressed, wearing a dark suit.
Victim Status: POSSIBLE YORSKHIRE RIPPER VICTIM
(Source material: Bilton, "Silent Victims: The Untold Story Of The Yorkshire Ripper" 1996 television programme.)



BARBARA MILLER
Date of attack: March 1975
Place of attack: Bradford
Outcome: Survived
After the death of Emily Jackson, a description was released of a man who was seen picking her up on the night she was murdered, and, therefore, may have been the Yorkshire Ripper. An earlier attack on Barbara Miller, a prostitute, in March 1975 at Bolton Woods, Bradford, was connected to the same man, and, therefore, regarded as possibly a Ripper attack.
The police released the following information about the attack: "At 9.30 p.m. on either a Wednesday or Friday during March 1975, Barbara Kathryn Jennie Miller, born 12.2.41, an active prostitute in Wolverhampton, Derby, and Manningham area of Bradford picked up the after-described client in a public house in Lumb Lane, Bradford, and she was taken to a quarry in the Bolton Woods district of Bradford in a vehicle she describes as a Land Rover, hardtop and fairly long. The vehicle is further described as blue with dirty cream top and in dirty condition, six-inch tear in black vinyl of passenger seat, with white coloured square petrol can and sacking behind drivers seat."
"The man stopped the vehicle, went round the nearside, opened the passenger door and ordered the woman out. She refused and was pulled out of the vehicle, following which a violent struggle took place and she was punched in the stomach, chest and face. The woman eventually escaped, but did not report the matter to the police."
"Her attacker is described as follows: Man, 35-40 years, 5ft. 8in., stocky build, untidy ginger hair, thin but not receding. Full ginger beard and moustache which was bushy on the checks but cut short under the chin, bushy ginger eyebrows, possibly blue eyes, yellow stained teeth, long nose, straight and turned up, ruddy complexion, possible Irish accent with slight Birmingham dialect, thick hands and fingers, plain gold square ring on little finger of right hand. On back of left hand was a 3-4in. scar from the knuckle of the ring finger in a curve to the outside of the hand. Blue and red tatoo on back of one forearm which tapered to a point below cuff."
Clearly, the man described is not Peter Sutcliffe. If the man that attacked Barbara Miller was the same man as the one seen at the time of Emily Jackson's disappearance and murder, then it shows that he must have been a regular punter, was prone to some violence against prostitutes, and who happened to be in the wrong place at the wrong time just before Emily Jackson's murder. The man was never traced, even with the very distinctive characteristics described.
Victim Status: NOT CONNECTED TO RIPPER SERIES OF ATTACKS
(Source material: Lavelle, Yallop.)





RENEE McGOWAN
Date of attack: July 23 1975
Place of attack: Bradford
Outcome: Murdered
Renee McGowan, aged 55, was murdered in her high-rise flat in Evans Towers, Bradford, on July 23 1975. She was found strangled, partly clothed, with her wrists tied behind her back on a bed in her high-rise flat in Bradford on July 23, 1975. At one time the murder had been linked to the murder of Wilma McCann, until forensic evidence and reports discounted the possibility of a link.
At the coroner's inquest, police said that they considered a possible motive was jealousy, as McGowan, a member of a Lonely Hearts Club in Bradford, had been planning marriage at the time of her murder.
However, in a teleprinter message in February 1978, after the Helen Rytka murder, her name is included in the series of reports relating to the Helen Rytka murder. David Yallop, in his book "Deliver Us From Evil", found this most curious, as it was the only murder, other than the acknowledged known Ripper murders, to be included on the list. Yallop states: "Why not include the murder of Debra Schlesinger, an eighteen-year-old woman found stabbed to death a few yards from her home in Leeds on April 22, 1977? The murder is still unsolved. Or the murder of Mrs. Mary Gregson, strangled on a canal towpath at Saltaire, Shipley, on August 30, 1977? Murder still unsolved. Or the murder of prostitute Barbara Booth and her three-year-old son, Alan, on January 7, 1976? Both murders still unsolved. (Note: Yallop was incorrect about these two murders being unsolved. See Barbara Booth January 7 1976) Or the murder of Mary Judge, a forty-three-year-old prostitute found battered to death near Leeds Parish Church in 1970? Murder still unsolved."
All the above murders that he mentioned (especially Mary Judge and Debra Schlesinger) were far more likely to have been possible victims of the Ripper than the Renee McGowan murder. The lack of head injuries, the strangulation, and the tying of the wrists, were all completely foreign to the hallmarks, or signature, of a normal Ripper attack. More than likely the inclusion of the McGowan murder on the teleprinter message was a mistake or a failure to remove it from the list, rather than any renewed speculation on the case about it possibly being linked to the Ripper series.
Victim Status: NOT CONNECTED TO RIPPER SERIES OF ATTACKS
(Source material: Kinsley & Smyth, Yallop.)







LESLEY MOLSEED
Date of attack: October 5 1975
Place of attack: Rushwood Moor, Yorkshire
Outcome: Murdered
Just after midday on Sunday, October 5 1975, on the Turf Hill estate outside Rochdale, Mrs Molseed sent her daughter Lesley, aged 11, out to the shops for some bread. Four days later a motorist on the A672 between Oldham and Ripponden saw something lying on the steep bracken-covered bank rising from the side of the road. The body of Lesley Molseed was found on the isolated Rushwood Moor, in Yorkshire, just a mile past the Yorkshire/Lancashire county border.
The post-mortem by forensic pathologist Professor David Gee (who would also conduct the post-mortems on the Ripper victims in the Yorkshire area) revealed that she had been repeatedly and savagely stabbed no fewer than a dozen times. The weapon was thought to be a small-bladed knife about two inches long and half an inch wide - possibly a pen-knife. Lesley Molseed had also been sexually assaulted. While it was uncertain whether Lesley Molseed had been killed elsewhere and then transported to the moor, the finding of her blue carrier bag near her body seemed to indicate that she had been alive when she was taken there.
The officers heading the investigation squad were Detective Chief Superintendent Jack Dibb and his second-in-command Detective Superintendent Dick Holland (later of the Ripper squad). The murder was at one time briefly linked to the Ripper series, but was eliminated after forensic evidence and reports discounted the link.
In a travesty of justice, Stefan Kiszko was convicted and spent sixteen years in jail for the murder before finally being officially absolved of the murder. Vital evidence which would have proven his innocence had conveniently disappeared, whether by negligence, accident, or deliberate intent. As well, it was obvious that his confession had been forced by pressure tactics by the police to get a confession and conviction at any cost.
The murder of Lesley Molseed in still unsolved. In 1998, the family of Lesley Molseed suggested that a 52-year-old convicted paedophile may have been responsible for her murder. However, the reported loss of evidence that could have been DNA tested and point to the killer, coupled with the lost time factor, due to extracting a false confession and conviction, makes it unlikely the murderer will ever be brought to justice. An additional tragedy to an already tragic and disturbing case.
Many factors contribute to the discounting of Peter Sutcliffe being responsible for this murder. To begin with, the age of the victim points more to a paedophile attack. As well, it is a daylight (midday) attack, is essentially a kidnapping (or possibly the victim knew the attacker), and lacks the tell-tale head injuries, all factors foreign to Sutcliffe's usual "signature" of night-time blitz-type attacks from behind with a hammer, without trying to get the victim into his vehicle (in the cases of the non-prostitute attacks).
The case of Lesley Molseed was re-opened in 2001, and in December 2001 West Yorkshire police officially identified convicted paedophile Raymond Hewlett, 56, formerly of Todmorden, as a suspect in the case, and released two new photos of the wanted man. Hewlett's current whereabouts are not known. It is known that he left Todmorden for Ireland shortly after Lesley Molseed's murder, and after giving police what turned out to be a false alibi.
UPDATE
On February 5 2003, the television programme BBC Crimewatch detailed information on the Lesley Molseed murder, and reported the fact that in 1999 the West Yorkshire police approached the Forensic Science Service with evidence from the case in the hope of obtaining a DNA profile of the murderer. Due to the latest techniques, forensic scientists were successful in generating a DNA profile from a sample of semen found on Lesley Molseed's body.
The BBC Crimewatch programme also reported that Peter Sutcliffe was included in those eliminated from being the murderer by the DNA evidence. Raymond Hewlett, a recent suspect in the case, and child-killer Robert Black, were also among those eliminated.
UPDATE 2
On Sunday, November 5 2006, officers from West Yorkshire police arrested Ronald Castree, age 53, at his home on Brandon Crescent, Shaw. He was taken for questioning to Halifax Police Station and was charged on Monday night, November 6th, with the murder of Lesley Molseed. The father of three, a well-known trader primarily in comic books, appeared at Calderdale Magistrates on Tuesday where he was remanded in custody to appear at Bradford Crown Court November 14th.
It is believed that police were acting on new evidence that had come from a DNA sample that was taken from him when he had been arrested earlier this year on an unconnected matter. The arrest comes 31 years after Lesley Molseed's murder.
UPDATE 3
On November 12 2007, 54-year-old Ronald Castree, a comic book dealer, of Brandon Crescent, Oldham, Greater Manchester, was found guilty of the murder of Lesley Molseed. He was sentenced to life, with a minimum of 30 years to be served.
In 2005, Castree was arrested, but not charged, in connection with another sex attack. A DNA sample taken at the time was a direct match to a semen sample that had been discovered on Lesley Molseed's underwear. At the trial, Castree denied the murder, and claimed he had no idea how his DNA ended up at the crime scene.
Victim Status: NOT CONNECTED TO RIPPER SERIES OF ATTACKS
(Source material: Kinsley & Smyth, Brian Lane, "The Murder Yearbook", BBC Crimewatch TV programme, BBC News, Daily Telegraph, The Independent, Oldham Advertiser, Rochdale Observer, Yorkshire Post.)







ROSEMARY STEAD
Date of attack: January 6 1976
Place of attack: Bradford
Outcome: Survived
In January 1976, at Queensbury, Bradford, at 6:30 pm, 18-year-old shop assistant Rosemary Stead was being followed down the side of a field when a man attacked her from behind. She received serious head injuries during the attack. Her description of her attacker was that he was twenty-five to thirty years in age, around five feet nine or ten inches in height, of slim build, with dark hair and a moustache. He was wearing a green jacket and dark jeans.
Victim Status: POSSIBLE YORSKHIRE RIPPER VICTIM
(Source material: Bilton, Bradford Telegraph & Argus, Clark & Tate.)



BARBARA & ALAN BOOTH
Date of attack: January 7 1976
Place of attack: Leeds
Outcome: Murdered
On the afternoon of January 7 1976, prostitute Barbara Booth, 24, and three-year-old son Alan, were found stabbed to death on the living-room floor of their home in Greenhow Crescent, Burley, Leeds. Mrs Booth had been stabbed 15 times.
Detective Chief Superintendent Dennis Hoban was prepared to link Mrs Booth's death with that of Wilma McCann, mainly because both victims were prostitutes, and also due of the intense savagery of the attacks. Unknown to Mr Hoban at the time, a 19-year-old student had been arrested the same day in Bradford in connection with the stabbing to death of an 85-year-old widow and a 16-year-old youth a few miles apart between Bingley and Eastburn. He had also confessed to the murder of Mrs Booth and her son.
In June 1977, Mark Andrew Rowntree, pleaded not guilty in Leeds Crown Court to four charges of murder but guilty to manslaughter, on grounds of diminished responsibility. He was committed to Broadmoor for an unlimited period.
Victim Status: NOT CONNECTED TO RIPPER SERIES OF ATTACKS
(Source material: Cross, Kinsley & Smyth, O'Gara, Yallop.)







MAUREEN HOGAN
Date of attack: August 29 1976
Place of attack: Bradford
Outcome: Survived
In August 1976, at Lister Hills, Bradford, 39-year-old mother-of-four, Maureen Hogan was attacked during the early hours. She received head injuries and stab-like wounds to her abdomen. She was not able to provide any details of the person who had attacked her.
Victim Status: POSSIBLE YORSKHIRE RIPPER VICTIM
(Source material: Bilton, Bradford Telegraph & Argus, Clark & Tate.)



BARBARA BREARLY
Date of attack: October 1976
Place of attack: Doncaster
Outcome: Survived
Barbara Brearly survived an attack in October 1976 in Doncaster. While details of the attack and injuries received are not presently known by this writer, it was speculated in David Yallop's book, "Deliver Us From Evil" that Peter Sutcliffe could have been responsible for this attack. This, and some other attacks that David Yallop speculated about, have been included here mainly due to Yallop's investigative skills, his accuracy on his speculation that Tracy Browne was a Yorkshire Ripper victim (in 1992 Sutcliffe confessed to being responsible for that attack), and his speculation on other attacks that were subsequently also speculated at one time by the police as being possible Ripper victims.
Victim Status: YALLOP: POSSIBLE YORKSHIRE RIPPER VICTIM
(Source material: Yallop.)





BARBARA YOUNG
Date of attack: March 22 1977
Place of attack: Doncaster
Outcome: Murdered
Barbara Ann Young, a 29 year-old prostitute, was found by a female friend at around 8:45 pm near Broxholme Lane, Doncaster. She had facial injuries and said she had been approached by a tall, dark haired, young man. They then went into an alleyway, where the man proceeded to hit her about face, until she had fallen to the ground and became unconscious. By the time she recovered, both the man and her handbag were gone.
At around midnight that night, a male friend let her stay at his flat in Christchurch Road. At around 9 am the next day, he discovered that she had died during the night in her bed. A post mortem would reveal that she had died from a massive haemorrhage caused by a fractured skull.
In the book by David Yallop, he considered that the murder was possibly committed by the Yorkshire Ripper. As well, in a newspaper report after Peter Sutcliffe's trial, it was reported that the South Yorkshire police would be interviewing Sutcliffe about the murder.
However, certain aspects about the attack, especially the frontal attack (rather than Sutcliffe's usual attack from behind), punching the victim, lack of stab wounds, and theft of her handbag, suggest more a robbery gone wrong, rather than a Sutcliffe attack.
Victim Status: UNLIKELY TO BE CONNECTED TO THE RIPPER SERIES
(Source material: Yallop, The Times, Doncaster Evening Post.)



DEBRA SCHLESINGER
Date of attack: April 21 1977
Place of attack: Leeds
Outcome: Murdered
One of the murders that the programme "Silent Victims: The Untold Story Of The Yorkshire Ripper" profiled was the murder of Debra Schlesinger, 18, in Leeds on April 21 1977. She was stabbed through the heart as she walked down the garden path of her home after a night out with friends. After she had been stabbed, she was chased, and then she collapsed and died in a doorway. Witnesses recalled seeing a dark, bearded man near the scene. There was no mention in the "Silent Victims" programme of any other injuries received by the victim, such as Sutcliffe's usual "signature" of blows to the head with a hammer.
If this was a victim of the Yorkshire Ripper it shows that 1977 was definitely a peak attack time for Peter Sutcliffe as his next murder took place only two days later with the murder of Patricia Atkinson in Bradford. Previously, the shortest span between known attacks was the ten days between the murders of Yvonne Pearson and Helen Rytka in January 1978.
In May 1997, West Yorkshire Police announced that they were re-opening old murder files due to advances in laser fingerprinting and DNA testing. The murder of Debra Schlesinger was mentioned as one they were re-examining.
On November 25 2002, the Law Lords found against the Home Secretary being able to increase the minimum life sentencing tariff recommended by the judiciary (after which the murderer would have to face a parole board before being considered for release). Peter Sutcliffe was sentenced to life with the recommendation he serve a minimum of thirty years. This was later increased by the Home Secretary to a whole life sentence, meaning he would never be released or face a parole board. In an article in the Sunday Telegraph the previous day, it was reported that there was the possibility that police would lay new charges against some murderers to kept them from being considered for release after their original minimum sentencing was completed. The Sunday Telegraph reported that West Yorkshire detectives were confident they could bring new charges against Sutcliffe in regards to the murder of Debra Schlesinger and the attack on a Leeds arts student (Maureen Lea - October 25 1980).
Victim Status: POSSIBLE YORKSHIRE RIPPER VICTIM
(Source material: Yallop, Daily Record, Daily Mirror, Daily Telegraph, The Journal, Sunday Telegraph, "Silent Victims: The Untold Story Of The Yorkshire Ripper" 1996 television programme.)









ANNA KENNY
Date of attack: August 5 1977
Place of attack: Glasgow, Scotland
Outcome: Murdered
Anna Kenny, 20, was last seen walking alone some time after midnight in Townhead district of Glasgow on Friday, August 5 1977. She had been at the Hurdy Gurdy pub with a friend where they had met two young men. At closing time, Anna left with one of the men to walk to George Square, where she would catch a bus to her home. She never returned home and did not report to work on the following Monday.
After her disappearance was reported, the police traced the man who she had been with. He told the police she had left him to hail a taxi. After she had turned a corner out of sight, he heard a car brake and assumed she had hailed a taxi, or had been spotted by someone she knew.
Twenty-one months later, on Wednesday, April 23 1979, Anna Kenny's remains were found near Skipness, Argyll, by two shepherds. All that remained was her skeleton, and some material, which later proved to be the shirt she had been wearing at the time of her disappearance, which had been bound around her neck and ankles. She had been picked up by someone, strangled, and possibly raped, and buried in two feet of moist Argyll soil.
The police linked the murder to two other Glasgow murder cases, those of Hilda Miller (October 1 1977) and Agnes Cooney (December 2 1977) due to the similarities in various aspects of the cases. All three were also tied to the murder of Mary Gallacher (November 19 1978), although there were several aspects of that case that differed significantly from the others. Anna Kenny, Hilda Miller, and Agnes Cooney had all been bound by the feet or hands, and their bodies found in well-known lovers' lanes. All four had been picked up at the weekend, and all had died violently. Anna Kenny and Agnes Cooney disappeared from the Townhead area of Glasgow, while Mary Gallacher was murdered less than a mile away. It was thought that Hilda Miller may have ended up in the area as she made her way home. All, with the exception of Mary Gallacher, had been picked up in a vehicle. The police thought that Anna Kenny may have been picked up by a long-distance lorry driver, as they also thought Agnes Cooney might have been, as they were likely to have a shovel with them in the vehicle.
The police began to look at the possibility that Peter Sutcliffe may have been responsible for the murders when it was announced that Strathclyde police were having formal discussions with the West Yorkshire police. Sutcliffe, a long-distance lorry driver, made regular deliveries to the GM plant at Newhouse, and to oil-based companies in Aberdeen. As well, Sutcliffe was know to drive a lorry similar to the one seen near where Agnes Cooney was seen thumbing for a lift.
James Hobson, head of the Ripper investigations was sent files on all four murders by the Strathclyde Police. Hobson ruled out any connection to Peter Sutcliffe. However, in July 1982 two Scottish detectives travelled south to Parkhurst prison on the Isle of Wight to personally interview Sutcliffe.
The similarities of Anna Kenny's murder to Agnes Cooney and Hilda Miller suggest the same killer and, therefore, almost totally rule out Sutcliffe as a candidate for the murders. Anna Kenny was strangled, a method Sutcliffe would use in two attacks in 1980, but Anna Kenny also had her feet tied with the same material, which suggests that she was bound before she was killed. This is totally the opposite to Sutcliffe's 'blitz' style of attack.
Since Hilda Miller was murdered on the same day as Sutcliffe was killing Jean Jordan in Manchester, it not only rules out Sutcliffe for that murder but also tends to exonerate him from the other two due to their similarity to Hilda Miller's murder.
UPDATE
On May 7 2004, Scottish police announced that they believed that seven unsolved murders were linked. Five of the murders are detailed on this web page: Anna Kenny (August 5 1977), Hilda Miller (or McAuley) (October 1 1977), Agnes Cooney (December 2 1977), Carol Lannen (March 20 1979) and Elizabeth McCabe (February 11 1980). Also linked were the double murders, known as the World's End murders, of friends Helen Scott and Christine Eadie, who were last seen leaving the World's End pub in Edinburgh with two men on the night of October 15 1977. A DNA profile of an unknown man who had had contact with both victims, was found in 1997, and was thought to be directly linked to the murders of both victims.
The Deputy Chief Constable of Lothian and Borders Police, Tom Wood, stated at a press conference in Edinburgh: "DNA tests completed last week have given results which have taken us a considerable step forward. For the first time, we have a positive line of inquiry, and indications that a number of murders committed throughout Scotland may be connected."
"The advances in DNA have given us information we could never have imagined in the past. Whereas we had suspicions that these cases might be connected we could not be certain. Now we believe that they may be and that gives us a clear route to follow with the strong hope that we will track down the killer(s) of these women, even though almost 30 years have passed."
He added: "We cannot say we are looking for one person. We're saying that we now realise that, although over the years there's been a lot of speculation about links between these crimes, we're now in a position to suggest, or believe, that there may be strong links between these crimes."
The communications officer for the Association of Chief Police Officers in Scotland, Stuart Wilson, stated: "It's not forensic evidence linking all the cases - just the facts and circumstances have been linked. The DNA evidence was the catalyst for the fact of the cases being linked."
"It relates to one of the cases, and therefore the rest have been brought in because of similar MOs. An individual's name or two people's names have come up in connection with them over the years. That will form part of what is linking this, because the same names come up."
He also stated: "There isn't an arrest imminent and nobody is in for questioning, and nobody is helping with inquiries."
While there is speculation that Angus Sinclair, who was convicted of another murder detailed on this web page, that of Mary Gallacher (November 19 1978), is a prime suspect for the murders, police refused to confirm that he was suspected of being responsible for the murders.
UPDATE 2
On March 31 2005, Angus Sinclair was charged with the World's End murders of Helen Scott and Christine Eadie. Sinclair made no plea or declaration in response to the charges brought against him.
In January 2005, it was reported that police had identified Sinclair's accomplice in the World's End murders, who was thought to be either a relative or close friend. The accomplice was not identified by name, nor is it know if he is already serving time in prison on other charges, or is at large. DNA traces in semen found on the two girls revealed two clear and distinct profiles. Sinclair was identified through the national DNA database. The accomplice was not charged along with Sinclair on March 31 2005.
It was also reported in January 2005 that police had also named Sinclair as a suspect in the murders of Anna Kenny, Hilda Miller (or McAuley) (October 1 1977), and Agnes Cooney (December 2 1977). It is thought that he acted alone in those murders.
UPDATE 3
On September 10 2007, the World's End murder case against 62-year-old Angus Sinclair collasped when the trial judge upheld a defence motion that there was insufficient evidence against Sinclair.
Trial judge Lord Clarke said: "I am of the view that the evidence... as a whole is neutral as to whether or not he was involved in acting with force or violence against the girls, there having been some evidence of sexual contact between him and the girls in the 12 hours or so before they were killed. The question of timing seems to me to be critical. I'm not satisfied what the advocate-deputy had to say overcame these difficulties in that respect."
While Sinclair did not give evidence during his trial, a document was read to the jury at the start of the trial, in which he blamed his late brother-in-law, Gordon Hamilton, for the murders. Sinclair claimed that the sexual contact between him and the girls was consensual.
Gordon Hamilton's DNA was found to match the DNA taken from intimate swabs from both of the victims. In April 2005, a DNA profile was recovered from Helen Scott's coat which was matched to Angus Sinclair's DNA.
After the collapse of the case against Sinclair, it was revealed that what might have been key forensic evidence to link Sinclair to the murders, and not just the consensual sex that he claimed, had not been presented at the trial. Forensic samples from the ligatures used to bind and strangle the victims had been examined using an ultra-sensitive low-copy DNA profiling technique which produce a mixture of DNA bands. The bands present in the mixture were consistent with the bands present in the DNA profiles of both Angus Sinclair and Gordon Hamilton, as well as those consistent with the victims' DNA profiles. The reason the evidence was not used, according to the Lord Advocate, was that there was a "low probabilty" in its ability to link Sinclair to the murders. However, it was reported that in a report by Jonathan Whitaker, of the Forensic Science Service, the evidence from the ligatures was described as "moderately strong evidence of what we would expect to see if Sinclair was involved in tying the knots".
UPDATE 4
On June 26 2014 it was reported that Angus Sinclair would be retried in regard to the World's End murders of Helen Scott and Christine Eadie, and a court date was set for October 6 2014 at the High Court in Livingston. This is the first retrial after a 2011 change in the double jeopardy legislation (where a suspect could not be tried twice for the same crime).
UPDATE 5
On November 14 2014 Angus Sinclair, after being convicted for the World's End murders of Helen Scott and Christine Eadie, was sentenced to a minimum of 37 years in jail for the crimes.
Victim Status: NOT CONNECTED TO RIPPER SERIES OF ATTACKS
(Source material: Douglas Skelton, "No Final Solution", Almac Scottish News, BBC News, Glasgow Evening Times, The Guardian, The Scotsman.)



MARY GREGSON
Date of attack: August 30 1977
Place of attack: Shipley
Outcome: Murdered
Mary Gregson, 38, was sexually assaulted and strangled as she walked along the towpath of the Leeds-Liverpool Canal on a half-mile journey from her canal-side home to Salt's Mill, where she worked as a part-time cleaner. She had arranged to meet another cleaner at the Victoria Road bridge before the start of their shift at 5:30 pm. When she failed to turn up for work, an alarm was raised.
Mrs Gregson's body was found by a police officer at 7:45 am the following day, Wednesday, August 31st. Her body was in the River Aire, approximately 50 yards from where she was attacked. The post-mortem examination revealed she had been strangled and sexually assaulted. It was believed that the killer had thrown her body in the river in an attempt to cover his tracks.
Leading the inquiry at the time was Detective Chief Superintendent John Domaille, later of the Ripper squad. Her killer was not found, despite a police hunt involving 100 officers and interviews with more than 9,000 people.
In 1999, the case was re-opened after a DNA profile of the murderer was obtained. Detectives confirmed that Yorkshire Ripper Peter Sutcliffe has been eliminated from inquiries, along with 750,000 other convicted criminals on the national DNA database. The police intended to do a mass DNA screening of the 4,000 men who had been interviewed in the original investigation.
On April 10 2000, a 47 year-old lorry driver, Ian Lowther, was charged with the murder of Mary Gregson. On September 29 2000, he pleaded guilty to the murder charge and was sentenced to life imprisonment. He had been the 532nd man to be DNA tested after the case had been re-opened. His mouth swab test showed he matched the genetic profile of the killer. Prosecutor Paul Worsley, QC, said: "It is now possible to say the likelihood of it coming from anyone other than the defendant is one in a billion." He said of Lowther: "He was not the first, or anywhere near the first on the police list (of suspects)."
Victim Status: NOT CONNECTED TO RIPPER SERIES OF ATTACKS
(Source material: Yallop, Bradford Telegraph & Argus, The Independent, Yorkshire Post.)





HILDA MILLER (or McAULEY)
Date of attack: October 1 1977
Place of attack: Glasgow, Scotland
Outcome: Murdered
Hilda Miller (or McAuley), a 36-year-old divorced mother of two, left her Glasgow home on Saturday, October 1 1977 to go out for the evening with friends. At midday on October 2nd, her half-naked and brutally battered body was discovered, by a group of youngsters out bramble picking, lying among the long grass and bushes opposite the entrance to the West Ferry caravan-site. The area was known as local lovers' lane. Hilda Miller's clothing was scattered among the bushes. The police discovered that her coat, shoes and handbag were missing.
The method of attack of this murder had similarities to other murders in Scotland, and was linked to the murders of Anna Kenny (August 5 1977) and Agnes Cooney (December 2 1977).
While the police later thought there may have been a link between these killings and the Yorkshire Ripper, the murder of Hilda Miller definitely could not have been Peter Sutcliffe's handiwork because on the same night, October 1 1977, he was in Manchester murdering Jean Jordan. Since he could not have done the Hilda Miller murder, it tends to exonerate him from responsibility for the other two murders.
UPDATE
On May 7 2004, Scottish police announced that they believed that seven unsolved murders were linked. Five of the murders are detailed on this web page: Anna Kenny (August 5 1977), Hilda Miller (or McAuley) (October 1 1977), Agnes Cooney (December 2 1977), Carol Lannen (March 20 1979) and Elizabeth McCabe (February 11 1980). Also linked were the double murders, known as the World's End murders, of friends Helen Scott and Christine Eadie, who were last seen leaving the World's End pub in Edinburgh with two men on the night of October 15 1977. A DNA profile of an unknown man who had had contact with both victims, was found in 1997, and was thought to be directly linked to the murders of both victims.
See above entry, Anna Kenny (August 5 1977), for full details on the linking of these murders.
UPDATE 2
It was reported in January 2005 that police had named Angus Sinclair as a suspect in the murders of Anna Kenny (August 5 1977), Hilda Miller (or McAuley), and Agnes Cooney (December 2 1977).
See above entry, Anna Kenny (August 5 1977), for full details, as well as murder charges brought against Angus Sinclair for the World's End murders of Helen Scott and Christine Eadie.
Victim Status: NOT CONNECTED TO RIPPER SERIES OF ATTACKS
(Source material: Douglas Skelton, "No Final Solution", Almac Scottish News, The Scotsman.)



CAROL WILKINSON
Date of attack: October 10 1977
Place of attack: Bradford
Outcome: Murdered
The same day that Jean Jordan's body was found, 20-year-old Carol Wilkinson was attacked on a lonely lane before nine in the morning in Bradford as she walked to work from her home in Ravenscliffe to a bakery in Fagley. She had been using the lane as a short cut to work because of a bus strike. Hospital cook Stephen Smith, also taking a short cut to work, found the girl lying in a pool of blood. During the attack, her clothes were ripped off and she was believed to have been battered with two heavy stones. Later that night she was said to be "extremely critical" in Bradford Royal Infirmary, and after three days in a coma would die after the life-support machine that she was on was turned off.
The first thought was that it was another Ripper case. Both Professor David Gee (the Ripper case pathologist) and Assistant Chief Constable George Oldfield went to the scene of the Carol Wilkinson murder. They decided the attack was not connected to the Ripper series because there were none of the tell-tale knife wounds in the stomach.
Eighteen months later, police charged twenty-two-year-old Anthony Steel with murder. At his trial the case against Steel depended very largely upon a confession he was alleged to have made to the police after being arrested. The defense stated that the confession was false and had only been made after "intense pressure" had been brought to bear upon the accused. Anthony Steel was found guilty and sentenced to life imprisonment.
In the book by David Yallop, he thought that Peter Sutcliffe should be questioned about this murder, as the case caused him "particular anxiety" due to the possible unsoundness of the conviction of Anthony Steel. Considering the Lesley Molseed case and the forced false confession involved, there is much concern that a similar case happened in this murder. The murder was also investigated by the Rough Justice television programme, who also had similar concerns.
The murder of Carol Wilkinson is unlikely to be the responsibility of Peter Sutcliffe for a variety of reasons. To begin with, the lack of stab wounds and the use of boulders as the attack weapon are a departure from the usual Ripper signature. The unusual departure from night-time attacks to an early morning attack also weighs heavily against it being a Ripper attack.
More importantly, this attack took place the same day that Jean Jordan's body was found, after Peter Sutcliffe had returned to her body to try and find the brand new £5 note he had given her. On the night of October 9th, Peter and Sonia Sutcliffe had a house-warming party. After Sutcliffe drove his parents home he headed off to Manchester after midnight. He arrived at where he had left her body about an hour later. Given the time to search for the £5 note and to further mutilate the body, he would not have returned to his home in Bradford before 2 a.m. As well, if Sutcliffe worked on October 10 1977, it would be even more unlikely to be one of his attacks, as he had a problem arriving for work on time, so it would be extremely doubtful he would have any extra time to scope out and attack a victim before going to work. As well, Ravenscliffe is on the other side of Bradford from where he lived and is also well away from where he worked.
While there is the extremely remote possibility that Sutcliffe might think his capture was imminent due to the £5 note and, therefore, abandoned his usual methods and caution by doing a daytime attack, the other factors outlined above make it an unlikely scenario for the Yorkshire Ripper to be responsible for this murder.
UPDATE
On February 28 2003, Anthony Steel's conviction for the murder of Carol Wilkinson was quashed by the Court of Appeal. The appeal was allowed after new evidence from both defence and Crown consultant psychologists that indicated that he "is and was mentally handicapped and at the borderline of abnormal suggestibility and compliability. He was therefore a significantly more vulnerable interviewee than could be appreciated at the time of the trial."
Anthony Steel said: "If everything the police knew had come out before my trial, I would never have been found guilty - because I am an innocent man and the court now agrees with that. I suffered 20 years in jail because the police destroyed my alibi for the morning of the murder - yet they knew all the time that the story their witness was telling was wrong."
He also said he believed he knew who had murdered Carol Wilkinson: "They arrested him not long after I was convicted and he was convicted on 28 charges of rape, robbery and sexual assault. He was arrested on the same footpath in Bradford where the police said I murdered Carol Wilkinson. I know this man. I saw him almost every day while I was in Wakefield prison."
Victim Status: EXTREMELY UNLIKELY TO BE CONNECTED TO THE RIPPER SERIES
(Source material: Yallop, BBC News, Daily Express, Daily Mirror, The Guardian, Justice for Anthony Steel - Rough Justice TV Website.)


BRADFORD SCHOOLGIRL
Date of attack: Oct 11 1977
Place of attack: Bradford
Outcome: Survived
Twenty-four hours after Carol Wilkinson was attacked, and less than half a mile away, it was reported that a 12-year-old Bradford schoolgirl had been grabbed by a man described as bearded, in his twenties, and dressed in denim. Her two school friends claimed to have dashed to the rescue and fought with the man, who ran away.
In the book "Wicked Beyond Belief" by Michael Bilton, it was reported that the police began an investigation which lasted for several days before it was discovered that the incident was a complete hoax and none of it had taken place, therefore wasting valuable time and resources during the early days of the Carol Wilkinson murder investigation.
Victim Status: HOAX REPORT, DID NOT HAPPEN
(Source material: Bilton, O'Gara, Daily Mirror.)



AGNES COONEY
Date of attack: December 2 1977
Place of attack: Glasgow, Scotland
Outcome: Murdered
Agnes Cooney, a 23-year-old children's nurse, and fellow nurse Gina Barclay, had gone out flat hunting in Glasgow on the afternoon of Friday, 2 December 1977. They had then gone on to the Clada social club in Westmoreland Street. She had a few drinks and then, just after midnight, said she was going home.
Agnes Cooney's body was found the following Sunday 20 yards away from Snipe Road, near Caldercruix, Lanarkshire, by a farmer out tending cattle in a nearby field. She had had been battered and stabbed her to death, receiving 26 stab wounds on her body. She had not been sexually assaulted. Police suspected from the beginning that the murders of both Hilda Miller and Agnes Cooney were linked.
The police also believed that the victim could have been held prisoner for up to 24 hours, kept in a van or similar vehicle, an empty house, or a piece of derelict property, before being taken to the farmland at night on Saturday or early Sunday morning, where she was killed. Any earlier and the farmer would have either seen the vehicle or found the body.
The police publicly linked the Agnes Cooney murder with that of Hilda Miller two weeks later. Detective Chief Inspector John McDougall confirmed that both women had their hands tied behind their backs, and both had disappeared as they left places of entertainment to find a taxi. While both had been murdered for sexual reasons, Agnes Cooney at least had not been sexually assaulted.
While the battering, stab wounds, and lack of sexual assault are consistent with attacks by Sutcliffe, three factors make it extremely unlikely to have been Sutcliffe's handiwork. To begin with, the fact the murder was linked by police to the Hilda Miller murder means that there were enough similarities in the method of attack, injuries sustained, and other factors that suggested a similar 'signature'. Since there is no way that Sutcliffe was involved in the Hilda Miller murder, since on that day he was murdering Jean Jordan in Manchester, causes some scepticism as to whether he was involved in the Agnes Cooney murder.
More importantly, the 'signature' of the crime does not fit the pattern of Sutcliffe's attacks. Sutcliffe used a 'blitz' type of attack, hammer blows to the back of the head to render the victim unconscious and/or dead, and then the attacks with knives and screwdrivers. The fact that both had their hands tied behind their backs does not suggest a Ripper killing as it is inconsistent with the 'blitz' type of attack. Of course, Sutcliffe could have done this to throw off any suspicion that the Yorkshire Ripper was operating up in Scotland.
Besides those inconsistencies with a typical Yorkshire Ripper attack, is the very important speculation by the police that Agnes Cooney may have been held for up to 24 hours before being taken to her place of murder. This, in itself, suggests a totally different type of attack which is more consistent with a 'kidnapper/torturer' type of murderer who uses terror/torture to control his victim, which is totally inconsistent with Sutcliffe's 'signature' of attack. As well, with Peter Sutcliffe not being a local resident, it would be extremely unlikely that he would be able to find a location to hold a victim for such a length of time, except maybe in the back of his lorry, which would be fraught with the possibility of detection, especially with a live victim.
See the murder of Anna Kenny (August 5 1977), for further details of the linking of the Scottish murders.
UPDATE
On May 7 2004, Scottish police announced that they believed that seven unsolved murders were linked. Five of the murders are detailed on this web page: Anna Kenny (August 5 1977), Hilda Miller (or McAuley) (October 1 1977), Agnes Cooney (December 2 1977), Carol Lannen (March 20 1979) and Elizabeth McCabe (February 11 1980). Also linked were the double murders, known as the World's End murders, of friends Helen Scott and Christine Eadie, who were last seen leaving the World's End pub in Edinburgh with two men on the night of October 15 1977. A DNA profile of an unknown man who had had contact with both victims, was found in 1997, and was thought to be directly linked to the murders of both victims.
See above entry, Anna Kenny (August 5 1977), for full details on the linking of these murders.
UPDATE 2
It was reported in January 2005 that police had named Angus Sinclair as a suspect in the murders of Anna Kenny (August 5 1977), Hilda Miller (or McAuley) (October 1 1977), and Agnes Cooney.
See above entry, Anna Kenny (August 5 1977), for full details, as well as murder charges brought against Angus Sinclair for the World's End murders of Helen Scott and Christine Eadie.
Victim Status: NOT CONNECTED TO RIPPER SERIES OF ATTACKS
(Source material: Douglas Skelton, "No Final Solution", Almac Scottish News, The Scotsman.)



DONCASTER PROSTITUTE
Date of attack: November/December 1977
Place of attack: Doncaster
Outcome: Survived
In late November or early December 1977 a prostitute was attacked by a man in a multi-storey car park. She produced a photofit of the man, and described him as being thirty-five to forty in age, tall, slimly built, with brushed back dark hair and a moustache. She also had seen him later drive away from a Doncaster lorry park, surmising that he had parked his truck there before searching for women. While the photofit was published in the local press, and other prostitutes were interviewed by police and shown the photofit, the man was never identified.
Victim Status: POSSIBLE YORSKHIRE RIPPER VICTIM
(Source material: Bilton.)









LEEDS SHOP ASSISTANT
Date of attack: March 2 1978
Place of attack: Leeds
Outcome: Survived
On Thursday, March 2 1978, while walking along Kingston Road in Leeds, a shop assistant, aged 18, was attacked from behind. Her attacker struck her on the head and she was rendered unconscious. She was unable to provide any description of her attacker as she had not seen the person responsible for the attack.
Victim Status: POSSIBLE YORKSHIRE RIPPER VICTIM
(Source material: Bilton.)





MARY GALLACHER
Date of attack: November 19 1978
Place of attack: Glasgow, Scotland
Outcome: Murdered
Mary Gallacher, 17, was murdered on November 19 1978. Her body was found at the foot of a 20-foot wall near a footpath crossing waste ground between Flemington Street and Edgefauld Road in Springburn, Glasgow. Her body was discovered by a man walking across the waste ground on the morning of Monday, November 20 1978.
She had left home in Endrick Street at 6.45 p.m. on Sunday night to meet two friends and had been cutting across the path to get to Avonspark Street and the home of one of her friends. She did not reach her destination.
When her body was discovered, she was still wearing her dark jacket, slacks and distinctive calf-length leather boots. Her handbag was missing. Detective Chief Inspector Norman Walker, the officer in charge of the case, said very little about the way she had died, other than that the attack was 'extremely savage and brutal'. Meanwhile, scene-of-crime officers scanned the muddy pathway and surrounding wasteland with metal detectors in a bid to find the murder weapon, but did not find it, nor would they say what they were looking for.
The footpath had already seen a number of attacks on women as it neared Barnhill railway station. When another 17-year-old girl was attacked on the same footpath, she was able to tell the police that her attacker was a man aged around 30. The police refused to divulge any of the girl's details for fear of placing her in danger, convinced that the attacker was also the murderer of Mary Gallacher.
Her murder was linked to three other Scottish cases, those of Anna Kenny, Hilda Miller, and Agnes Cooney, although the method of attack differed significantly from the other three cases, where the victims were picked up in a vehicle, and were found with their arms or feet bound. See the Anna Kenny (August 5 1977) murder for information about the linking of the crimes.
The television documentary "Silent Victims: The Untold Story Of the Yorkshire Ripper" did not document this murder as a possible Ripper victim, but at the time it was claimed that this murder may have made it to the list of 20 possible Ripper attacks compiled by Chief Constable Keith Hellawell.
One source close to Mr Keith Hellawell, claimed that the chief constable, accompanied by Scottish detectives, has visited Sutcliffe in Parkhurst to question him about Mary Gallacher's murder. "My guess is that Hellawell is taking at least one of the Scottish cases very seriously, which is one of the Glasgow cases. In relation to these cases he had to liaise with local forces and, on one occasion he went to Parkhurst with Scottish detectives present. For them to sit and ask Sutcliffe about these crimes, they must have worked out that he was in the area at the time, he could have committed them and that the attacks were similar to Ripper attacks."
There are also some aspects of the Mary Gallacher murder which suggest it might not have been a Ripper attack. For example, her handbag was taken after the attack, and later, at the same time that a police re-construction of the attack was also taking place, it was found placed in an Edgefauld Road closemouth in such a way that it could not have been missed. Unless Sutcliffe was again in the area, and had kept or hidden the handbag and retrieved it at this time, this action suggests a local attacker. As well, the footpath where Mary Gallacher was murdered had already seen attacks on women, and after her murder a 17-year-old girl was attacked on the same footpath. This again suggests a local attacker, although there is a possibility Sutcliffe could have heard about attacks in that area and felt it could be a good area to strike, or was also responsible for the other attacks.
UPDATE
On June 13 2001, Angus Sinclair, aged 56, was convicted of the 1978 murder of Mary Gallacher on the basis on DNA evidence from semen taken from body hair on the victim. He was sentenced to life imprisonment. At the time of the trial, Sinclair was already serving a life sentence after a 1982 conviction for three rapes and a number of other sexual offences against eleven young girls aged six to 14. He had previously been convicted in 1961, at age 15, for the unlawful killing of a seven-year-old girl and had served six years for that offence.
During the trial, the court was told that Sinclair had held a knife to her back, either removed or forced the victim to remove her clothing, strangled her with the leg of her trousers, raped her, and slit her throat two or three times.
The investigation had re-opened in 1997, and the murderer's DNA was found in 1999 after a sample of body hair taken from the original post-mortem examination was tested. Detective Chief Inspector Brian Murphy, stated: "If we didn't have the DNA database, we would not have identified Angus Sinclair." He also said that the DNA match with Sinclair had surprised officers, as Sinclair had not been a suspect in the original investigation.
Sinclair had also been identified during the trial by Barry McGonigle, aged 11 at the time of the murder, as the man he had seen standing in the road staring at them as he walked with Mary Gallacher, frightening him so much that he had run away.
The night of the verdict, the police denied suggestions that a decision had been taken on whether to question Sinclair in relation to the unsolved murders of Anna Kenny, Hilda Miller, and Agnes Cooney.
UPDATE 2
On May 7 2004, Scottish police announced that they believed that seven unsolved murders were linked. Five of the murders are detailed on this web page: Anna Kenny (August 5 1977), Hilda Miller (or McAuley) (October 1 1977), Agnes Cooney (December 2 1977), Carol Lannen (March 20 1979) and Elizabeth McCabe (February 11 1980). Also linked were the double murders, known as the World's End murders, of friends Helen Scott and Christine Eadie, who were last seen leaving the World's End pub in Edinburgh with two men on the night of October 15 1977. A DNA profile of an unknown man who had had contact with both victims, was found in 1997, and was thought to be directly linked to the murders of both victims.
See above entry, Anna Kenny (August 5 1977), for full details on the linking of these murders, as well as murder charges brought against Angus Sinclair for the World's End murders of Helen Scott and Christine Eadie, and the naming by police of Angus Sinclair as a suspect in three other murders.
Victim Status: NOT CONNECTED TO RIPPER SERIES OF ATTACKS
(Source material: Douglas Skelton, "No Final Solution", Almac Scottish News, The Herald, The Independent.)



BRADFORD ADDRESSOGRAPH OPERATOR
Date of attack: November 28 1978
Place of attack: Bradford
Outcome: Survived
On Tuesday, November 28 1978, in Bradford, during the middle of the evening, an Addressograph operator, aged 18, was being followed along the road by a man. He grabbed her by the hair and during the ensuing struggle she managed to throw a brick at him and he ran off. She was able to provide a photofit of the man, and described him as being aged 30, of slim build, with dark straggly hair below his shoulders, with a mandarin moustache and goatee beard.
While the description of the attacker is similar to Peter Sutcliffe, the lack of the use of a weapon to strike the victim about the head must be noted as a departure from the usual method of attack employed by Sutcliffe.
Victim Status: POSSIBLE YORKSHIRE RIPPER VICTIM
(Source material: Bilton.)



HARROGATE STUDENT
Date of attack: February 17 1979
Place of attack: Harrogate
Outcome: Survived
On Saturday, February 17 1979, in Harrogate, North Yorkshire, during the early hours of the morning, a 16-year-old student was attacked from behind. She suffered three severe head injuries from a blunt instrument. She could not provide any description of her assailant as she had not seen the person responsible for the attack.
Surprisingly, the North Yorkshire police would conclude she had injured herself by falling on the icy pavement and no crime had taken place. Professor David Gee, at the request of the North Yorkshire police, had examined the victim at Leeds General Infirmary. On the first of two visits, he could not examine the victim due to a large surgical bandage on her head, but was shown a sketch done by one of the doctors of the lacerations on her head, and had viewed the post-operation X-rays.
The following description of the injuries detailed in the sketch was reported in the book "Wicked Beyond Belief" by Michael Bilton: "There was one linear laceration on the left side of the top of the head two and a half inches long and on the right side of the top of the head two inches long. A third curved laceration at the back of the head was about one inch long."
On the second visit, Professor Gee was able to examine the shaved head of the victim since the bandages had been removed. The wounds on the scalp did not have the curved shape that would suggest the head of a hammer, and Professor Gee couldn't conclude what had caused the injuries. However, an official report years later noted that the X-ray photographs had clearly shown three semicircular injuries to the head and that it was certainly not consistent with an accidental fall by the victim.
Victim Status: POSSIBLE YORKSHIRE RIPPER VICTIM
(Source material: Bilton.)





CAROL LANNEN
Date of attack: March 20 1979
Place of attack: Dundee, Scotland
Outcome: Murdered
On March 21 1979, the strangled and naked body of teenage mother and prostitute Carol Lannen was found in Templeton Woods on the outskirts of Dundee, Scotland, sparking a nationwide murder hunt.
She had been last seen by another prostitute the previous day in Exchange Street entering a Ford Cortina, described as being red (though paint colours are known to sometimes appear to be different than they are depending on the lighting conditions). A photofit was issued of the driver, described as aged between 25-30, thin, having a pale complexion, with a full moustache. Her handbag and clothing would be discovered on the riverbank of the River Don, near Kintore, eleven days later, suggesting the murderer may have been from out of town.
Almost a year after Carol Lannen's murder, another body was found in Templeton Woods, only 150 yards from where Carol Lannen's body had been found. See below, Elizabeth McCabe (February 11 1980).
It was reported in the Dundee Evening Telegraph in a March 2001 news article that this murder was one that West Yorkshire Police Chief Constable Keith Hellawell claimed in 1996 may have been committed by Peter Sutcliffe.
In January 2004, the television programme "Unsolved: Getting Away With Murder: The Templeton Woods Murders" was broadcast where it was stated that Carol Lannen's body was found without any obvious signs of violence about her. It was also stated that she had been manually strangled, with the possibility of the use of ligature. There was no other mention of any other injuries received.
The lack of any mention of head injuries or stabbing in the description of the murder victim's injuries must be noted. With the absence of those type of injuries, then the possibility the victim is the responsibility of Peter Sutcliffe is severely diminished.
UPDATE
On May 7 2004, Scottish police announced that they believed that seven unsolved murders were linked. Five of the murders are detailed on this web page: Anna Kenny (August 5 1977), Hilda Miller (or McAuley) (October 1 1977), Agnes Cooney (December 2 1977), Carol Lannen (March 20 1979) and Elizabeth McCabe (February 11 1980). Also linked were the double murders, known as the World's End murders, of friends Helen Scott and Christine Eadie, who were last seen leaving the World's End pub in Edinburgh with two men on the night of October 15 1977. A DNA profile of an unknown man who had had contact with both victims, was found in 1997, and was thought to be directly linked to the murders of both victims.
See above entry, Anna Kenny (August 5 1977), for full details on the linking of these murders.
UPDATE 2
On July 18 2005, Vincent Simpson appeared in Dundee Sheriff Court and was remanded in custody in relation to the murder of Elizabeth McCabe. The 59-year-old man had been arrested in Woking, Surrey, three days earlier.
At the time of the arrest, Detective Chief Superintendent Iain Macleod, the head of Tayside CID, stated, in regards to the murder of Carol Lannen: "At the present time there is no evidence to link these deaths. And I want to stress that the investigation into the death of Carol Lannen continues as an investigation in its own right."
Victim Status: EXTREMELY UNLIKELY TO BE CONNECTED TO THE RIPPER SERIES
(Source material: Dundee Evening Telegraph, The Press And Journal, The Scotsman, Grampian TV website, "Unsolved: Getting Away With Murder: The Templeton Woods Murders" television programme.)





MARION SPENCE
Date of attack: June 10 1979
Place of attack: Leeds
Outcome: Murdered
The discovery of the body of a slim dark-haired woman, who was found behind a derelict warehouse near the centre of Leeds, was at first thought by police to be a victim of the Yorkshire Ripper. The next day, the police ruled out the attack as being part of the Yorkshire Ripper attacks after scientists were called to the scene of the murder and a post-mortem examination.
Mrs. Marion Spence, a 42-year-old divorcee, had been murdered only a short time after being set free by the police when a doctor refused to certify her under the Mental Health Act, which would have allowed her to be held in hospital for 48 hours.
Her clothing was piled on top of her body and there was no sign of any violent struggle. Det. Chief Supt. Jim Hobson, deputy head of West Yorkshire CID, said that the exact cause of death would take some time to pinpoint. "I am treating the inquiry as murder, but I can say quite definitely that this was in no way connected with the spate of murders, known as the Ripper murders."
With little, or no, direct evidence of violence on the body, it suggested strangulation as the cause of death, though the exact cause of death is unknown to this writer. Clearly, though, the lack of the usual "signature" of a Ripper attack, tell-tale head injuries and vicious stabbing, tends to count this murder out of being connected to the Ripper series.
UPDATE
A January 2016 Freedom Of Information request about the Marion Spence murder was replied to by the West Yorkshire police with the information that it was a detected offence and all files had been held the required time before being destroyed. Further explanation from the website: "West Yorkshire Police do not use the term 'unsolved', we use the term 'undetected'. A case would be detected once a suspect has been identified and we are satisfied sufficient evidence exists to charge that individual with the offence. However, it is not always the case that a charge will be laid, for example, where a suspect is identified but deceased before charges can be brought, under which circumstances the case would count as detected."
No further information is available at this time.
Victim Status: NOT CONNECTED TO THE RIPPER SERIES OF ATTACKS
(Source material: Daily Telegraph, West Yorkshire Police website.)



21-YEAR-OLD DERBY WOMAN
Date of attack: August 3 1979
Place of attack: Derby
Outcome: Survived
On August 3 1979, a 21-year-old woman survived an attack in Derby. While details of the attack and injuries received are not presently known by this writer, it was speculated in David Yallop's book, "Deliver Us From Evil" that Peter Sutcliffe could have been responsible for this attack. (For further explanation about the inclusion of this attack in the list, see the Barbara Brearly, October 1976, entry.)
Victim Status: YALLOP: POSSIBLE YORKSHIRE RIPPER VICTIM
(Source material: Yallop.)





RUBY ZACHERT
Date of attack: September 21 1979
Place of attack: Manchester
Outcome: Murdered

Mrs Ruby Zachert, 49, mother of five, was found battered to death on a grass verge near her home in Hendham, Vale, Cheetham, Manchester. The next day the police ruled out any connection with the Ripper murders. No other details about the attack, nor why the police so decisively ruled out the attack being connected to the Ripper series, are available.
Victim Status: POSSIBLE RIPPER VICTIM STATUS INDETERMINATE
(Source material: Daily Telegraph.)



YVONNE MYSLIWIEC
Date of attack: October 11 1979
Place of attack: Ilkley
Outcome: Survived
Yvonne Mysliwiec, a 21-year-old reporter for the Ilkley Gazette, who also worked as a barmaid on Thursday nights, survived an attack on October 11 1979 in Ilkey. She was attacked from behind after crossing a footbridge at the Ilkey railway station and suffered a severe head injury. The attack was interrupted by a rail passenger. Her attacker was described as being in his 30's, dark, swarthy, square faced, and with crinkly hair.
While the police at the time did not think the Yorkshire Ripper was responsible for the attack, saying it did not bear his hallmark, and that it might be someone imitating the Ripper. They also said that it might be a local attack, and that they were looking for a blunt instrument.
In David Yallop's book, he thought that Sutcliffe may have been responsible for this attack. After Sutcliffe's trial, the West Yorkshire police announced that he would be questioned about the attack.
The attack was also featured in the "Silent Victims: The Untold Story Of The Yorkshire Ripper" programme about other attacks that might be the responsibility of Peter Sutcliffe.
Victim Status: POSSIBLE YORKSHIRE RIPPER VICTIM
(Source material: Yallop, Daily Telegraph, Manchester Guardian, The Times, "Silent Victims: The Untold Story Of The Yorkshire Ripper" 1996 television programme.)



ELIZABETH McCABE
Date of attack: February 11 1980
Place of attack: Dundee, Scotland
Outcome: Murdered
On February 26 1980, almost a year after the body of Carol Lannen (see above, March 20 1979) had been found in Templeton Woods on the outskirts of Dundee, Scotland, came the discovery of the body of 20-year-old trainee nursery nurse Elizabeth McCabe. Like Carol Lannen, she was found naked and had been strangled. Her body was found only 150 yards from where Carol Lannen's body had been discovered.
Elizabeth McCabe was last seen by friends heading for home from a disco at 12.30 am on February 11, 1980. Her clothing and handbag were later discovered in three different parts of the city. Police at the time of the investigation mainly concentrated on people who knew her, as it had been suggested that it was unlikely she would have gone away with someone she didn't know. Police were of the opinion that the murders of Carol Lannen and Elizabeth McCabe, despite the similarities, were committed by different killers.
As with the murder of Carol Lannen, it was reported in the Dundee Evening Telegraph in a March 2001 news article that the murder of Elizabeth McCabe was one that West Yorkshire Police Chief Constable Keith Hellawell claimed in 1996 may have been committed by Peter Sutcliffe.
In January 2004, the television programme "Unsolved: Getting Away With Murder: The Templeton Woods Murders" was broadcast where it was stated that Elizabeth McCabe was strangled with the use of a ligature, and did not mention that she received any other injuries.
As mentioned in the Carol Lannen entry, the lack of any mention of head injuries or stabbing in the description of the murder victim's injuries must be noted. With the absence of those type of injuries, then the possibility the victim is the responsibility of Peter Sutcliffe is severely diminished.
UPDATE
On May 7 2004, Scottish police announced that they believed that seven unsolved murders were linked. Five of the murders are detailed on this web page: Anna Kenny (August 5 1977), Hilda Miller (or McAuley) (October 1 1977), Agnes Cooney (December 2 1977), Carol Lannen (March 20 1979) and Elizabeth McCabe (February 11 1980). Also linked were the double murders, known as the World's End murders, of friends Helen Scott and Christine Eadie, who were last seen leaving the World's End pub in Edinburgh with two men on the night of October 15 1977. A DNA profile of an unknown man who had had contact with both victims, was found in 1997, and was thought to be directly linked to the murders of both victims.
See above entry, Anna Kenny (August 5 1977), for full details on the linking of these murders.
UPDATE 2
On July 18 2005, Vincent Simpson appeared in Dundee Sheriff Court and was remanded in custody in relation to the murder of Elizabeth McCabe. The 59-year-old man had been arrested in Woking, Surrey, three days earlier.
At the time of the arrest, Detective Chief Superintendent Iain Macleod, the head of Tayside CID, said: "The arrest follows a number of reviews over the years and, more recently, 12 months of enquiry using the most up-to-date investigative techniques." Detective Chief Superintendent Macleod stated, in regards to the other murder victim found in Templeton Woods, Carol Lannen (March 20 1979): "At the present time there is no evidence to link these deaths. And I want to stress that the investigation into the death of Carol Lannen continues as an investigation in its own right."
UPDATE 3
Vincent Simpson went on trial for the murder of Elizabeth McCabe in October 2007. Simpson denied the charge, claiming he had an alibi, and that one of a list of thirteen other men could be the murderer.
Forensic evidence against Simpson included DNA recovered from the root of a hair which was discovered on a black plastic sheet which was said to have been used to transport her body to the mortuary (which the defence claimed there was no proof that it was the same sheet). As well, DNA that was consistence (with varying degrees of probability that it could also have come from someone else) with Simpson's DNA was also found on the blue jumper that was found with her body. Swabs taken from the right-hand side of the jumper's neck had the highest probability of coming from Simpson (with only a one in 320,000 chance it came from someone else). The defence claimed that there may have been contamination of the evidence by the methods of storage and handling of evidence at the time of the murder between the items from Elizabeth McCabe and items taken from Vincent Simpson.
On December 13 2007, Vincent Simpson was found not guilty by the jury. Prior to their deliberations, trial judge Lord Kinclaven warned jurors they could not convict on DNA evidence alone (Scottish law requires two independent items of evidence for conviction of a crime).
Victim Status: NOT CONNECTED TO RIPPER SERIES OF ATTACKS
(Source material: BBC News, Dundee Evening Telegraph, The Press And Journal, The Scotsman, Grampian TV website, "Unsolved: Getting Away With Murder: The Templeton Woods Murders" television programme.)





ANN MARIE HAROLD
Date of attack: September 1980
Place of attack: Mexborough
Outcome: Murdered
Ann Marie Harold, a pregnant 22-year-old, vanished in September 1980 while on a shopping trip to Mexborough. Two weeks later her body was found hidden in a ditch. She had been clubbed over the head and strangled.
This method of attack was consistent with the Marguerite Walls murder and the attack on Upadhya Bandara, in August and September of 1980. After Sutcliffe's trial, police revealed that they would be questioning him about this attack.
UPDATE
According to a Freedom Of Information Request available on the South Yorkshire Police Website, the murder of Ann Marie Harold was solved with the trial and conviction in Leeds Crown Court on December 3 1982 of an individual who was sentenced to life imprisonment.
Victim Status: NOT CONNECTED TO RIPPER SERIES OF ATTACKS
(Source material: The Times, South Yorkshire Police Website.)





MAUREEN LEA
Date of attack: October 25 1980
Place of attack: Leeds
Outcome: Survived

On Saturday night, October 25 1980, at 10:50 pm, Maureen "Mo" Lea, a 20-year-old Leeds Polytechnic art student, was walking along Hillary Place on the grounds of Leeds University when she became aware that someone was walking behind her. She was grabbed from behind and repeatedly hit about the head before she fell to the ground.
The attack on Maureen Lea took place about two miles away from the area of Headingley where Upadhya Bandara had been attacked in September 1980, and where, weeks later, Jacqueline Hill would be killed on November 17 1980.
The attack on Maureen Lea was reported in the Leeds Student, where it was reported that her injuries were a broken left jaw, cut eyebrow, and cuts to the back of the head. The Leeds Student article also said that the injuries had been the result of being punched. (However, that description may have been an inaccurate characterisation of the blows struck during the assault. The cuts to the back of the head do seem to suggest more than a fist as a weapon.) It also reported that she described her attacker as being a white male, wearing dark clothing, around 25 years old, 5' 9" tall, with medium length dark hair.
David Yallop's book was the first to publicly suggest that this attack may have been the responsibility of the Yorkshire Ripper, and felt he should be questioned about the attack.
Additional information and confirmation that this attack may have been by Peter Sutcliffe, comes from the 1996 TV programme "Silent Victims: The Untold Story Of The Yorkshire Ripper" and newspaper articles about the programme. The attack was detailed in the programme and the victim was interviewed. While she was not mentioned by name, when combined with details of the attack in the programme and other source material, the attack referred to is the one on Maureen Lea.
Further details about the attack from the programme are that just before the attack the man shouted, "Hey you, don't I know you?" to her. A witness to the attack, Lorna Smith, saw a man running off, and found the victim. As well as detailing the injuries as reported in the Leeds Student, it was also stated that she received her injuries from hammer blows (and not by being punched as initially reported in the Leeds Student) and that she received a large dent in her head and a fractured skull. It was also reported that she was told by doctors that her injuries were similar to other Ripper victims.
It was also mentioned in newspaper articles that she believes that if the West Yorkshire Police had linked her attack to Sutcliffe, Jacqueline Hill may be alive today.
If by intent, rather than by omission, the lack of a beard in the description of the attacker casts some question on whether Sutcliffe was involved. While, obviously, he could have shaved off his beard, the previous victim, on September 24 1980, and the next victim, eleven days after the Maureen Lea attack, both described their attacker as bearded.
On November 25 2002, the Law Lords found against the Home Secretary being able to increase the minimum life sentencing tariff recommended by the judiciary (after which the murderer would have to face a parole board before being considered for release). Peter Sutcliffe was sentenced to life with the recommendation he serve a minimum of thirty years. This was later increased by the Home Secretary to a whole life sentence, meaning he would never be released or face a parole board. In an article in the Sunday Telegraph the previous day, it was reported that there was the possibility that police would lay new charges against some murderers to kept them from being considered for release after their original minimum sentencing was completed. The Sunday Telegraph reported that West Yorkshire detectives were confident they could bring new charges against Sutcliffe in regards to the murder of Debra Schlesinger (April 21 1977) and the 1980 attack on a Leeds arts student.
Victim Status: POSSIBLE YORKSHIRE RIPPER VICTIM
(Source material: Yallop, Leeds Student, The Northern Echo, The Mirror, Sunday Telegraph, "Silent Victims: The Untold Story Of The Yorkshire Ripper" 1996 television programme, "Britain's Most Evil Killers - Peter Sutcliffe" 2017 television programme.)







JEAN CLAY
Date: December 10 1980
Place: Dewsbury
Outcome: Accidental Death

On the 10th of December, about three weeks after the Jacqueline Hill murder, Mrs Jean Clay, a publican's wife, was found with severe head injuries near Dewsbury railway station, beginning a homicide investigation. She had been brutally battered and her body found on waste ground. Her body had been spotted by a train driver only a few feet from the main Manchester-Leeds railway line. That night the police ruled out a link with the Yorkshire Ripper, but refused to say how 34-year-old Mrs Clay died.
Detective Chief Superintendent Peter Gillrain, who was leading the inquiry, stated that Mrs Clay's body was found shortly before seven a.m. Apparently, she had been in Dewsbury for a night out with two of her sisters. Police were trying to trace anyone who was near the station between 2 a.m. and the time the body was discovered. She had not been dumped or pushed from a passing train. Gillrain declined to reveal what weapon might have been used in the attack.
However, on December 18 1980, after further investigation, including the questioning of a man, Detective Inspector Anthony Glendinning told the Kirkless Coroner, Mr Philip Gill, that foul play was not suspected in the death of Jean Clay, and that her injuries were consistent with being hit by a train.
Victim Status: NOT A MURDER VICTIM
(Source material: O'Gara, Daily Mail, Yorkshire Post.)