VERA MILLWARD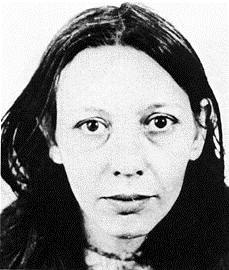 AGE
DATE
PLACE
OUTCOME
LAST ATTACK
40
May 16 1978
Tuesday night
11:00 pm
Manchester
Murdered
104 days
Vera Millward, a forty-year-old prostitute, living in a run-down council flat in Hulme, Manchester, was murdered by the Yorkshire Ripper three and a half months after the killing Helen Rytka.
On May 16th, Vera Millward, a frail, sickly woman, who had one lung, had had three major operations in 1976 and 1977, and had chronic stomach pains, left her home at around 10:00 pm, telling her Jamaican boyfriend that she was going out to buy cigarettes. Knowing what she really meant, he did not expect to see her for a few hours. On Tuesdays and Thursdays she had a regular client who would usually park outside her flat in Greenham Avenue and flash his car headlights. This night he didn't show up and Vera hung around for business with the car trade. A man driving through the area was the first client to come along.
Peter Sutcliffe and Vera Millward drove for about two and a half miles to the Manchester Royal Infirmary and a quiet spot in a parking compound where prostitutes and their clients were frequently seen. After getting out of the car, Sutcliffe attacked her with a hammer, and Vera tried to fight him off. A man later claimed to have heard three screams for help from the hospital grounds, but decided they were from a patient at the hospital. After he had killed her with hammer blows, Sutcliffe dragged her to a spot by a fence, and began to stab her with a knife.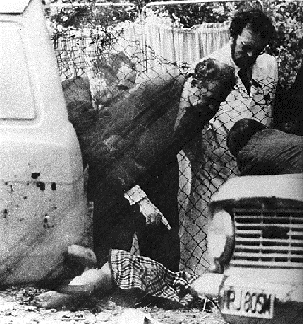 Vera Millward's body was found shortly after 8:00 am the next morning when six workers arrived in two vans to do gardening at the Manchester Royal Infirmary. While unloading tools from the back of one of the vans, they saw what they first took to be a tailor's dummy lying near a temporary fence. As one of the men, Jim McGuigan, walked over to take a closer look, he was horrified to realise that it was the body of a dead women.

Vera Millward had been hit three times on the head with a hammer, blood and brain tissue staining her clothes and body, and then she was dragged across the gravel twelve feet to the fence. She lying on her right side, face down, arms folded beneath her, and her legs straight. Her coat covered her from her knees to her neck, her shoes had been placed neatly on her body, and a piece of paper covered her head. Her dress and underskirt had been raised and she had been slashed so viciously across the stomach that her intestines had spilled out the wounds. She also had been repeatedly stabbed through the same wound in her back, just below the lower left ribs. Her right eyelid had been punctured and the eye bruised.

An examination of the scene is described by Tony Fletcher in his book "Memories Of Murder: The great cases of a finger-print expert": "From the position of tyre tracks, footprints, blood and the spot where the body was found it was assumed that the murderer had driven through the opening in the wire mesh at the southern end of the compound and had veered sharply to the right; he had then reversed his vehicle until the bonnet was pointing towards the exit, ready for a quick getaway. We were fortunate to find and cast the impressions made by all four tyres of the suspect vehicle. From these casts and the measurements obtained, the scientists at the North-West Forensic Science Laboratory were able to prepare a list of only eleven vehicles within the suspect range, one of which was the Ford Corsair that the murderer was eventually known to be using at the time of the attack."

The tire tracks, with their common denominators of India Autoway cross-ply tires with a track width of 4' 2", were consistent with those found at the Richardson murder scene and at the Moore attack scene. This, coupled with the injuries the victim received, was convincing evidence that the Yorkshire Ripper had crossed the Pennines again and killed in Manchester for the second time.

Vera Millward was the last known attack of Peter Sutcliffe's in 1978 and was also the last murder or attack on a prostitute. The known attacks would not resume until April 1979. When they did, they took on an even more sinister pattern (and similar to his earliest attacks). Other than in Sutcliffe's mind, the victims would not be prostitutes, or even women who were in or near red-light areas. He would not try to pick them up in his car, nor, other than the first in the new series, would he engage them in conversation. No woman, no matter where in West Yorkshire, was safe from his trawling for a victim.





EXTRACT FROM PETER SUTCLIFFE'S CONFESSION (January 4/5 1981)

"The urge inside me still diminished my actions when it came to the fore. The next time I felt this way I paid another visit to Manchester one evening a few months after Rykta. I went there in my red Corsair to the red light area."

"When I got there, there was no sign of any girls, so after reaching a night club on a corner in a small labyrinth of terraced houses about 3/4 mile square, I took the 3rd left after the night club, which was a long street running from one end to the other of this area. I drove down to the bottom end and there I saw a woman obviously waiting to be picked up. It was Vera Millward. I stopped and asked her if she was doing business. She said, 'Yes,' but it would have to be in the car. The price was £5, she got in and I drove off."

"She told me where to drive and I followed her directions, which led us into a hospital grounds. I stopped the car in an area near a narrow road, from where I could see an Archway obviously used by pedestrians. I parked up the car and suggested to her that it would be better in the back. I don't think I'd paid her."

"She got out of my car and went to the back door. I picked my hammer up from under the seat and walked round the back of the car. As she was opening the rear door I hit her on the head with the hammer, and she dived backwards past where I was stood. She was on her hands and knees when I hit her again at least once. She fell flat on her face. I pulled her by her wrists over to the edge of the area where there was either a fence or bushes."

"I took out my knife I was carrying, I think it may have been the same one I used on Rytka, but I'm not sure. I pulled her clothes up and slashed her stomach either vertical or diagonal. It opened up her stomach. Then I rolled her over onto her stomach and left her lying there. I drove away. I think I had to reverse out to get back again."

"I didn't get any blood on me on that occasion. I think I was wearing my brown car coat, which you've got. Following Millward, the compulsion inside me seemed to lay dormant, but eventually the feeling came welling up, and each time they were more random and indiscriminate. I now realised I had the urge to kill any woman and I thought that this would eventually get me caught, but I think that in my sub-conscious this was what I really wanted."



(NOTE: Source material (details): Bilton, Burn, Cross, Jones, Kinsley & Smyth, Nicholson, Tony Fletcher, "Memories Of Murder: The great cases of a finger-print expert". Source material (quotes): "Statement Of Peter William Sutcliffe". Photo source: Yallop.)