IRENE RICHARDSON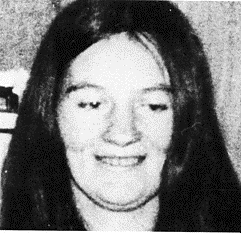 AGE
DATE
PLACE
OUTCOME
LAST ATTACK
28
February 5 1977
Saturday night
11:30 pm
Leeds
Murdered
271 days
Irene Richardson, aged 28, was murdered by Peter Sutcliffe nine months later, and at almost the same exact spot, as the previous known attack on Marcella Claxton in May 1976. The murder was also the one where his actions could be seen as deliberate, calculated, and controlled. Instead of quickly leaving the scene, as in previous attacks, he took the time to re-arrange her clothes and boots, and cover her body with her coat.
On February 5th, Irene Richardson, who was down on her luck, had spent most of the previous ten days homeless and almost penniless, and had taken to hanging around street corners. She was last seen at a rooming house on Cowper Street where she had taken a room, saying she was going to Tiffany's, a "No denims" pub and disco in the centre of Leeds. She left the rooming house at around 11:15 pm.
Peter Sutcliffe had spent part of the evening of February 5th kerb-crawling in his white Ford Corsair, obviously looking for a victim. He had either been turned down, or turned down, those who he had approached, or who had approached him.
Not far from the Gaiety pub, he spotted Irene Richardson and stopped his car a few yards ahead of her. She jumped in without a word, and when Sutcliffe said that he might not have wanted her, she replied that she would show him a good time. Sutcliffe drove a mile along Roundhay Road and into Roundhay Park, and continued on to Soldiers Field, where he had attacked his previous victim, Marcella Claxton.
When Irene Richardson got out of the passengers seat, Sutcliffe put a hammer and Stanley knife into his pocket. She wanted to go to the toilet, but finding them locked, decided to urinate on the grass. As she was crouching, Peter Sutcliffe delivered three heavy blows to her head with his hammer, one that drove her skull three-quarters of an inch into her brain, and then he tore open her jacket and blouse and began to stab and slash her with his Stanley knife. He heard nearby voices and saw a car being driven away from a block of flats. Before he left, he covered her legs with her coat.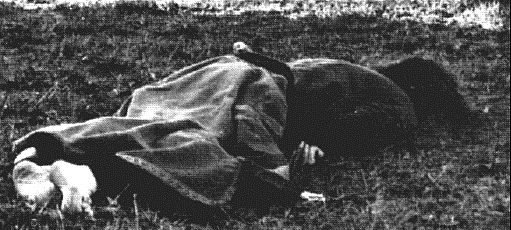 At 7:30 am, John Bolton was out jogging across Soldiers Field when he spotted the body of Irene Richardson on the ground near the rear of a sports pavilion and near some trees. At first he thought it was someone who had been taken ill. He asked her, "What's the matter?" He approached the still form and, after he brushed her hair aside which was covering her face, he saw "blood on her neck and her eyes were glazed and staring". He then ran to one of the houses and called the police.

Irene Richardson was lying face down, her hands under her stomach, and her head turned to the left with her long hair matted with blood and hiding the stab wounds in her neck and throat. The imitation suede fur-trimmed coat she had been wearing had been draped over her buttocks and legs, with only her feet showing. Her calf-length brown boots had been careful placed over her thighs. Her bra was still in position, but her skirt had been pulled up. Her tights had been pulled off her right leg and pulled down. Besides the neck and throat wounds, she had been three stab wounds in the stomach, one six and three-quarter inches long, and all were severe downward strokes that had caused her intestines to spill out of the wounds.

Near the body, the police discovered an important clue. The killer had driven his car onto the soft ground of Soldiers Field. The police were able to determine the tire marks as being two India Autoway tires, a Pneumant, and an Esso 110, all cross-ply. With a rear track width of between 4' 1 1/2" and 4' 2 1/2", the number of vehicles that it could apply to was twenty-six, including Ford Corsairs. A staggering 100,000 vehicles in West Yorkshire would have to be checked, and before the killer changed any of his tires.





EXTRACT FROM PETER SUTCLIFFE'S CONFESSION (January 4/5 1981)

"The next one I did was Irene Richardson. I then owned a red Corsair and also a white Corsair KWT 721D, the Reg. No. of the red one was PHE 355G. I had both of these at the same time and I honestly cannot remember which one I was using that night."

"I drove to Leeds after the pubs shut. It was my intention to find a prostitute to make it one more less. I saw this girl walking in some cross streets in the middle of the vice estate near a big club. I stopped my car and she got in without me saying a word. I told her I might not have wanted her, she said, 'I'll show you a good time. You are not going to send me away, are you?'"

"She told me to drive to the park. At this time you knew where I was picking them up. She told me where to drive and we came to this big field which was on my left. I drove off the road onto the field and stopped near some toilets. She wanted to use the toilets, so she got out and went over to them. She came back and said they were locked. Before she went to the toilet she took off her coat and placed it on the ground. When she came back she said she would have a wee on the ground. She took her boots off and placed them on the ground, then she crouched down to have a pee. By this time I was out of the car and I had my hammer in my hand."

"As she was crouching down, I hit her on the head from behind, at least twice, maybe three times. She fell down. I then lifted up her clothes and slashed her in the lower abdomen and also slashed her throat. I left her lying face down and I covered her up with her coat. I put her knee boots on top of her before I covered her up. I then got into my car and drove off the field. I cannot remember whether I drove off or backed off. When I got to the road, I saw a couple sitting on a bench near the toilets. I did not see a car."

"I was living with my wife at 6 Garden Lane, Heaton. I drove straight home. I looked at my clothes before I went in, I did not see any blood stains. I was wearing jeans and I believe I had some boots on. I don't remember throwing any of my clothes away."

"I kept the Stanley knife, but I haven't seen it for a long time, I think I may have lent it to someone. I'm still not sure which car I was in, the red or white Corsair. I sold the white Corsair first to a lad called Ronald Barker, who lives at 46 Tanton Crescent, Clayton. He only had it about a week and he seized it up. I kept the red one for several months. I bought the white Corsair back off Ronald after about two weeks, and sold it at Canal Road Scrap Yard at Bradford."

"By this time, after Richardson killing, prostitutes became an obsession with me and I couldn't stop myself, it was like some sort of a drug."



(NOTE: Source material (details): Burn, Cross, Jones, Kinsley & Smyth, Yallop. Source material (quotes): "Statement Of Peter William Sutcliffe". Photo source: Yallop.)