EMILY JACKSON
AGE
DATE
PLACE
OUTCOME
LAST ATTACK
42
January 20 1976
Tuesday night
7:30 pm
Leeds
Murdered
80 days
Emily Jackson, aged forty-two, was a part-time prostitute, whose description as such after her murder was a source of astonishment to her friends and neighbours in Churwell, where she lived. Her husband, Sydney, was a local roofing contractor, and she helped with the paperwork and drove the old Commer van for him from job to job, since he did not drive.
Around Christmas, due to financial pressures, Emily had decided to start taking money from the men she might pick up on their almost nightly excursions to the pubs. It was her habit to cruise the streets of Chapeltown looking for business, or she would sometimes leave the van in the car park and go off with clients in their vehicles.
One of the Jackson's favourite haunts was the Gaiety pub on Roundhay Road, Leeds. It was to there that they went on the night of January 20th, leaving their home at around 6:00 pm and arriving at the pub about fifteen minutes later. Shortly after their arrival, Emily Jackson left her husband in the pub while she went off to have a look around.
Peter Sutcliffe saw Emily Jackson some time after 7:00 pm and she said it would cost £5. After she got in his car, they drove on Roundhay Road about half a mile in the direction of the city centre, and parked on a piece of derelict land away from the lights of the main road. He later claimed that her overpowering cheap perfume caused him to hate her all the more, even though he didn't know her. Sutcliffe decided to pretend the car wouldn't start. She offered to help him by holding her lighter while he looked under the bonnet at the engine. As she did so, he took a couple of steps back and hit her twice with his hammer and she crumpled to the road.
Sutcliffe then dragged her body into a yard and pushed up her sweater, cardigan, and bra, and pulled down her pants. Taking a cross-ply Phillips screwdriver, and "seething with hate for her", he viciously stabbed her a total of 52 times in the neck, breasts, lower abdomen, and back. He then searched the yard until he found a piece of wood between two and three feet long and thrust it between her legs.
Just as he was leaving the scene, a car startled Sutcliffe when it stopped a few yards away. Scared, he quickly put his hammer and screwdriver on the car floor and went straight to home to his in-laws' house in Clayton, Bradford.
After 10:30 pm closing time, Sydney Jackson left the Gaiety and went into the car park and saw the van there, but not his wife. After waiting a few more minutes, he decided to take a taxi home, figuring she might be in another bar and/or with a client.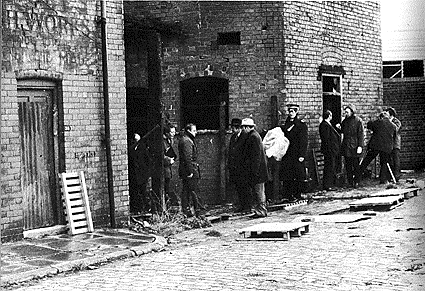 At 8:10 am the following morning, a workman, taking a short cut through a narrow passageway between Manor Street and Roundhay Road, was walking past the end of a short cul-de-sac between two derelict buildings when something caught his eye. He saw a bulky object with what appeared to be a coat partially covering it. Emily Jackson's body had been found.

When the police arrived at the scene of the murder they discovered Emily Jackson had been left lying on her back with her legs apart. Marks on the ground showed how the killer had dragged her body to the spot where it was found. Her handbag was lying nearby, but nothing appeared to have been taken. On her right thigh the police found a boot impression from a heavy-ribbed wellington boot which was later identified as being from a Dunlop Warwick. The boot size was probably a size 7, and no larger than a size 8. Found in the nearby sand, was a similar boot print. From the injuries received, the police quickly linked the murder of Emily Jackson with the murder of Wilma McCann.

The police thought they might have received a break in the case a week later when a prostitute came forward and stated she had been chatting with Emily Jackson outside the Gaiety the night of the murder. Maria Sellars told the police of her conversation with Emily Jackson shortly before 7:00 pm, and that she had seen Emily Jackson spot a possible client, go over and talk to him, and then get into his Land Rover. She then watched them drive off along Gledhow Road. Her descriptions of the Land Rover and its driver were very detailed. Further questioning of prostitutes in the area helped to build up further details of the man, including that they believed him to be Irish.

Similar detailed descriptions of a man and vehicle were also reported in an attack on a prostitute in an incident in the Bolton Woods area of Bradford on either a Wednesday or a Friday during the month of March 1975. Barbara Miller had been picked up in a pub in Lumb Lane, Bradford, by a man, possibly with an Irish accent, and driven in a Land Rover to Bolton Woods. The man stopped the vehicle, opened the passenger door, and ordered her out. She refused and was pulled from the vehicle. In the ensuing struggle, she was punched in the stomach, chest, and face. She did not report the attack to the police at the time.

Neither the vehicle, nor the Irish suspect, who was probably Emily Jackson's last customer before accepting a ride from Peter Sutcliffe, were ever traced.





EXTRACT FROM PETER SUTCLIFFE'S CONFESSION (January 4/5 1981)

"This time I drove to Leeds looking for a prostitute because I felt I could not justify what I had done previously, and I felt an inner compulsion to kill a prostitute. This was about a month after Christmas."

"I drove to Leeds in my Capri about 8.0pm - 9.0pm. I saw a woman dressed in an overcoat trying to stop drivers from the pavement on the road that leads to Wetherby Road. It was near some phone boxes. I stopped and wound the window down. I said, 'How much?' She said, 'Five pounds.' She got in the car. I remember when she got in there was an overpowering smell of cheap perfume and sweat, this served all the more for me to hate this woman even though I didn't even know her. Looking back I can see how the first murder had unhinged me completely."

"She had an overcoat on and she was heavily built and had brown hair. She said she knew where we could go. I knew from the outset I didn't want intercourse with her. I just wanted to get rid of her. At that time I think I was dressed in my working clothes, at that time I used to wear wellington boots at work.

"At her direction, I turned the car round and drove back the way I'd come. We had just gone about 400 yards and she told me to turn left. I turned in and then turned left again and drove behind some old buildings, it was a cul-de-sac. I couldn't bear even to go through the motions of having sex with this woman. On the journey she told me that she could drive."

"I wanted to do what I'd got in mind as soon as possible. I remember turning on the ignition again so that the red warning light came on, and pretended that the car would not start. I said I would have to lift up the bonnet to sort it out. I asked her if she would give me a hand. We both got out of the car. I lifted up the bonnet of the car. I had picked up a hammer which I had put near my seat for that purpose. I told her I could not see properly without a torch. She offered to use her cigarette lighter to shine under the bonnet."

"She was holding her lighter like this, I took a couple of steps back and I hit her over the head with the hammer. I think I hit her twice. She fell down onto the road. I took hold of her hands or wrists and pulled her into a yard which had rubbish in. I then made sure she was dead by taking a screwdriver and stabbing her repeatedly. I pulled her dress up and her bra before I stabbed her to make it easier. To be truthful, I pulled her clothes up in order to satisfy some sort of sexual revenge on her as on reflection I had done on McCann."

"I stabbed her frenziedly without thought with a Phillips screwdriver all over her body. I had taken the screwdriver with the hammer in the well of the driving seat. I was seething with hate for her. I remember picking up a piece of wood from the yard, about 2-3ft long and 3" x 1", and pushing up against her vagina with it as she lay on her back. I cannot recall taking her knickers down. I threw the wood away in the yard."

"I left her lying on her back, I never took anything from her. Just as I was about to get into my car, a car came round with its lights on and stopped a few yards from where my car was. I don't know what make of car it was, but it scared me. I put the hammer and screwdriver on the car floor and drove away. I went straight home to my mother-in-law's house."

"At that time I had a feeling of satisfaction and justification for what I'd done. I found that I didn't have any blood on my clothes which I could see, so I had no need to dispose of them. I am still unable to recall if it was the same hammer I used on Jackson as I did on McCann, but I do recall buying a new hammer from a hardware shop near the roundabout in Clayton. It had a flat head on one side and a nail extractor on the other, which I later used on women. The hammer I used on the first two had a flat head on one end and a ball on the other."



(NOTE: Source material (details): Burn, Cross, Jones, Lavelle, Yallop. Source material (quotes): "Statement Of Peter William Sutcliffe". Photo source: Cross.)