MAUREEN LONG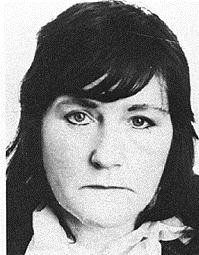 AGE
DATE
PLACE
OUTCOME
LAST ATTACK
42
July 10 1977
Sunday morning
3:20 am
Bradford
Survived
14 days
Maureen Long, aged 42, was attacked by Peter Sutcliffe only two weeks after he had murdered Jayne MacDonald. It was his fourth attack of 1977, and she was the first survivor of those attacks.
On the night of July 9th, Maureen Long left her home in Farsley, Leeds, for a night on the town in Bradford. She visited a number of pubs, and at one of them met her estranged husband and made arrangements to stay at his home in Laisterdyke, Bradford, later that night. She ended up her night at the Mecca ballroom, renamed Tiffany's, in Manningham, Bradford. There she was seen in the Bali Hai discotheque, where a large number of people remembered seeing her dancing with a lot of men, and that she appeared very drunk by the time she left just after 2:00 am.
Peter Sutcliffe, on the same night, had been out drinking as usual with Ronnie and David Barker, doing the rounds in Bradford. In a repeat of what transpired on the night of Jayne MacDonald's murder, at the end of the evening he dropped the Barkers off at the end of Tanton Crescent, Clayton, and drove off alone into the night.
Sutcliffe spotted Maureen Long coming out of Tiffany's and pulled over after cruising slowly behind her as she unsteadily made her way pass the long queue of people waiting for taxis. He asked her whether she was going far, and when she inquired whether he was offering her a lift, he indicated he was, if she wanted one. Once in the car she explained that she was living in Bowling, just on the other side of the city centre, a rundown area among the railway yards. She also told him she was living with an ex-boxer, whom she described as a "spoilsport".
Upon reaching Rendle Street she directed him to not stop right in front of the house, and so he stopped a short distance away. Maureen Long asked whether he "fancied" her, and when Sutcliffe affirmed that he did, she said that they could go inside if no one was at home. Shortly she returned to the car and told him that she knew a place where they could go, and directed him to nearby Bowling Back Lane.
Sutcliffe waited until after Maureen Long got out of the car and while she was crouching and urinating, before he dealt her a blow to the back of the head with a hammer. After she slumped to the ground, he pulled her onto the waste ground, and ripped her dress to the waist, and then began the usual Ripper stabbing "signature". He saw a light on in a caravan, but it failed to stop him.
A nightwatchman patrolling premises alongside the waste ground, alerted by his barking Alastian, saw what he believed was a white Ford Cortina Mark II with a dark roof (it was really a Ford Corsair) drive away from the waste ground at high speed. He noted the time as 3:27 am.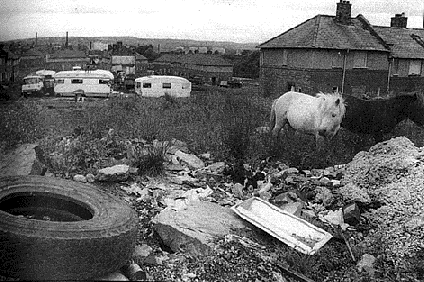 Maureen Long was discovered at 8:30 in the morning when two women walking near the waste ground heard her feeble cries, which they first thought sounded like a baby whimpering. Her girdle, pants, and tights had been pulled down. She had suffered one blow to the back of the head and stab wounds to her chest, stomach, and back, including one slashing stab wound from her breasts to below her navel.

The police fingertip search of the scene did find a partial bloody palm print of a piece of ceramic believed to be from a broken sink. The police were convinced it belonged to her attacker.

Sutcliffe received a "nasty shock" the next day when he discovered that his victim had survived. He had believed that she was dead when he drove away from the scene of the crime. With her survival, he felt he had not acheived his purpose, which had been to kill her. He also felt certain that it would be the "end of the line" for him, as she would be able to identify him. Days later, he was relieved to discover that Maureen Long was suffering from amnesia.

Maureen Long had remembered going to the cloak room at the club, and walking towards the city centre. She also remembered his white Ford with the black roof. But the description of her attacker that she was able to provide - white, well-built man, aged 36 or 37, about 6ft. 1in. tall, puffy cheeks, thickish eyebrows, collar-length wiry blond hair, with noticeably large hands - relieved Peter Sutcliffe of some of his worries about being caught. His only concern was the description of his car by the nightwatchman. In August he sold the white Ford Corsair to Ronnie Barker. When it broke down, Sutcliffe reluctantly took it back, stripped the car down, and redistributed the spare parts around the replacement car he had bought in September 1977, a red Ford Corsair.





EXTRACT FROM PETER SUTCLIFFE'S CONFESSION (January 4/5 1981)

"The next one was Maureen Long. I saw Maureen just a couple of weeks ago. I was in the Arndale Shopping Centre with my wife when I came face to face with her. I recognised her immediately, she seemed to look at me, but she obviously didn't recognise me."

"I was driving along Manningham Lane towards the City Centre one Saturday night in July 1977. It was late at night. I saw her walking on the same side as the Mecca, towards Bradford Centre. She was wearing a maxi length dress and a jacket sort of coat."

"She was just past the hamburger stand when I saw her. I stopped my car and said, 'Are you going far?' She said, 'Are you give me a lift?' I said, 'If you want one.' She got in. She told me she had been to the Mecca. She told me where she lived, and that she lived with a man who was an ex-boxer and that he was a spoil sport and would not take her to the Mecca."

"She directed me where to drive to her house, which was somewhere off Leeds Road to the left. She pointed out a house in a row of terraced houses where she said she was going. She told me not to stop outside but to drive past. I drove about 20 yards past and stopped. She got out of the car."

"She had told me that if there was no one in the house we could go in. She had asked me if I fancied her and I told her that I did, just to please her. She went and knocked at the door of the house and she was banging away for a minute or two. Then she came back and got into the car and told me she knew a place where we could go."

"She told me where to drive, and I drove eventually into Bowling Back Lane and turned right down a cobbled street. I stopped the car some way down the street. There was some spare unlevelled land on the left and a big high wall on the right. She got out of the car and said she was going for a piss first and she went to the spare land and crouched down and had a piss."

"I had my hammer ready as she got out of the car and I also had a knife. I think it was the same knife I had at MacDonald."

"I got out of the car whilst she was having a piss and as she was crouching down I hit her on the head with the hammer. She slumped down. I pulled her by the hands further onto the spare ground. She was not making any sound. I pulled up her clothes and I stabbed her three or four times with the knife in her chest and back. I did see a caravan with a light on over the spare land, but it didn't put me off what I was doing. I thought that I had stabbed her enough when I left her. I went back to the car, got in, and drove off."

"I was under the impression that the street I was in may be a cul-de-sac, so I reversed my car by turning it round in the street I was in. No, I didn't, I remember that I backed out of the street into Bowling Back Lane facing towards the City. I drove along Bowling Back Lane towards the general direction of the City centre, and drove home to Garden Lane. I believe my wife may have been working that night, or else she was in bed. I don't think I found any blood on myself on that occasion."

"The next day, or the day after, I heard in the news, or read in the paper, that the woman was still alive. I got a nasty shock and thought it was the end of the line there and then. I thought she would be able to identify me. I think it was about that time that I threw the hammer over Sharps wall. A few days after, I read that Long was suffering from loss of memory and this made me less worried about being caught."

"My desire to kill prostitutes was getting stronger than ever and it took me over completely. I was in a dilemma, I wanted to tell someone what I was doing, but I thought about how it would affect my wife and family. I wasn't too much bothered for myself."



(NOTE: Source material (details): Burn, Cross, Jones, Manchester Guardian. Source material (quotes): "Statement Of Peter William Sutcliffe". Photo source: Yallop.)