coderJeff's FreeBASIC wiki tools
These are tools I have made to help work on and improve the FreeBASIC documentation located at www.freebasic.net/wiki

Wee IDE (2007.10.08)
Windows application that can download and edit wiki pages from the FreeBASIC wiki and preview the output as it would appear in CHM version of the documentation. This is based on the earlier mkwiki (see below), but adds new features like an MDI main window and TAB/SHIFT+TAB indenting/outdenting.

Windows Binaries (2007.10.08): - weeide-2007.10.08-win.zip 308 K
Source Code (2007.10.08): - weeide-2007.10.08-src.zip 73 K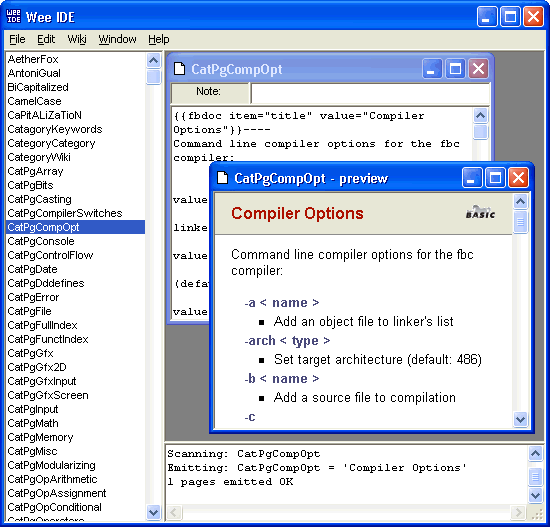 mkwiki (2007.03.12)
NOTE: This is an old version and has been replaced by Wee IDE (see above ). It has not been updated recently and probably never will be.
Windows application that can download and edit wiki pages from the FreeBASIC manual and preview the output as it would appear in CHM version of the documentation.

Source Code (2007.03.12): - mkwiki-2007.03.12-src.zip 18 K

Screen shot of mkwiki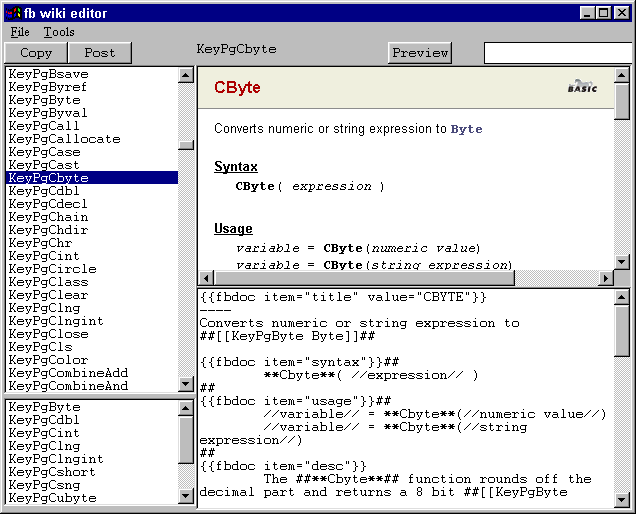 Want to help improve the FreeBASIC documentation? Visit the FB Wiki - Help pages to found out how.