Pur-Lite 26 Watt CFLs
I have a Pur Lite SSX-105-07 26W that burned up (see picture below) in almost exactly the same way as the bulbs pictured on your site. I will be sure to avoid these in the future.
Dave, Nelson, BC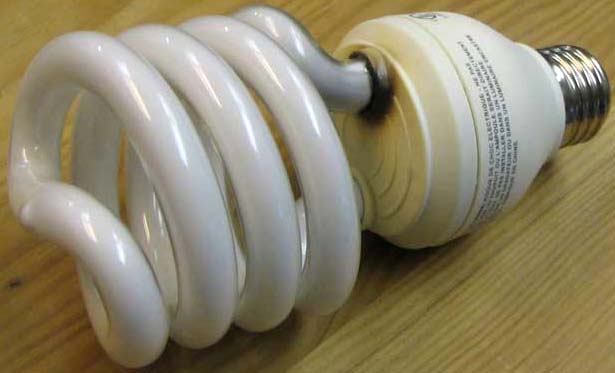 I bought the 26 watt spiral at Canadian Tire (SUX-105-08 'brite white' model). I've had several in use for maybe 4 months without problems. But last night one of them exploded. It was new, had been in my son's bedroom for about 2 weeks, and the bottom couple of spirals (not the socket end of the bulb) exploded. The glass bits dropped down on my son's bed, onto him, where he had been doing homework. Not impressed.
I too purchased a pack of three Pur-lite SSX-105-07 (26 watt) compact florescent bulbs at Canadian Tire. Two of these CFL bulbs have since burned out (each at different times). The plastic base became exceedingly hot, charred, and molten near the glass tube. The damaged bulbs closely resembled many of the photos posted on your website by other consumers of this product brand. Had I not been working at my desk to notice the flickering light and emanating smoke, a fire potentially would have resulted. Both bulbs were mounted in open (well vented) indoor light fixtures. - Todd (Toronto, ON)