Defective Pur-Lite 15 Watt CFLs
I thought this picture (below) might be of interest to you. I'm trying to find information on the manufacture of these light bulbs as I fear these lights may be unsafe if left unattended.
Corey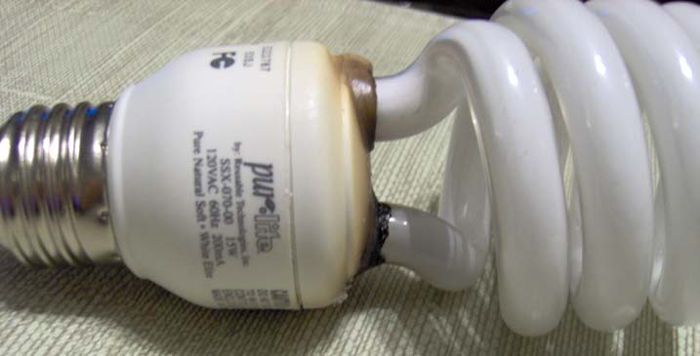 I have a bulb that melted in my lamp (see picture below) and the only information I can find is your website that showed pictures of a very similar light bulbs that did the same thing. I have a pur-lite 15 watt bulb with the product code of SUX-070-01 and I cannot find a contact number anywhere. I even called Canadian Tire head office and they couldn't help me.
Kim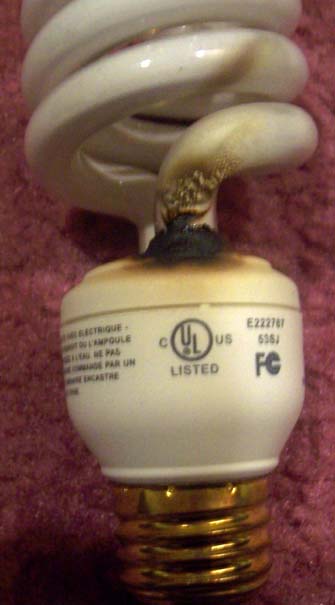 I found your site while doing a search for this particular bulb after replacement. What I found when I removed this was startling.
This bulb was installed in an open wall mounted sconce type fixture, so there was free air circulation all round the bulb. It was installed in a new building - construction was completed in July 2005, so this lasted for approx. 6 months. The bulbs operated continuously in a public area of my building and I chose this type of bulb to lower the electrical demand. I now have in the order of 90 bulbs to check and/or replace if they are in similar condition to this one. The photos speak for themselves (see picture below).
Ian, Yellowknife, NT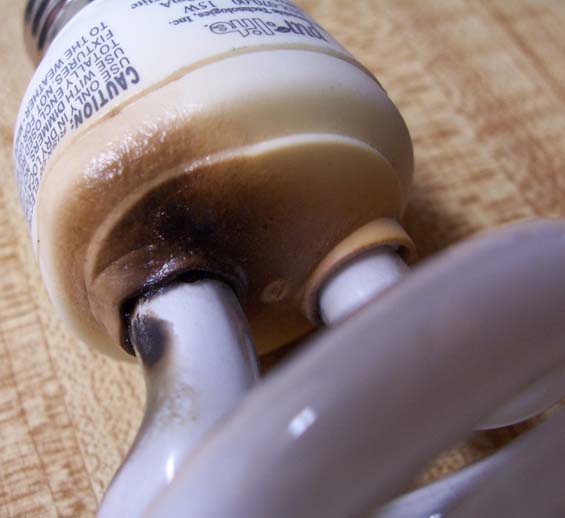 I have come across your writings recently and would like to share a picture (see below) and comment regarding Pur Lite spirals. I was taking my dog for a walk and noticed the lights in the garage flickering. Upon entering the garage I could smell something electrical burning. The bulb in the garage door opener was actually smouldering and glowing. You can see the result in the picture I have attached. These were purchased at Canadian Tire in Ontario,Canada. I have since removed over 20 of these bulbs from my home. The bulb is a Pur Lite 15w model # SUX-070-01. Somewhat ironic that the first 3 letters of the model # are ''SUX''.
Glenn, Alliston Ontario Canada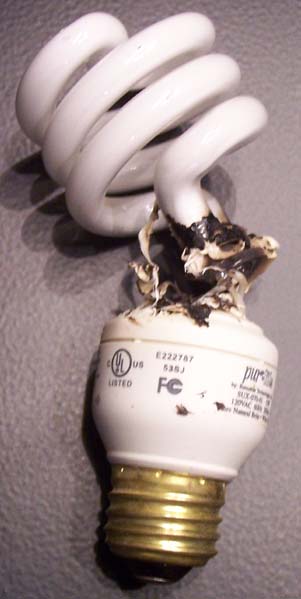 I would like add to you responses on this article. We had replaced our entire house with the CFL's purchased at Canadian Tire a year or so ago. They where the Pur-Lite 15 Watt Spirals SSX-070-00. Since we put them in we have had a problem with these bulbs continuing to flash every 5 minutes or so after being turned off. This continues for 1/2 hour or more. This freaked me out enough but that is not where it ends. We had one of the bulbs burn at the base just as you are showing in your article (see picture below). It was VERY hot and did not cool for quite a while. I feel that had I not been home and found it in time to take appropriate action it would have turned into a very tragic ending. There was a lot of smoke and a very strong smell. Needless to say I have removed them all. Is it possible for you to tell me a brand name and model of one of these bulbs that you would feel comfortable putting in your home. I still want to take advantage of saving energy, but I am highly spectacle.
Sherri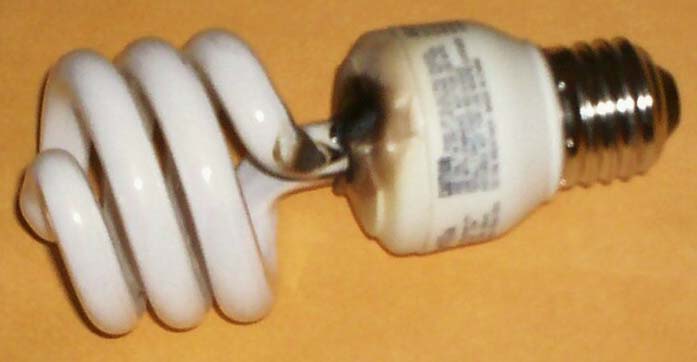 Here are the pictures of that bulb that caught fire in my socket. You'll notice on picture (see below) the big chunk that flew out of it. I am going to peruse this issue!
Brenda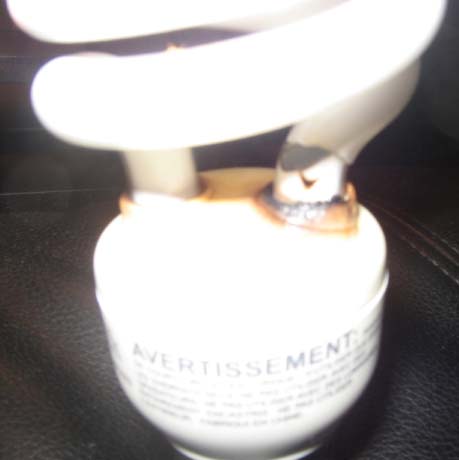 I had another CFL's go up in smoke this one was in a open lamp, it was the same brand (Purlite 15 Watt). I thought I had taken them all out, I missed this one, its not hard to find them, they smoke for about a minute and then you can visually find them, the last time I contacted UL, their comment was if I didn't get a shock or there was no actual fire or damage from a fire they really couldn't care less, I also contacted the local fire station, I talked to a fire inspector, he was not concerned at all, only if it had manufactures recall, and if there was a fire to call the fire hall, the last people I contacted was Sask Energy-power they promote energy savings a recommend using CLF's I deleted there e-mail, but it said they are a good energy saver and an odd bad one doesn't out weigh the savings, that's fine if its not his house or family, I find it amazing the lack of concern these government and local services have, how many did this company sell???
Andy
I purchased two 4-packs of the Pur-lite 15 watt spiral lamps (Pro-9000X) from Canadian Tire, and was somewhat surprised at the colour temperatures they produced. In the article, you mentioned that your samples had colour temperatures of 2900 & 4000 degrees Kelvin, which is in line with what the manufacturer's description of the light would suggest. However, the lamps I purchased seem to differ from this. The lamps labelled "Soft White Elite" (with the silver base), produce the same cooler colour as all the 4000 to 4100 degree lamps I have. Hardly what one expects from a "Soft White" lamp; I think "Cool White" more accurately describes my samples. The gold base "Brite White Elite" lamp produces a very cool, blue "daylight" look, definitely over 5000 degrees. While I actually prefer the cooler colours in my workshop or utility areas, it wasn't what I expected from the description on the packaging. They will not be used in my normal living areas because the light is very cold in comparison to the 2700 degree and 3000 degree lamps used throughout the house.
Dave Palanycia, Winnipeg, Manitoba
I do not have the particulars for the operation of this lamp (hours, location, etc.) because it was given to me by a friend and comes from his parents house. I believe it may come from a ceiling-fan/light-fixture combination in a kitchen. I am a fire investigator and he knew it would be of interest to me. The product details are legible in the photos, which speak for themselves.
Matt from Ontario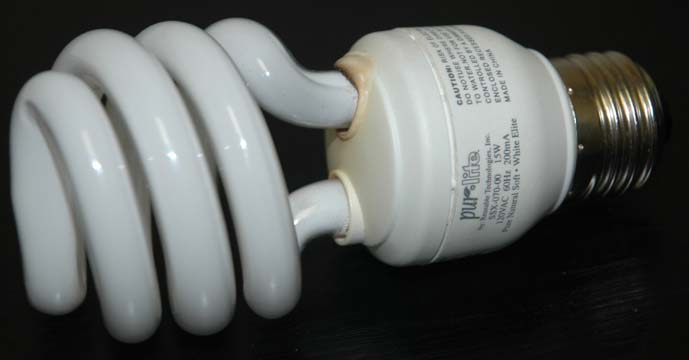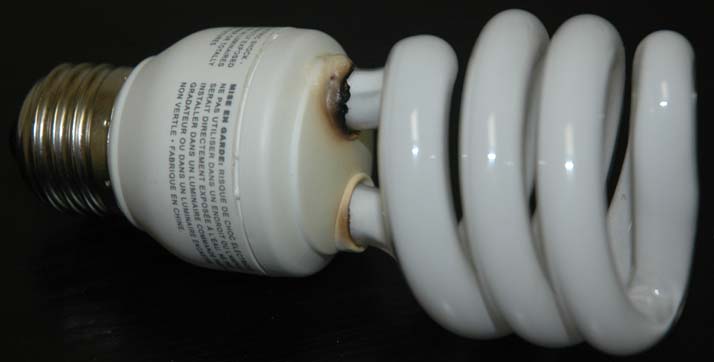 I am going to pass on your ongoing article to friends and family and send you the following photos (below) of a Pur-Lite SSX-070-00 (bought at Canadian Tire); which caught on fire in my house. I killed the fire by turning off the light switch; the fire did not trip the circuit in my electrical panel. I then removed the bulb and managed to break a part of the light bulb when it dropped out of my oven mitt (burnt my hand through the glove it was so hot). If I wasn't at home at the time to put out the fire...I assume I would have come home to ashes…SCARY!
Stan from Canada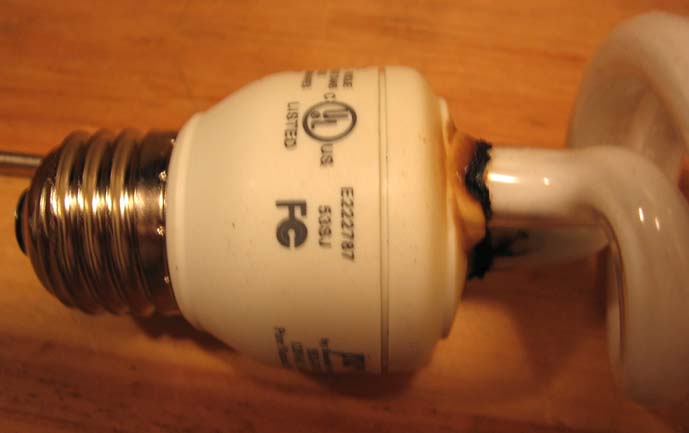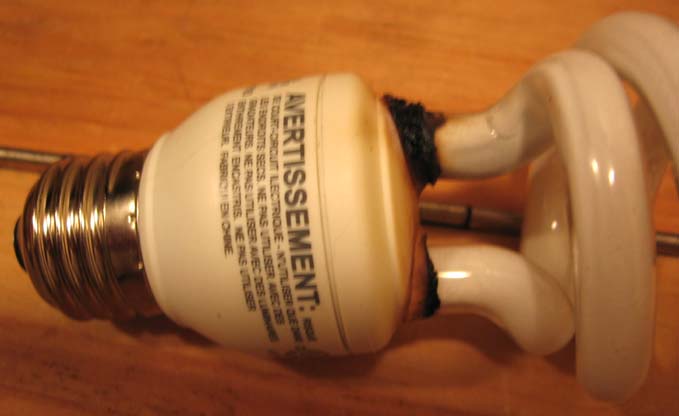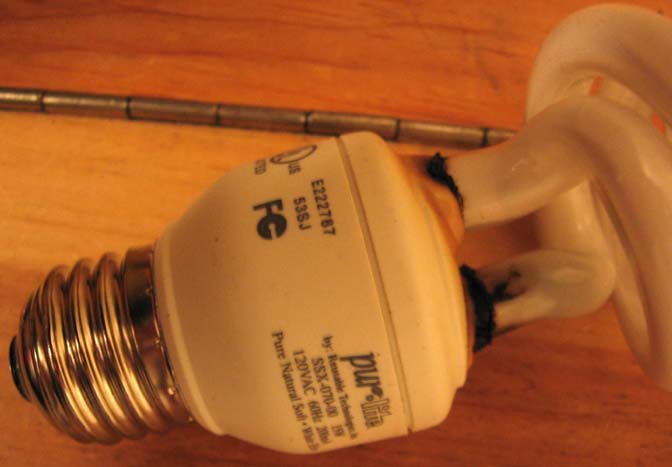 Not sure if you are still involved with the CFL safety problem - but we just had one burn out last evening (PurLite 15Watt model SSX-070-00 Pure Natural Soft - White Elite) if we had not been home - it would have resulted in a tragic fire. It was glowing red hot - smoking - was located in an open light fixture - am attaching a picture of same - I have already sent in a complaint to UL - which after reading a note on your site - they probably aren't interested.
Roberta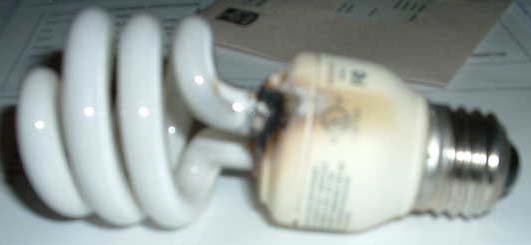 The bulb (SSX-070-99 15 watt) was in the stage of burning out, smoke filled the room, the base of the bulb was charred where the swirl meets. Thankful for us to be home at the time, this could and would have caused a fire. Because of this we have discontinued the use. Kelley