Some Globe brand 13 Watt CFLs are a safety hazard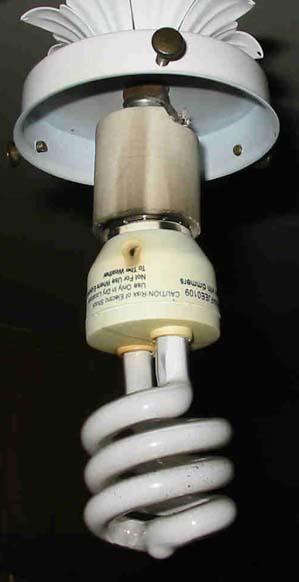 "This bulb failed after about a year of daily use. It emitted a strong smell of Chlorine followed by a 'burned electrical' smell. The fixture socket was covered in black soot."
I heard this brand of CFL was a danger. I think this photo (below) proves it. In January of this year (2004) I installed about 20 CFL's in the town house complex I manage. I used Phillips brand for the most part but came up short (ran out of bulbs) so purchased two packages of GLOBE CFL's from Canadian Tire. About 6 months later I was in our storage area and heard a strange sound that I thought might be from a mouse or two. Walking past one of the tenants' lockers I spotted this lamp arcing and flickering. After gaining entry to the locker, I removed and replaced it with another GLOBE bulb. It, too, failed to work after a few weeks! Note, even though this bulb was flickering and arcing, it was also working with the open envelope and was working right up till the time it was removed.
David.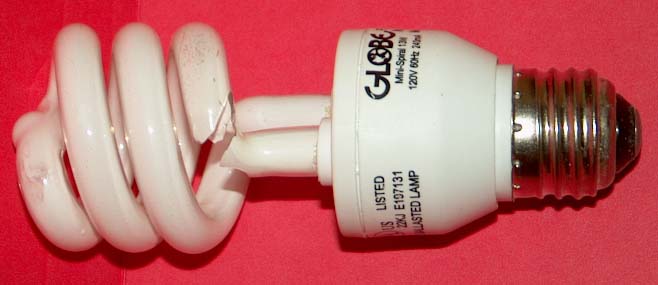 Another user's comments:
Over the past year or so I have tried to replace old style bulbs with energy efficient models like the Globe brand minispiral. I have just become aware of the recall of certain date codes for the 13W and found that I had several in use in my home. The UL website, CBC Marketplace and Globe's own site all list several date codes which are to be recalled. However, when I tried to return my bulbs to Wal-Mart, with my original receipt from Nov/03, I was advised that these date codes were not on recall and only bulbs from 2001 were. This info. supposedly came directly from the manufacturer. Needless to say I am very disappointed in both Globe and Wal-Mart. But since I now need to replace my energy efficient bulbs, I will be referring to your site.
Wal-Mart did refund my money on my return visit but it still really bothers me that this product was sold in the first place and that it took two trips to return these lights. As for the 2 for 1 deal from Globe, I don't want any more of their products and since I have replaced all conventional bulbs already, I shouldn't need replacements for about 7 years, right?!!!!
Sincerely, Calvin, Chatham, Ontario
PS I have purchased other Globe mini-spirals in other wattages including two tri-lights; the tri-lights burned out within a month but I had no problem getting a refund from the TSC store here in Chatham. You can guess where I will be shopping for my new bulbs!
Another user's comments:
I just had a Globe Electric Company 13W Enersaver bulb (from a Home Depot in Kitchener, Ontario), correctly installed for about two months, spectacularly fail in my presence (fortunately). It made a hissing noise, went out and immediately started issuing a considerable stream of very toxic smelling smoke. I immediately unplugged the lamp and managed to unscrew the dangerously hot bulb. It continued producing smoke (from the bottom of the base) for quite a few minutes after removing it.
Your site notes a serious problem (as well as a dishonest use of UL certification) with these particular 13W bulbs, but mine is from a later, presumably safe date (code BH2604). I might add that we also had one fail (without danger), in a different lamp, after only 1 month of sporadic use in a proper lamp in a dry environment. Neither of the bulbs showed any damage to the tube (no burned spots) as such and were carefully installed by turning the base, not the tube.
I spoke to customer service at Global and they make the case that all that happened with my bulb is premature failure and that the smoking I experienced is normal when a bulb fails and poses no fire or health risk. She made the point that all of the materials used to make the bulb are not flammable and therefore fire is precluded and offered to replace the bulbs. She could not tell me what chemicals are present in the smoke but insisted that they are safe. I, as you can imagine, am not convinced. I suspect the smoke, just judging by its smell, is quite dangerous. She also made the case that the bulbs are approved by UL and Canadian UL who have much more rigorous testing procedures than CSA.
Since I have been using light bulbs for over 50 years and never experienced one that I thought might cause a fire or poison me with its emissions, and since your reviews don't manage to convincingly refute my distrust, we've decided to remove all of the many bulbs we have installed in order to return to regular incandescents - not nearly worth the risk.
Scott