Customer comments on Luminus CFLs
Thanks for the article. Just wanted to add that a Luminus 23W 2923-L02 just started flickering and belching acrid smoke at me in the last half hour. Examining the bulb closer, it was glowing orange around the base and sizzling. I unplugged it before a fire could really take hold. The glass was melted and black goo emerged from the base (see picture below). This CFL was purchased last year at Costco in a 5 pack. A quick visual Talley and I have about 8 of these in the house in various places. Now I am nervous. I think the manufacturer is liable for selling a dangerous household item here. I am a professional engineer and appreciate the effort you have made here to increase public awareness of an obviously serious consumer problem. I am shocked (no pun intended), that this device has CSA approval.
David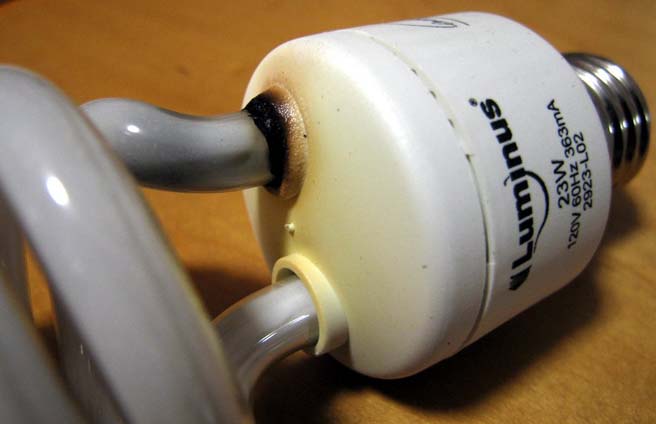 Hi Doug, just found your article about CFL's and wanted to share that I have been smelling an acrid smell occasionally for over a year and I think I've discovered that it has been coming from some CFL's I bought from Costco over a year ago. I put in over a dozen bulbs around the house an have found 3 with small burn holes in the base. I've been looking around on the Internet with various search's with finally discovered your article that identified an acrid smell around failed bulbs. Just wanted to pass on that I called the manufacturer (phone on Internet) and they have a discontinued number now. Manufacturer is "Conserv-Energy". I'll be going back to Costco this weekend to see what they know but just a warning to others that you may want to pass on.
M C from Kirkland
As promised, I am giving you a follow up on my response from Conlglom regarding the early failure of their Luminus brand CFLs. Back in August 2004, I sent four Luminus 14 watt mini spiral lamps, which had experienced very early failure, back to the manufacturer for replacement. I also sent in a completed early failure survey along with the lamps, as requested by the manufacturer. Well, August and September both passed and I still had not received any replacement lamps or even a response, so I sent an email to the manufacturer during the first few days of October. I was told that their shipping department had been told to send out the replacements and it wasn't certain why they had not been shipped. I was assured by the company contact, that another request would be sent to their shipping department for the replacement lamps. Another month then passed, and we were now into November and still no lamps. I emailed the company back, and this time got no reply after a week of waiting. I sent one more email expressing my disappointment with both their product and now their customer service. I did receive a response to that email, and was assured that the lamps would be sent out first thing the next business day. I finally did receive my replacement lamps after months of waiting, and was sent six, so two bonus ones for my trouble, I guess . The replacement CFLs are different in design and have the model number 177152, which are 15 watt versions and appear to be about 2700 degrees in colour temperature. Even if these replacements last, I will be hesitant to purchase any Luminus brand CFLs again.
Dave from Winnipeg
I had a Luminus 13W bulb begin smoking last night with a very bad smell. It flickered twice then went out. Upon taking it out of the lamp I saw a black mark where the glass goes into the base. UL Number is ACI-F000042. It is a Luminus 13W 120V 60Hz 205 mA model 2913-E03. This bulb was in a lamp controlled by a mechanical timer and goes on at dusk staying on until dawn. It has been in use for at least 8 months with no problem (about 2,900 hours, not the 10,000 it was rated for). The bulb was most likely bought at Costco. Barry Faibish from Canada
You can add me to the number who have had problems with the Luminus CFL spiral bulbs. It is the 13 watt #4000-L03 model. My bulb sparked and flashed and there was a burning spell. It looks exactly like the picture on your comments page and it is only 2 years old. I'm getting rid of them - not worth the risk.
Wendy
Newfoundland, Canada