Commercial Electric 23 Watt SPIRAL CFL
model EDXO-23 with a potential safety hazard
I saw your page and thought you might want a copy of this. Its a Commercial Electric from a chain pull, down facing, uncovered lamp base. I think this bulb is about 6 months old running 75% percent of time (about 3,285 hours). I couldn't see any damage when it was working, but when it burned out I noticed the heat damage at the base. If it's hot enough to melt the plastic base it seems there is a potential fire hazard. There is nothing on the bulb that says it should not be installed upside down. Obviously it didn't last 7 years (or 10,000 hours). If it was a clock radio that showed melting or smelled, it would be recalled in a second. It seems the least the bulb should have is some kind of thermal overload protection, that would shut itself off before it got too hot to cause any damage. I have all but given up on CFLs. They may save electricity, but they sure don't last 7 years. Even the CFL flood I tried only lasted a couple of months.
Jeremy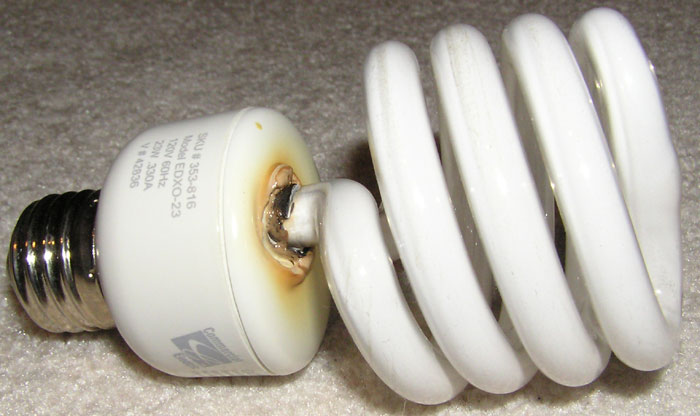 FYI we have a Commercial Electric 23W EDXO-23 that has burned out in a ceiling fan fixture after only about 10 months of perhaps and hour a day (300 hours). The other one is still burning. Thanks,
Timothy in LeClaire, IA
Over the past two years I have been buying Commercial Electric CFL bulbs and have been very disappointed. To date 3 bulbs have failed and the last one overheated and burnt the plastic housing filling my bedroom with acrid smoke. The bulb did not shut down and continued to smoke until I shut down power. The model number of the bulbs failing is EDXO-23. What really spooked me about this issue was this bulb was directly over my bed. When I saw the plastic beginning to melt and start too bubble I turned off the power. I don't know if the bulb would have begun dripping burning plastic or not, but if it had then it would have fallen onto the bed blankets producing a possible fire hazard. Notice the bulb got hot enough to crack the glass near the melted area (see picture below).
Steve from City of Casper, Wyoming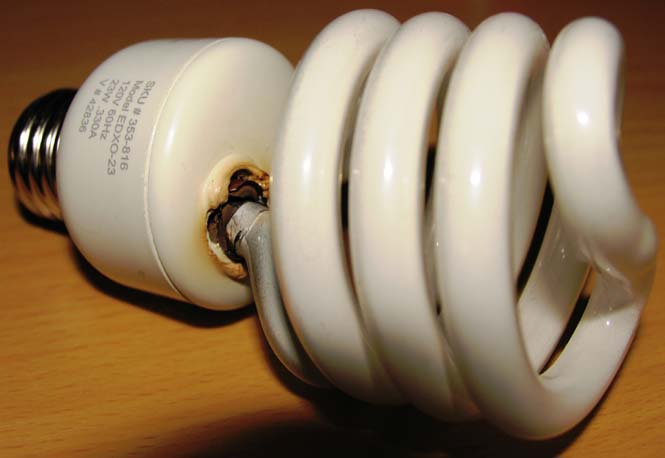 I found your website after a Commercial Electric CFL smoked above me in our home office. I've attached pictures of the bulb. It was Commercial Electric Model# C8PESL23TM, purchased at home depot last year. Thanks for providing such a great site with so much information.
Tiffany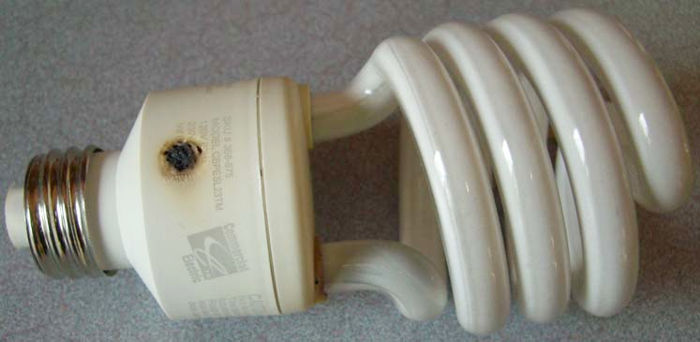 Commercial electric CFL #CBPESL23TM from Home Depot. I also have the same problem as pictured on the site. In fact the burn marks are in the exact position. I have had no luck for weeks with the toll free number on the base and no response from the internet. Do you know of any contact for this company?
Follow up:
Thanks for replying. I finally heard from the company Friday. They (Commercial Electric) were not too helpful, if fact I could tell she was reading from a script when I described my trouble. She said it was due to the ballast becoming lose during shipping and normal use. To me that is a defect. I was not that concerned about the warranty but more for safety. The numbers I used to contact... 800-543-3348 x119 Maria
Johnny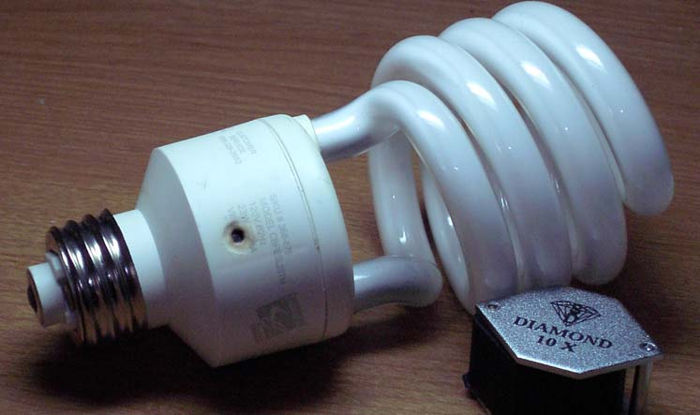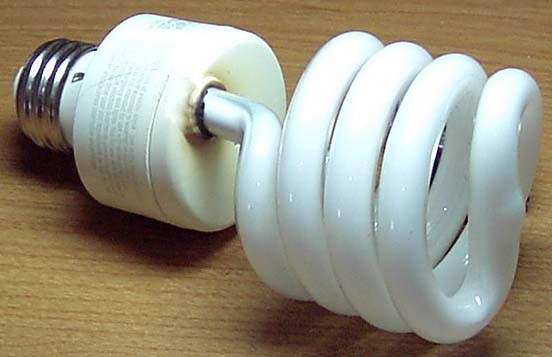 Thought you might like another couple of pictures of the Commercial Electric 23 Watt SPIRAL CFL model EDXO-23 - seems to be a theme developing here. Looks like I'm going to have to replace all mine.
Peter