Customer comments on General Electric CFL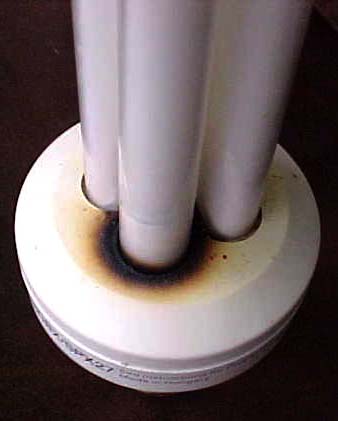 We just had a GE CFL burn while we were out. Base turned black and house smelled like something caught fire. This lamp was used on a timer and was on about 3 hrs per night. In use for over a year. No problems until now but no "End of Life" sensor either, I guess. Data on my CFL is Biax, 15 W 120V AC 250 mA FLE15DBX/SPX27. Made in Hungary. UL code. FCC ID: BLD3431. We won't use any CFLs in the future. I think 18th century candles are safer.
Bob, Washington, DC area.
I came across your CFL page after wondering why a CFL in my house smelled like a safety hazard. Sure enough, it's mentioned on your page. Biax Electronic (General Electric brand) 15w 280ma, Hungary FLE15TBX/L/SPX27 FCC ID BLD15HLL. The burning smell was getting quite worrisome. No smoke, but a clear indication something's wrong.
Edmonton AB