Welcome to Johnny Classic's Homepage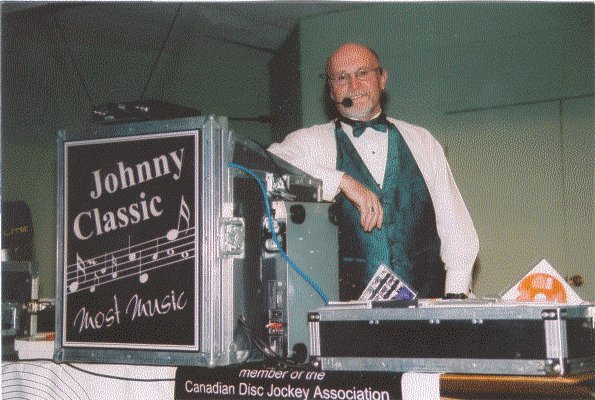 Welcome! I am John Hayton and I would like to work with you to create a memorable event that is fun and unique. Not all wedding receptions are the same and I hope that you would want your reception to be different from that of any other that you have attended. Drawing on over thirty years of experience, Johnny Classic has a wealth of ideas and suggestions to custom design a reception that will fit your needs.

The presentation of my services for you and your guests comprises the most time during your wedding day. The services of an experienced professional are essential to the success of your wedding celebration. Together, we will plan your event and set your mind at ease. I guarantee that you will receive the best personalized service.

How can I guarantee my services? Besides helping you plan your event, I will be your disc jockey. I will use my people and technical skills which I have developed to make your event a success. I am very active in the DJ industry nationally and have earned the recognition of the Canadian Disc Jockey Association as one of Canada's top DJ's and DJ companies.

Cocktail and dinner music are included. I can be your master of ceremonies. The finest of sound equipment combined with a wireless microphone system creates beautifully clear and full sound. A variety of safe and effective lighting tailored to your event and venue are included. Your guests will play a big role in music selection. With your permission, I will provide request cards and pencils for each table. Drawing on my musical expertise and Canada's largest mobile CD library of over 40 000 songs, I can play just about any song your guests may request. Guests young and old will have an enjoyable time.

There will be many photo opportunities during the event. Your first dance can take place in a spotlight and you can be surrounded with gently floating bubbles. A variety of hats and props are made available for your guests and they share some of your time in the spotlight as they entertain one another. If you have children at your wedding, they become involved with the adults.

Johnny Classic Disc Jockey Services takes no chances despite the quality of the equipment used. A complete second sound system is on site for backup and ready to go. Providing quality and professional music services is all I do. Consultations can take place during the day or evening. Reliable, quality and professional service can be yours. Congratulations and I look forward to being of service to you.

---
On this webpage you will be able to:
---
---