LET ONE OF CANADA'S FINEST MOBILE ENTERTAINMENT COMPANIES PROVIDE OUTSTANDING SERVICE, EQUIPMENT AND GREAT VALUE FOR YOUR EVENT.
BEYOND THE BASICS OF A DJ, SOUND EQUIPMENT AND MUSIC, HERE IS WHAT YOU GET IN ADDITION:
* National award winning DJ. "DJ Johnny Classic" is your DJ for your celebration.
* 9 - 11 hours of service for a wedding

- consultation

- set up one hour prior to event

- cocktail music

- dinner music

- dance music until 1 a.m.

- one hour tear down
* Canada's largest mobile CD library consisting of approximately 40 000 different songs
* A selection of music from the early 1900's to today's hits
* All request format - pencils and request cards on the tables for your guests
* Audio Video Licensing Agency (AVLA) licensed
* 6 - 8 lighting effects (number depends on the size of the venue or placement in the venue)
* Prizes for spot dances and for guests celebrating special occasions
* Props and hats which are used to put your guests in the spotlight and create lots of fun and photo opportunities
* Liability insured for $ 2 million. Many halls require this.
* Professionally attired befitting the importance of your event
* BACK UP SYSTEM ON SITE.
* Outstanding equipment that provides the power, reliability and clarity of sound your event requires.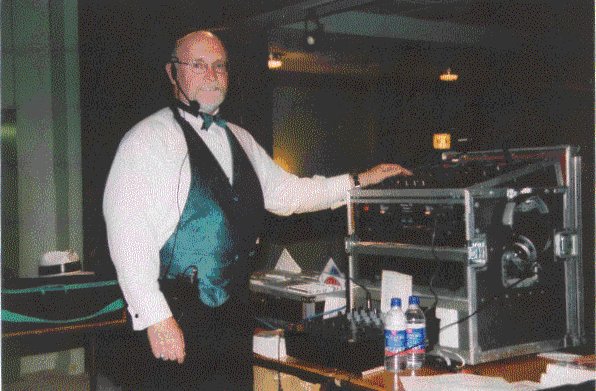 ---
Company Policies
---
As a member of the Canadian Disc Jockey Association, Johnny Classic Disc Jockey Services and Lighting is committed to offering clients the finest service possible. Please browse through the CDJA website to assist you with any questions you may have about choosing services for your special event. The following are policies adopted to insure that you and your guests have a great time when Johnny Classic provides services for your special occasions.
make these policies known to clients prior to the event
set up in advance of arrival of first guests
not drink alcoholic beverages while providing services
not smoke while providing services (I'm a non - smoker)
provide request cards and pencils (with your permission) for your guests
censor music that may be inappropriate or offensive
have a consultation prior to the event to plan and get to know one another (your place or mine)
sign a contract for services to be provided
provide music that meets the musical tastes of all guests
dress appropriately for the occasion
provide a cheerful and professional presence
provide a receipt for all monies received (deposit / full fee)
provide back up equipment for all events
---
Signing The Contract
---
At the time of signing a contract, the client and Johnny Classic Disc Jockey Services will determine :
date, place and time to be present for set up
equipment required
fee for services (based upon equipment required)
$75.00 non refundable deposit fee
when and how remaining payment to be made
music to be played or not to be played
special instructions
placement of equipment for the function
music to be played prior to arrival of the wedding party, during dinner, first dance etc.
Note : I have current certification for St. John's Ambulance and Emergency Care Instruction Services.
---