Australian Immigration

In Australia John Eacott arrived on a prison ship, Mary II, Jan 28 1822. He was from Wiltshire. He was tried in 1821, found guilty, and deported for life. He arrived at Sydney, New South Wales and was sent to Parramatto NSW. Today being a descendant of a prisoner is a mark of celebrity.

In 1828, having been given assisted passage Catherine Eacott, and her children Selena and Henry arrived on the bounty ship the Borneo at Sydney harbor.

Soon after Thomas Eacott of Sutton Veny and his wife Elizabeth and daughters Ann Priscilla and Harriet leave for Western Australia on the Rockingham. This Thomas became a pioneer settler in Mandurah in 1830 where his home is preserved as historic. He remarries Charlotte Tuckey in 1839 after misfortune took his first wife and has 10 children. A Street and park are named after him.

Eacotts have been know to have lived in Spain, Argentina, Sri Lanka, New Zealand , South Africa. Ireland, and other places in the world but here is the detailed story of

THE AUSTRALIANS
Eacotts arrived on the East and West side of Australia within 10 years of each other but under very different circumstances. Today there are more Eacotts per capita in Australia than in any other country.

Some of the information in the two accounts which follow was provided by Christine Hannah and Ronda Brownlow. Chris has published a detailed history of Eacotts in Australia.

The First Eacott in Australia

John Eacott, aka Ecott, Hackett, Hakott was born 1771 to 1774 in the village of Purton, Wiltshire. At the age of 27 he courted and married in a proper wedding, Elizabeth Catherine Carr also of Purton and Dilton, near Westbury. They settled down in Westbury where they were married about July 6 1802. We don't know what he did for a living but he was listed a laborer.. His wife was educated and likely he was as well. A few years later a daughter Mary Ann was born (1806). Then for some years no more children arrived until a son Henry about 1815 and a daughter Selena in 1818. What sort of man and what sort of life the family lived until this time is not known. The clues indicate they were likely of a middle class family with an educated background.

After the wars with Napoleon were over a great depression set upon England and with the return of soldiers and the loss of war related industry it may well have been that John found himself in a very dire situation, being unemployed.. Many were without work at this time. Married with two small children and a preteen daughter he may have found himself desperate to provide and feed his family. He was a man in his mid 40's and enters history by being caught for stealing and sentenced to 6 months in jail in 1819. This was not the action of a foolish boy but a mature man likely driven by desperation. After his release he was even less employable and likely a pretty much broken man, quite unable to provide for his family. In February of 1821, in the depths of winter, he undertook to rob again, this time at gunpoint, for what appears to be some food. This time the law was harsh and the inept thief was caught again. Was he a habitual thief, a no good fellow or the victim of hard times and desperation? No matter, his penalty was deportation to Australia and separation from his young family for stealing 4 bushels of wheat and a sack of grain from John Hasell and William Glass.

Ed. Note : The following extracts are included to convey realism to the experiences oif these people.

August 10 1821.

The jurors of our Lord the King upon their oath present that John Eacott
late of the Parish of Warminster in the County of Wiltshire labourer on the
fourth day of February in the first year of the reign of our Sovereign Lord
George the Fourth by the Grace of God of the United Kingdom of Great Britain
and Ireland King Defender of the Faith with force and arms at the Parish
aforesaid in the County aforesaid four bushels of wheat of the value of
thirty shillings and one sack of the value of four shillings of the goods
and chattels of John Hasell then and there being found feloniously did steal
take and carry away against the peace of our said Lord the King his Crown
and dignity and the Jurors aforesaid upon their oath aforesaid do present
that the said John Eacott on the said fourth day of February in the year
aforesaid with force and arms at the Parish aforesaid in the County
aforesaid four other bushels of wheat of the value of thirty shillings and
one other sack of the value of four shillings of the goods and chattels of
William Glass then and there being found feloniously did steal take away
against the peace of our Lord the King his Crown and Dignity.



Witnesses: John Hasel. William Wilkins?

William Carter. William Pearce

John Eacott received six months for "Larceny" in 1819, then on the 10th
August 1821 at the Wiltshire Assizes, John was sentenced to "Life" for
burglary and was transported from Falmouth on the 5th September 1821, on the
ship "Mary 2".The ship was 540 tons , the Master was Charles Arkell. The ship
arrived in Sydney on the 23rd January 1822, after being at sea for 140 days.

At this point a window opens on the life of this prisoner for an account of this journey to Australia was kept by the ships surgeon.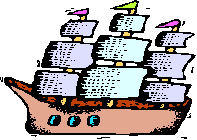 Click on ship for the
journal of the surgeon
General Remarks from the Ship's Log
What then became of John Eacott, convict, deported, now in New South Wales, Australia? After removal from the ship he was sent inland to Parramatta for redistribution and assignment to someone to whom he was responsible a tenure for life to another individual, a step above slavery.

"As the distance of 14 miles between Sydney and Parramatta was too great to be traversed conveniently in one day by parties of convicts on foot and their escorts of soldiers, a log stockade was built half-way along the track to serve as an overnight guardhouse and staging depot. This was constructed at a place called Longbottom, the word "bottom" there having its old English meaning "low lying land or swamp" applied to the drainage basin at the head of Hen and Chicken Bay, i.e. present day Concord Oval and surrounding area. An area of 936 acres was reserved in the surroundings of the stockade as a Government farm, but no sustained effort was made to cultivate it."


"At first a log stockade was erected and there the prisoners were detained for a night on their way from Sydney to Parramatta or vice-versa. As a rule they were handcuffed together while on the road. But the more desperate characters (bushrangers etc.) also wore leg irons, so that their march was a slow one; and the rest at Longbottom Stockade was doubtless, a welcome one. Later on a more substantial lockup was erected, and that is still standing. It consists of three cottages, built on sandstone foundations, with brick walls 18 inches thick."


From here John Eacott eventually found himself assigned, as a convict, to Rev. Thomas Hassall or Hasell ( known as the Galloping Parson) at his property "Denbigh" near Cobbity, NSW. ( now a suburb of Sydney) It was here that John spent the rest of his life. No doubt he now became a regular church attender and he may have been fortunate to have such a man as Hassall as his overseer for in later life he was a tenant farmer for the Reverend Hassall, an indication of a good relationship and responsibility. This assignment may have been no accident as the Rev. Hassall may have been a relative of the victim of his theft, John Hasell. After John was given a Ticket of Leave he remained employed with the Reverend.

In the meantime his wife Catherine an educated woman with small children had lost her husband, seemingly forever. However she was not the sort to abandon hope. In some manner she was able, after a few years, to manage passage to Australia with two of her children, Henry and Selena. The fact she undertook to go out to Australia to be with her deported husband says a great deal about the strength of their relationship. This was a remarkable journey and commitment for her. It is likely she had an assisted passage, meaning that she was given financial help from some source, likely the Crown. One could speculate that the Reverend who was considered a person of pleasant personality and kindness had a hand in this. There was also official support to bring out the families of convicts particularly females of which there was a shortage. A convict with a ticket of leave, essentially meaning he had completed his sentence, could make this application. Without this ticket such an application was rare. Eacott had a life sentence but he was given a Ticket of Leave in 1830 # 30/564 . Besides having a ticket he had to show that he could support his family. A convict was essentially a slave to his master. However, a convict's wife could apply to have the convict assigned to her, thus making her husband responsible to her. In this way families could be reunited. This does not appear to be the situation in Catherine's case as she had arranged employment for herself . Yet it does appear that John Eacott or someone was able to get the Crown to give passage and in order for this to happen he must have had the support of the Reverend to whom he was assigned.
On the other hand Catherine may have petitioned herself to be sent out as a settler independent of her husband as she seemed a capable person with skills.

Catherine 53 with Henry 13 and Selena 10 arranged passage on the "Borneo"in order to join her husband. They departed from London on the 11th of May 1828. The Borneo was also a convict ship carrying 73 female convicts in addition to other passengers who may have mostly been families of convicts. Catherine was not alone in being a female with a family on board the ship. During the journey, that stopped at Madeira for supplies, she made the acquaintance of Prudence Perkins Bankin and her daughters, Mary Ann and Sarah from Essex. One of the convicts would have been known to all the children. Sarah Barnes, 14, was the youngest female convict ever to be sent to Australia. The first part of the journey would have been pleasant and among
new friends getting to know each other.

Note: It is known that Catherine's mother, Elizabeth Bigwood Carr, died in Australia whether she and her husband John Carr were on this ship is not known. Elizabeth died at Macquarie Grove.
Richard Bankin had been sent out in 1815 as a convict for burglary of a barn. No goods were found on him and his hanging charge conviction was changed to 14 years transportation to Australia. Unlike Catherine's husband he would soon be a free man getting his Ticket of Leave. In 1825 Bankin had petitioned Governor Brisbane to bring his wife and daughters out to Australia. This was granted and 4 years later they were anxious to be reunited. So the passengers were a mix of convicts and families joining others sent before.

After rounding the Cape of Good Hope Sept 27, 1828 the ship suffered badly in a fierce storm and had to make port at Hobart Tasmania on October 8, 1828. The trip took 150 days, much longer than usual but this was the first (and last) voyage to Australia of the Borneo. Sickness also plagued the journey. Three of the convicts had fallen ill and died.
Prudence also became ill on the voyage and was taken directly from the sick bay on the boat to Hobart Hospital where she died a couple of weeks later on 24th of October. She was buried that day in Hobart Cemetery and so Richard never saw her again after he left England.
The grieving daughters resumed their journey to meet their father with Catherine and the others arriving in Sydney, December 28, 1828.

Catherine, shaken by the loss of a fellow traveller who failed to meet her husband, would have been even more anxious to join John whom she had not seen for over 7 years.

Her keen eye on arrival led her to record her impressions of her first days in Australia .She was a literate, cultured, observant woman who was not of the lowest classes. How the passage was paid for is not factually known but she had some assets in spite of the fact her husband had been deported years before. Her remarks below indicate she was indeed an exceptional person.


After arriving she found employment with the McArthurs at "Macquarie Grove". What sort of employment is not known. She had mentioned she might have been a mechanic, a term with different meaning then, more of a trades laborer. We can't assume she lived with her husband since the job was a few miles away from where he was. The reunion was a brief one. Sadly, less than a month after her remarkable journey, she fell ill and died January 23, 1829.

The children may have gone to live with their father but not for long.

Selina married in 1834 at 16 years of age to William Brownlow who was 35. They probably met at the Heber Chapel at Cobbity.

William Brownlow was a native of West Markham, Nottingham, England born 1799. He was charged with burglary on Friday 6th August 1819 and received a life sentence for stealing one silver cup, four silver spoons, pair of silver tongs, copper coffee pot, pair of brass candlesticks, and a wooden tobacco dish. He was transported on the Mangles (1) arriving Sydney, N.S.W 7th August 1820.

Selena and William Brownlow had three children. He died and she remarried and died in 1906.
There is no record of what became of Henry, John's son.

John Eacott died in January 1840, about 60 - 65 years of age and was buried at Cobbity, Pomeerie Grove, Narellan, NSW.
A remarkable poignant story of the settlement of Australia.

The First Eacott in Western Australia

Thomas Eacott of Sutton Veny, living in the same general vicinity as John the convict, became interested for some reason in the settlement of Sir Thomas Peel. Peel put together a scheme of questionable worth to take settlers to the western side of Australia and set up a colony there. One might think the idea was popular in Britain as it would preempt any attempt by the Dutch to claim the land. Only Peel's influence with the Home Secretary, his second cousin, got the scheme which was supported by the Australian governor, Sterling, passed. Nevertheless, the British government determined that land should only be granted to settlers who could demonstrate their capital worth, either in terms of skilled labourers sponsored to emigrate or in terms of equipment and livestock. Three pounds invested would gain 40 acres of land. Grants would also only be made to those settlers who reached the colony by the end of November 1829. Thomas Peel assembled 300 emigrants but, due to a variety of reasons, reached the colony in December, thus missing out on his promised grant of all the south side of the Swan River south to Rockingham. Sterling instead offered Peel an equivalent grant of land starting south of Rockingham and extending through the present town of Mandurah and to the east to the Murray region.
Peel's emigration scheme was disorganized, and Peel himself ,when faced with difficulties, did not cope well. When one of his chartered ships carrying his settlers foundered in Cockburn Sound, Peel retreated to Garden Island and left the settlers to fend for themselves. They camped in the sand hills at Clarence, now the Henderson shipbuilding yards.

Why Thomas Eacott elected to commit himself, his family and his investment to this scheme is unclear. What the allure of an empty far away land was for a married man with family who knowingly severed his contacts with family and friends and abandoned his native land is not known. Conditions in England in the late 1820's were better than at some other times but corn laws were causing high prices and small landholders were being absorbed into large estates. A rising population and dislocation of jobs to cities created an atmosphere of tension. Still there was Canada and America, not so far away. How Thomas got into this scheme is also not known.
But he and his wife, Elizabeth, and daughters, Anne and Harriet, their belongings and possibly some cattle and
other livestock boarded the "Rockingham" to seek their future in a new and distant world.


Many of the settlers were to get a land grant title for working off their indenture. Presumably they had the farming skills to sustain themselves.

Once the matter of Peel's grant was settled, he shifted with some of his people and erected some of the first cottages in Mandurah. His own cottage was on the corner of Mandurah Tce and Stewart St, close to a wetland but the cottage was demolished long ago and the wetland filled in. Relations with the local Aborigines became strained almost immediately. In July 1830 George McKenzie was murdered which led to the posting of a portion of the 63rd regiment. This regiment was an instant boost to the population. Gradually other settlers made their way to the region. These settlers included Henry Edward Hall and his family, Captain Meares and Captain Erskine. Some of Peel's settlers including John Tuckey and Thomas Eacott were given part of Peel's grant when Peel was shown incapable of managing it himself. This grant would indicate that Eacott had some status in the colony.
Urban settlement commenced in 1830 with the arrival of Peel and some 50 of his settlers. By the end of that year, cottages were built and the first half acre had been cleared and seeded. Peel settled on the north bank of the estuary, close to a wetland which provided rich fertile soil for the gardens. Fresh water and fish were also in abundance.
Peel's lack of organizational abilities and apparent disinterest in his settlers bred an intense dislike, and many settlers returned to Perth as soon as they were able. The 1837 census showed an adult population at Mandurah of 16 people . The sale of some 10 000 acres of his prime land at Dandalup to Francis Corbet Singleton in 1839 led to the establishment of Pinjarra as the major social and administrative centre for the region. Others followed Singleton creating a new social elite away from Mandurah.
The settlement remained sparse for years. Because of its geographical isolation, the strained relations between settlers and the Aboriginals which ultimately led to the massacre at Pinjarra and the above mentioned problems with Peel, Mandurah did not grow quickly in its early years. The only two buildings still extant from this early period are Hall's Cottage on the southern side of the estuary and Eacott's Cottage now in the grounds of the Mandurah Senior High School.

The Eacott's arrived on the " Rockingham" which foundered in a storm, was grounded and much of the cargo was tossed overboard to get the ship afloat. The passengers in life boats also got tossed into the sea so the arrival in Australia was a wet messy affair although the shallow water meant much was salvageable. Only Thomas , Elizabeth and Anne arrived safely. Harriet apparently died on the journey.

They arrived in the second week of May 1830 and by the end of June 1830, which is the middle of an Australian winter, 34 people were dead, including Elizabeth Eacott, who had died in childbirth.
Thus Thomas and his daughter Anne were left to deal with an unhappy situation. He remarried and had 10 more children.

Ann, it was believed, eventually left Australia and settled in America.