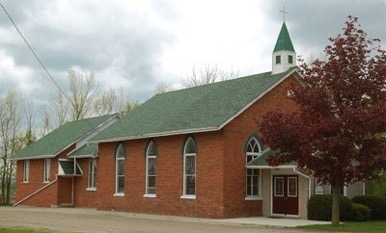 714581 Middletown Line, 
Oxford Centre, Ontario
Originally built in 1860, the church had to be extensively rebuilt in 1979 due to a Tornado but the stained glass windows remained intact an are still part of the sanctuary today.
The ministry of Oxford Centre United Church is strong within the sanctuary and beyond.  Many of our members have agricultural background and come from the village and surrounding area.
Communion is served by intinction.  Our elders and members take an active part in services and in our many church groups.  Every year we prepared two large suppers and many activities.
Our small devoted choir provides musical leadership every Sunday under the supervision of our dedicated accompanist and joins with Curries for special occasions.  We encourage our congregation to take part in services through music from our hymn book.
We are a friendly and caring congregation who support each other in pastoral care.  Feel free to visit us anytime, everyone is always welcome !