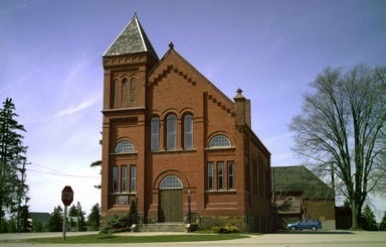 465003 Curries Road, 
Township of Norwich, Ontario

Curries United Church stands on top of the hill in the centre of the small hamlet of Curries, Ontario.  The congregation of this rural church has stood as the foundation of the community. It was founded in 1855 as a Wesleyan Methodist Church, at which time it was named Zion Church.  The actual church building was built in 1891 and declared a heritage building in 1986. The church sits adjacent to Pleasant View Cemetery and a municipal park.  All of the windows in the church are stained glass including four special windows dedicated by past and present members.  Beautiful oak benches, woodwork and wainscoting adorn the interior. Both the sanctuary and downstairs areas are wheelchair accessible.
The ministry of Curries United Church is strong within the sanctuary and beyond.  It is formed not only by Curries residents and neighboring farms families but also includes past residents and new friends living throughout the County of Oxford.
On the first Sunday of each month, donations are collected for both Operation Sharing ( a local outreach program in Woodstock ) and our adopted child, Brian.  Some of our special occasions includes Anniversary, White Gift Sunday, Sunday Sunday, Ham Supper and Memorial Service.  Communion is held four times a year and is served by the Elders of the church to the congregation.
Our pulpit ministry is supported by our dedicated volunteer musicians from the congregation.  We have a regular organist who leads our "choir".  Since our "choir" involves the entire congregation, we elect to remain in our pews.  The choir mound is used on special occasions when a formal choir is organized.
Curries has a small but active Sunday School program.  Children attend church in the sanctuary until after the children's story when they are invited downstair for Sunday School for fun crafts and games.
Everyone is always welcome, feel free to join us anytime !