Welcome to my page centered around one of my favourite bands, Canada's own...Odds. Just who are the Odds? Well, here's a little history for you...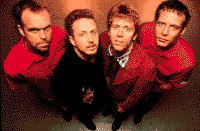 Odds members (l-r) : Pat Steward, Steven Drake, Craig Northey, and Doug Elliott


(as written by Craig Northey in 1995...)
Steven, Paul, Doug and I had our first rehearsal/jam (actually, it was supposed to be my audition for the band) in October of 1987. Our first gig was at the Savoy nightclub in Vancouver on November 25th, 1987. We're due to celebrate our 8th anniversary on that date this year ( I figured it out myself).

We'd all met through the Vancouver music scene, playing in various bands. Doug was in a legendary local ska band called 'Rubber Biscuit' -- Pat Steward was the drummer in that band and has now been an Odd for over a year, he did most of the work on 'Good Weird Feeling'. I first heard of Steven via his way cool punk/pop/parody band 'the Nerve Tubes'. 'Wendy Under the Stars' and 'Horsehead Nebula' were Nerve Tubes songs. We later met through a cheesy battle of the bands contest in which both our bands participated. His band was '20th Century' and mine was 'Hoi Polloi'. He won. I think my band came in 5th and in the end we both landed on an MCA compilation record as an award to the finalists. Paul Brennan was a drinking buddy of mine who used to hang out at all my bands shows. He played in darker local bands like the 'Animal Slaves', 'Big Electric Cat', 'Numb', etc. Paul and I also played together in a 12 piece metal parody band called 'Orchesaurus' -- two bass players, three drummers, 6 guitar players and a screamer.

Steven and Doug later joined forces and eventually recruited Paul. Paul suggested to them that I would make the best fourth member and, one fateful day, I joined them. Paul left last year during the making of the album. It was totally amicable and he's a happy guy -- lately he's been touring and recording with Mae Moore (Sony Canada). We're completely rejuvenated having our old chum Pat along, and everything seems fresh as a new day over bubbleland. That's the Reader's Digest version of the story.

One other tawdry old question you might want to ask but are afraid to is the one about the name. It's just a rock band name, most of them are dumb. Sometimes we think ours isn't dumb enough to get noticed. It was chosen before I was in the band so I escape unscathed. Paul said to Steven (in a one horse town somewhere on the BC coast), 'What are the Odds of us ever escaping bullshit gigs like this?'. It later came to represent other things. Its just a dumb name though...like 'the Squires' or something like that.





Click here to see some pictures of the Odds...








Head to Karen's homepage...