Various Pics | Folksingers for Peace Pics |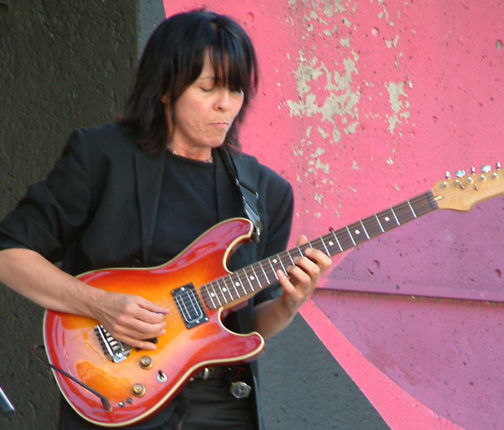 ---
Europics Use the back button on your browser to return to this page.
Some pics from various Big Rude Jake European tours
A TV show in Paris (with cutline)
Good group shot on the street in Paris (sans Marg..I'm taking the picture)

On stage at the Grunspan, Hamburg, Germany
Group shot at the Grunspan, Hamburg, Germany. w/Dominique & Sabine/Roadrunner Records, and Jo and Darren, tour managers.
HamburgTV.jpg - City TV-style show in Hamburg, Germany
Our Hamburg friends - Mark, Jake, Martina, Swanee
Our birthday party - backstage in Wuppertal Germany
Group shot - at the Music Hall in Dresden Germany
Aabenraa, Denmark - warming up before the show
Strolling around Amsterdam
DeGloppe, Leewarden, Holland
DeGloppe, Leewarden, Holland - Sarah
Playing at Quasimodo, Berlin - band group shot, outside the club.
In the studio at the radio station in Amsterdam (thanks to Darren Crisp)
The ground floor stage at the Paradiso in Amsterdam
Marg at La Grande Cohot beach on the coast of France - where I spent a few days off
Out on the town in Paris, headed for the left bank. (pre-arrest pic)
Group shot at La Pont de la lune Jazz Club, Bordeaux, France
Playing at La Pont de la lune, Bordeaux, France, a jazz club with 1 microphone.
Other Pics
On stage at CBGBs, New York City
Marg rocks at Mel Lastman Square, Toronto Folksingers For Peace July 2003
Playing at Freetimes Café, Toronto - w/Hot Latkes Klezmer Band
Waterloo Inn - w/Doreen Smith and Tony Quarrington