THE ARREST AND CONFESSION



SHEFFIELD
On Friday, January 2 1981, 46 days after the murder of Jacqueline Hill, Peter Sutcliffe left his home at 6 Garden Lane, Heaton, Bradford, just after 4:00 pm. He told his wife, Sonia, that he was going to collect the key of his sister's car which had broken down again. However, he didn't drive to Bingley, but instead drove to a scrapyard near Mirfield, just outside of Leeds. There he picked up two number plates from a Skoda, one which had fallen off the vehicle, the other he pulled off. At 9:00 pm he called Sonia from a service station and told her he was having car troubles. An hour later, having first used black electrical tape to fix the stolen plates over those of his Rover, he was cruising around the Havelock Square district, a red-light area of Sheffield, 30 miles from his home.
Prostitute Denise Hall, 19, was walking along when she saw what was a potential customer, driving a brown Rover 3500 with a black vinyl roof, pull up along the kerb. He asked her if she was 'doing business'. The driver was a man with a neatly trimmed black beard and dark wavy hair. His eyes were dark, almost black, and appeared to pierce through her own. As she bent down to talk to the driver, his eyes frightened her, and so she said, "Sorry," and began to walk away.
Olivia Reivers, 24, who had been a prostitute for four years, was walking along Broomhall Street when she saw the Rover car. "I was walking on the pavement when it stopped. The driver asked me if I was doing business and I said I was. I told him it was £10 in the car with a rubber. He said that it was OK."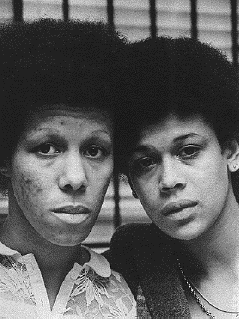 Olivia Reivers and Denise Hall
After she got in the car, they drove half a mile to Melbourne Avenue and parked in the driveway of the Light Trades House. Olivia Reivers: "He stopped his car and turned out the lights. I said to him: 'Would you like to pay first, please?' He gave me a £10 note and I took a rubber out and had it in my hand putting the money into the packet. He asked: 'Do you mind if I talk to you a bit?' I said: "No'. He said that he had had an argument with his wife. He did not say what about or what the result of the argument had been. He asked me my name and I said 'Sharron'. He said his name was 'Dave'. He then took off his car-coat and put it on the back seat. He said: 'Would you like to get in the back?' I said 'No, its all right'."
While Reivers removed the pants she was wearing under her dress, Sutcliffe removed his black plastic carcoat and laid it across the back seat. Having unzipped his trousers, he lowered himself on to her. While they tried to have sex for about ten minutes or so, he still had not achieved an erection and when she said, "I don't think we'll be able to do it," he replied, "It looks like it."
As they returned to the early conversation, Sutcliffe telling her about "not being able to go with" his wife, the car interior was suddenly illuminated by headlights as a car turned into the drive and parked nose-to-nose with Sutcliffe's Rover.
THE POLICE
Sergeant Robert Ring, a twenty-six year veteran of the South Yorkshire police, and Probationary Constable Robert Hydes had started their nightshift at the nearby Hammerton Road police station at 10:00 pm and had set off on a general patrol and made Melbourne Ave one of their first patrols. At around 10:30 pm, they were cruising along the road when they spotted the dark, squared-shaped car parked half-way up the driveway of the Light Trades House, and had little doubt as to the reason why the car was there.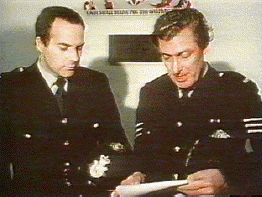 PC Robert Hydes and Sgt Robert Ring
When PC Robert Hydes approached the car Peter Sutcliffe told Olivia Reivers: "Leave it to me. You're my girlfriend." After winding down the window, Sutcliffe said as much, as well as saying it was his car and that his name was 'Peter Williams'. Meanwhile, Sgt Robert Ring was at the back of the car looking at the number plates. He returned to the police car and radioed via police headquarters for a check on the number plates with the national police computer in Hendon. He was soon joined by PC Hydes, who had been openly sceptical about the information Sutcliffe had told.
While the two officers waited for the results of the check, Peter Sutcliffe asked Olivia Reivers: "Can't you make a run for it?" She replied: "No, I can't", and then explained that she was a well-known prostitute.
After receiving the information that the number plates actually belonged to a Skoda, not a Rover, the two officers returned to Sutcliffe's car. Sgt Ring, in his police report that was read into the court record at Sutcliffe's trial, said: "He said that she's my girlfriend and I asked what her name was. He said: 'I don't know, I have not known her that long.' I said 'Who are you trying to kid, I haven't fallen off the Christmas tree'. To which Sutcliffe said: 'I'm not suggesting you have.'" Informing Sutcliffe that the number plates were not for his car, he removed the car keys from the steering column. PC Hydes, meanwhile, had discovered that the false plates were only held on by black electrical tape. The two officers then escorted Olivia Reivers back to their police car.
Sitting alone in his car, Peter Sutcliffe immediately recognised the situation, and seized the opportunity. He quickly grabbed the ball-pein hammer and the single-bladed knife he had concealed under his car seat and headed for a stone porch that abutted onto the building behind his car. Without waiting for permission, he explained he was 'bursting for a pee', which the police were prepared to take his word for it, and headed out of view of the officers. At the porch there was an oil storage tank for the building and Sutcliffe took both weapons and placed them onto some leaves on the ground behind the storage tank and against the wall, hoping the officers hadn't heard the clinking sound. He then returned to his car.
HAMMERTON ROAD POLICE STATION
Leaving Sutcliffe's Rover at the scene, the officers took both Peter Sutcliffe and Olivia Reivers to the Hammerton Road police station. At the station, Peter Sutcliffe asked to use the lavatory. There was a knife in his jacket, which was accessible through a hole in the pocket. As he later told police: "I went there (the lavatory) straight away as soon as I got to the police station. I dropped it (the knife) in the top of the water cistern so it wouldn't be found in my possession." Still in the pocket of his jacket was a length of rope, the same one he had used in the strangulation of Marguerite Walls and in the attempted strangulation of Upadhya Bandara.
He admitted to being Peter Sutcliffe, of No 6 Garden Lane, Bradford, as well as admitting he had stolen the number plates. He explained that he had used the plates because in less than two weeks he was due in court on a drunk driving charge. He said: "The insurance had just run out, and I knew I were about to lose my licence in court, so it weren't worth renewing it."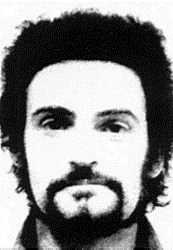 Peter Sutcliffe, the Yorkshire Ripper, January 1981
Sutcliffe said the number plates had been stolen from a scrapyard at Cooper Bridge, near Mirfield, West Yorkshire. If a charge of theft was to be pressed against him, then he would have to be handed over to the police force who had jurisdiction for the area where the theft occurred.
By 2:30 am Peter Sutcliffe was asleep in his cell: "I just went to sleep, I did. I felt, like always, that I'd get out of this one if I wanted to. I could convince them it were just theft. I were still being fed instructions as to how I could go on with my mission, although I'd been prevented from killing that girl in the car."
Phone calls to Wakefield, Bradford, Leeds, and finally to Dewsbury, at 5:12 am, established who would be handling the theft charge. The Dewsbury police informed the Sheffield police that after the new shift came on duty at 6:00 am they would send somebody to collect Peter Sutcliffe.
DEWSBURY POLICE STATION
Three West Yorkshire officers travelled to Sheffield to pick up Peter Sutcliffe, one of the officers would drive back his brown Rover car. Normally a charge of theft of property worth only 50p would result in immediate remand on bail. However, after the sloppy police work done shortly after the Jacqueline Hill murder, where after her handbag with blood spots had been found the police had only done a cursory search and failed to find other items at the scene of attack, or find her body, a directive was issued from Chief Constable Ronald Gregory that any man found with prostitutes in suspicious circumstances was to be brought to the attention of the Ripper Squad. The station sergeant at Dewsbury, therefore, phoned the duty officer at Ripper Incident Room at Millgarth at 8:00 am, Saturday, January 3rd, to inform them of the situation and Sutcliffe's impending arrival.
At 8:55 am, Peter Sutcliffe and two police officers arrive at Dewsbury police station after a 35 minute journey from Sheffield. His car, driven by another officer, arrives shortly afterwards. During the journey, Sutcliffe and the two officers had hardly spoken.
At 8:59 am, Peter Sutcliffe is logged in at the station desk, and a strip-search reveals some money not noticed at Sheffield. He is then taken to the interview rooms in the basement. Within the first hour, Sutcliffe, who does not appear surprised at such attention for such a minor offence, tells police officers he is a lorry driver from Bradford and has made regular deliveries to Sunderland in his 32-ton 'arctic', talks about his interest in cars, and says that he had been interviewed as part of the £5 note enquiry, and as a result of the surveillance operations in red-light areas.
At 10:00 am, detectives at Dewsbury place another call to the Ripper Incident Room to convey that they might very well be interested in interviewing Peter Sutcliffe. The police officers who had been interviewing Sutcliffe had noticed his dark, almost frizzy hair, the gap between his front teeth, and that his shoe size was consistent with footprints left at the scene of three murders.
At around the same time, Sonia Sutcliffe is notified that her husband is in police custody being questioned about the theft of number plates.
QUESTIONING BY THE RIPPER SQUAD
At around noon, Detective Sergeant Desmond O'Boyle arrived at Dewsbury police station. Det Sgt O'Boyle, attached to the Ripper Squad, was once a detective in Manningham, Bradford. He had seen the files on Peter Sutcliffe which showed that he was already known to the Ripper Squad and had been seen a number of times by police during the Ripper investigation, first in regards to the £5 note, then because of surveillance when his car number was noted in Bradford, Leeds, and Manchester red-light areas, and because he worked for an engineering firm.
Det Sgt O'Boyle began his interview with Peter Sutcliffe by introducing himself as a member of the Ripper Squad. While Sutcliffe appeared to be no more likely a suspect for the Ripper murders as the many other who had been checked out previously, he started the probing of Sutcliffe to build up a profile of the pleasant and co-operative man sitting across from him at the table, by finding out his interests, home and social life, employment record, and other relevant factors.
Questioned about his arrest, Sutcliffe told him he had left his home at about 4:00 pm to look for spare parts for his Mini and Rover cars. He found one number plate had fallen off a Skoda, and pulled off the other. Since his insurance had run out the previous night, and he was due on a breathalyser charge, he thought he could use the plates for a few days.
After discussion of the events of the arrest, Det Sgt O'Boyle inquiried whether Sutcliffe was having 'normal sex' with his wife. Sutcliffe replied that he was, and: "the last time was about four days ago." He was further questioned about sex since he had stated he and his wife were constantly rowing. Sutcliffe said: "We forget about rows when we go to bed."
One of the few times that Peter Sutcliffe seemed concerned and did not want to co-operate was when Det Sgt O'Boyle asked him for a blood sample. Sutcliffe at one point asked: "What if it's the same as the one you're wanting?".
O'Boyle then asked: "Are you the Ripper?" Sutcliffe said that he wasn't.
O'Boyle asked: "Well what have you to fear?"
Sutcliffe replied: "Oh, all right then. Will you let me know the result of the blood test as soon as you get it?"
Sutcliffe then co-operated with the police doctor and gave a blood sample. The blood test showed that Peter Sutcliffe belonged to the rare B group.
By 5:30pm, Det Sgt O'Boyle felt that it probably was a false alarm and that Peter Sutcliffe was unlikely to be the Ripper. He was prepared to recommend that Sutcliffe be released. Chief Superintendent John Clark, in charge at Dewsbury, was not so convinced, and still considered Sutcliffe as a major suspect in the Ripper case. He then ordered Det Sgt O'Boyle to express his 'displeasure' at the lack of rank of the man sent to interview Sutcliffe to the duty officer at the Leeds Incident Room.
Detective Inspector John Boyle had taken over the murder room at 6:00 pm, and agreed that Peter Sutcliffe was still in the frame. He instructed Det Sgt Boyle to stay with the case and continue to interview Sutcliffe, as there was much more to be found out about him. When Det Sgt Desmond O'Boyle resumed the interview, he began to go in harder on Peter Sutcliffe. The circumstances of his arrest in Sheffield were explored again. Sutcliffe had said that he had given three young men a ride to Rotherham and Sheffield: "To my surprise, they offered me £10 to take them."
Once in Sheffield, he had put the Skoda number plates over those of his Rover. While driving, a woman had flagged him down, and thinking she was in trouble, he stopped. She then asked whether he wanted 'business': "I was surprised I did not know she was a prostitute. I thought about things and realised I had £10 burning a hole in my pocket, and thought I might as well use it. The first girl had disappeared, so I drove on and saw another girl and stopped. She asked me if I wanted business. She got into the car and told me where to drive. I paid her £10. I did not want sex - I just wanted to talk about my problems at home. I did not want sex at all."
He was also questioned about the times his car had been logged in red-light areas in Leeds, Bradford, and Manchester. Explaining about his previous denial of ever being to Manchester, he said that his car had broken down in the Bradford city centre and he had left it in the car park at Bradford Central Library, and that: "someone must have used it to go to Manchester and put it back on that spot."
He was asked where he was on the night of the murder of Jacqueline Hill, November 17th. Sutcliffe said that he believed he was with his wife at home. Det Sgt O'Boyle informed him that his wife would be interviewed by the police the following morning. Sutcliffe appealed to him not to inform his wife that he had been arrested with a prostitute. O'Boyle stated: "You got yourself into this. As far as I'm concerned I think you are a regular punter."
Sutcliffe stated: "I am not. I've never been with another woman."
O'Boyle countered: "Your car has been seen in the red light districts of Leeds and Manchester and last night you were caught in a car with a prostitute in Sheffield and you paid her £10. I don't believe these are coincidences."
Sutcliffe again stated: "It is true - I am not a punter."
At the trial, Det Sgt O'Boyle was asked to describe Sutcliffe's manner during the interview. He replied: "He was very calm and pleasant and cooperative."
James Chadwin, QC, defending Peter Sutcliffe, asked: "The two things he might be said to have reacted to was the suggestion that he was a punter. He clearly did not like that suggestion?"
O'Boyle: "No, I agree with you."
Chadwin: "Then some reaction though not very much to the suggestion that he should give a blood sample?"
O'Boyle: "He seemed concerned when I mentioned a blood test. He didn't seem as if he wanted to cooperate, though he eventually did."
By 10:00 pm, the interviews having concluded for the night, Peter Sutcliffe was in his cell, locked in for the night.
DISCOVERY AT SHEFFIELD
Back in Sheffield, at 10:00 pm, Sergeant Robert Ring was back at the Hammerton Road police station ready to start another shift. Here he learned that the man he had arrested twenty-four hours earlier with prostitute Olivia Reivers was still in custody at the Dewsbury police station and was being questioned by Ripper Squad detectives.
It was then that he made a most crucial decision. He remembered that Peter Sutcliffe had left his car and gone off out of sight of the police officers to urinate. He decided to return to the Light Trades House and explore the area where Sutcliffe had gone.
At around 11:00 pm Sergeant Ring was back in Melbourne Ave and walked to the stone porch area where Sutcliffe had gone. He walked to the side of the porch and around the oil-storage tank. Shining his torch on the ground beside the wall he discovered a ball-pein hammer and a knife lying on the leaves.
By 11:05 pm. Hammerton Road police were informing the Ripper Incident Room of the important discovery, and were told to leave the weapons where they were until a photograph could be taken. Detective Inspector John Boyle, almost immediately after putting down the phone, got into a car and headed for Sheffield from Leeds. Arriving there, he ordered a more extensive search of the area and the re-interviewing of Olivia Reivers.
At midnight, Boyle telephoned Dewsbury and told them about the developments. At 12:00 am he phoned Detective Superintendent Richard Holland, who was in overall charge of the Ripper Squad that weekend, at his home in Elland, near Huddersfield, and said: "I think we've got him."
Dick Holland then issued a short list of priority instructions to Boyle and his officers. Sgt O'Boyle was to join Det Insp Boyle in Sheffield, an officer was to be stationed in the prisoner's cell, and a briefing would take place at 9:00 am that morning at Bradford police headquarters.
At 9:30 am, Sunday, January 4 1981, Detective Superintendent Dick Holland, Detective Sergeant Desmond O'Boyle, Detective Chief Inspector George Smith, and Detective Constable Jenny Crawford-Brown were at the door of No. 6 Garden Lane, Heaton, Bradford, the home of Peter and Sonia Sutcliffe. A search was made of the house and a workshop at the back of the garage. When the police left the Sutcliffe residence at approximately 10:00 am with Sonia Sutcliffe for questioning, they also took a number of tools, including ball-pein hammers, a hacksaw, and a yellow-handled screwdriver. A number of tools had already been recovered from Sutcliffe's Rover, including three screwdrivers that were in the glove compartment.
Arriving at shortly after 10:00 am at the police headquarters in Bradford, Sonia Sucliffe was then involved in extensive questioning, building up a personal profile of their life, and being asked about her husband's movements on specific dates during the last two months. She had previously alibied her husband on at least three separate occasions. When shown the knife that had been found alongside the hammer at the Light Trades Building in Sheffield, she identified it as one she had bought before her marriage for her 'bottom drawer'. The questioning of Sonia Sutcliffe would last until approximately 8:00 pm that night, with brief break in the afternoon.
THE QUESTIONING INTENSIFIES
At Dewsbury, Peter Sutcliffe had been up since 8:00 am, and after a breakfast of coffee and toast, was taken from his cell to the interview room for another day of questioning. This time the officers interviewing him were Detective Inspector John Boyle and Detective Sergeant Peter Smith. Det Sgt Smith, who had a detailed knowledge of the backgrounds and facts of the attacks, had been attached to the Ripper Squad almost longer than anyone else. Detective Superintendent Dick Holland had specifically requested that Det Sgt Smith be involved in the questioning of Peter Sutcliffe due to his knowledge which would be a crucial element in the interview process.
Throughout the morning, Det Insp Boyle and Det Sgt Smith, while asking questions of a general nature, without overtly mentioning the Yorkshire Ripper attacks, tried to systematically to close possible avenues of escape for Peter Sutcliffe. Sutcliffe appeared to them to be friendly, articulate, very calm, and cooperative. Not once did he ask for bail or a solicitor.
After lunch, Det Insp Boyle and Det Sgt Smith began to change their tactics from general questioning and began to focus their interrogation on specific questions about Peter Sutcliffe's whereabouts on dates that were relevant to the Yorkshire Ripper murder inquiry.
The officers, increasingly sure he was the Ripper, concentrated their focus on the night, two months earlier, of November 5th, Bonfire Night, and the night of the attack on Theresa Sykes. Sutcliffe had clocked off work at 5:03 pm at Clarks that night. He said he had stopped for a drink and was adamant that he was at home no later than 8:00 pm. When asked how he was so sure of the time, he replied that if he had been out any later he would have remembered seeing the bonfires.
Unknown to Sutcliffe at the time, was the fact that for the first time in any of the interviews he had been involved in, Sonia's recollection differed from his. She had told the police in Bradford that she clearly remembered him walking through the kitchen door that night at 10:00 pm. Theresa Sykes had been attacked at 8:00 pm, and the officers felt that Sutcliffe was now struggling to remain plausible.
When Sutcliffe was asked where he had been on November 17th, the night of Jacqueline Hill's murder, he replied that he was at home with his wife. Det Insp Boyle said: "Every time you have been seen, you always seem to have the same alibi - that you were at home with your wife. I find that rather strange. How can you be sure that's where you were?"
Sutcliffe replied: "I'm always at home every night when I'm not on an overnight stay."
When Det Insp Boyle switched the focus of the interview to the night of Sutcliffe's arrest, Sutcliffe's composure began to show signs it was faltering.
Boyle: "I understand you were interviewed yesterday by DS O'Boyle about your movements during last Friday afternoon and evening up until the time you were arrested at Sheffield."
Sutcliffe: "Yes, I've told him what happened."
Boyle: "I am not concerned with the allegation of theft of car number plates. I want to speak to you about a more serious matter, concerning your reason for going to Sheffield that night."
Sutcliffe: "I've told him all about that night."
Boyle: "I've spoken to Sergeant O'Boyle and I am not satisfied with your account of that night."
Sutcliffe: "What do you mean?"
Boyle: "Why did you go to Sheffield that night?"
Sutcliffe: "I gave three people a lift to Rotherham and Sheffield from Bradford. They stopped me on the M606 and offered me £10 to take them home, so I did."
Boyle: "I don't believe that. I believe you went to Sheffield on Friday night with the sole purpose of picking up a prostitute."
Sutcliffe: "That's not true. It was only after I got to Sheffield and had declined an offer to go with a prostitute that I decided to use the money I got from the hitch-hikers and go with one."
CAPITULATION
Boyle: "When you were arrested in Sheffield you had a prostitute in your car which had false plates on it. I believe you put them on to conceal the identity of your vehicle in the event of it being seen in a prostitute area."
Sutcliffe: "No, that's not true. To be honest with you, I've been so depressed that I put them on because I was thinking of committing a crime with the car."
Boyle: "I believe the crime you were going to commit was to harm a prostitute."
Sutcliffe: "No, that's not true."
Boyle: "Do you recall that before you were put in a police car at Sheffield you left your car and went to the side of a house?"
Sutcliffe: "Yes, I went to urinate against the wall."
Boyle: "I think you went for another purpose."
No response from Sutcliffe. (Sutcliffe later said: "I realised that this was the time to tell them, because they were saying, in other words, that they had found the weapons I had hidden. I had been given the signal from God, through the police, that now was the time to tell them.")
Boyle: "Do you understand what I am saying? I think you are in trouble, serious trouble."
Sutcliffe: "I think you have been leading up to it."
Boyle: "Leading up to what?"
Sutcliffe: "The Yorkshire Ripper."
Boyle: "What about the Yorkshire Ripper?"
Sutcliffe: "Well, it's me."
Boyle: "Peter, before you say anything further I must tell you you are not obliged to say anything unless you wish to do so but what you say may be put in writing and given in evidence. Do you understand?"
Sutcliffe: "Yes, I understand."
Boyle: "If you wish you may have a solicitor present on your behalf."
Sutcliffe: "No, I don't need one. I just want to tell you what I've done. I'm glad it's all over. I would have killed that girl in Sheffield if I hadn't been caught, but I'd like to tell my wife myself. I don't want her to hear about it from anyone else. It's her I'm thinking about, and my family. I'm not bothered about myself."
CONFESSION
Boyle: "You didn't go to the side of the house to urinate, did you?"
Sutcliffe: "No, I knew what you were leading up to. You've found the hammer and the knife, haven't you?"
Boyle: "Yes we have, where did you put them?"
Sutcliffe: "When they took the girl to the Panda car I nipped out and put them near the house in the corner. I was panicking, I was hoping to get bail from there and get a taxi back and to pick them up. Then I would have been in the clear."
Boyle: "Tell me, if you are the so-called Ripper, how many women have you killed?"
Sutcliffe: "Eleven, but I haven't done that one at Preston. I've been to Preston but I haven't done that one."
Boyle: "Are you the author of the letters and the tape-recording posted from Sunderland to the police and the Press from a man admitting to be the Ripper?"
Sutcliffe: "No I am not. While ever that was going on I felt safe. I'm not a Geordie. I was born at Shipley."
Boyle: "Have you any idea who sent the letters and the tape?"
Sutcliffe: "No, it's no one connected with me. I've no idea who sent them."
Boyle: "How did all this start?"
Sutcliffe: "With Wilma McCann. I didn't mean to kill her at first, but she was mocking me. After that it just grew and grew until I became a beast."
Later on, Sutcliffe was asked by Det Insp Boyle: "Do you know all the names of your victims?"
Sutcliffe: "Yes, I know them all."
Boyle: "Do you keep any Press cuttings of them or make any records?"
Sutcliffe: "No, they are all in my brain reminding me of the beast I am."
The murder count was revised after Det Insp Boyle inquired: "You say you have killed eleven women. Just take your time and think about how many there are."
Sutcliffe: "It's twelve, not eleven. Just thinking about them all reminds me what a monster I am. I know I would have gone on and on but now I'm glad I've been caught, and I just want to unload the burden."
Sutcliffe gave a chilling and accurate description of the attacks and murders, delivered in a calm and unemotional fashion. He gave them information that only the killer would know and had been kept secret from all but the most senior officers, including how he had tried to cut the head off of Jean Jordan with a hacksaw, and how he had stuffed horsehair from an old settee down Yvonne Pearson's throat to keep her quiet. He also began to reveal where some of the weapons were that he had discarded, including the hammer used to kill Patricia Atkinson, and the sharpened screwdriver he had used on Josephine Whitaker and Barbara Leach. The police would later recover these weapons. He even drew the police a picture of the walling hammer he had used to kill Yvonne Pearson. Police would also recover the wellington boots from his home which he had been wearing when he had left footprints at the scenes of the murders of Emily Jackson and Patricia Atkinson.
All in all, it would take 15 hours and 45 minutes to dictate a detailed statement. This original confession, however, did not contain the full catalogue of 20 attacks that he was eventually charged with. Sutcliffe's confession only detailed 12 murders and two attempted murders. The one murder that Sutcliffe did not confess to at the time was the strangulation murder of Marguerite Walls. He had hoped it would not be recognised as one of his attacks. Later he said that he thought that confessing to it might: "open lots of new lines of enquiry that were nothing to do whatsoever with me" and that he preferred to just: "deal with the ones that had been attributed to me." Sutcliffe also vehemently denied responsibility for the murder of Joan Harrison (and being a non-secretor, although of the correct blood group B, he could not have deposited the semen found on the victim).
When George Oldfield introduced himself and said in passing: "I'm the one you almost bloody killed as well," there was no reaction from Sutcliffe.
At 10:30 pm Sutcliffe's request, to be the one to tell his wife, Sonia, that he was the Yorkshire Ripper, was granted.
(NOTE: Source material: Bilton, Burn, Cross, Jones, Daily Telegraph, Mail On Sunday, The Times. Photos: David Peat, "The Armchair Guide To Murder And Detection", Great Crimes And Trials Of The Twentieth Century (TV), Bilton. )