Folk Night at the Registry 2007-2008
A folk music concert series at the Registry Theatre, Kitchener, Ontario.
A limited number of Series Passes are available now from jhcole@mgl.ca.
Presenting our 2007 - 2008 Lineup (Archive: 2006-2007 series )
For detailed information please see the Series Announcement and Series Poster.

Preliminary 2008-2009 Series information. First concert: Archie Fisher, Oct 16/08 !



Penny Lang*
Saturday, October 13, 2007
8pm ♪ $14 / $16
plus Brad Nelson.
Canada's "First Lady of Folk" and
"Grande Dame of folk-blues".
Canadian Folk Music Award winner
in 2006: Best Artist & Best Album!
PDF Poster / Press Release 1 & 2


Wassail!
Saturday, December 8, 2007
8pm ♪ $13 / $15 Groups (9): $11
plus "Caroling with the Old Chestnuts".
Since 1986, London's Wassail! troop has
been performing songs, dances, and
stories celebrating the Season.
PDF Poster Press Release

Remembering Stan Rogers
Saturday, January 12, 2008
8pm ♪ SOLD OUT
An evening of songs by one of
Canada's greatest, as we approach the
25th anniversary of his tragic loss. Our
company of musicians presents some
of Stan's finest.
PDF Poster Press Release
Allison Lupton Band
With Guests: Crabtree & Mills
Saturday, February 9, 2008
8pm ♪ $16 / $18
"A beautiful, clear singing voice, an
eclectic capability and sensibility
and the ability to tell a story with
her flute." - Stuart McLean
Press Release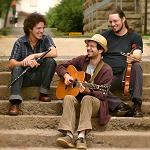 Genticorum*
Saturday, April 26, 2008
8pm ♪ $15 / $17
Plus Jack Cooper.
Traditional Quebecois music. 2006 Juno
nominees. "A very full and glorious noise,
instrumentally and vocally" - Sing Out!
PDF Poster Press Release
The Dixie Flyers
2008 Merrick Jarrett Concert
Saturday, May 10, 2008
8pm ♪ $16 / $18
plus Nonie Crete.
"one of Canadian bluegrass musicís
seminal bands" "...a Dixie Flyers
concert, that's entertainment..."
PDF Poster Press Release

A presentation of The Registry Theatre, and The Old Chestnuts Song Circle.
All concerts are held in The Registry Theatre, 122 Frederick Street, Kitchener, Ontario.
Prices are shown as advance sale price / door sale price.
Series passes and concert tickets available soon from jhcole@mgl.ca and Twelfth Night Music,
www.registrytheatre.com and the Centre in the Square Box Office 1-800-265-8977.
Home: www.folknight.ca